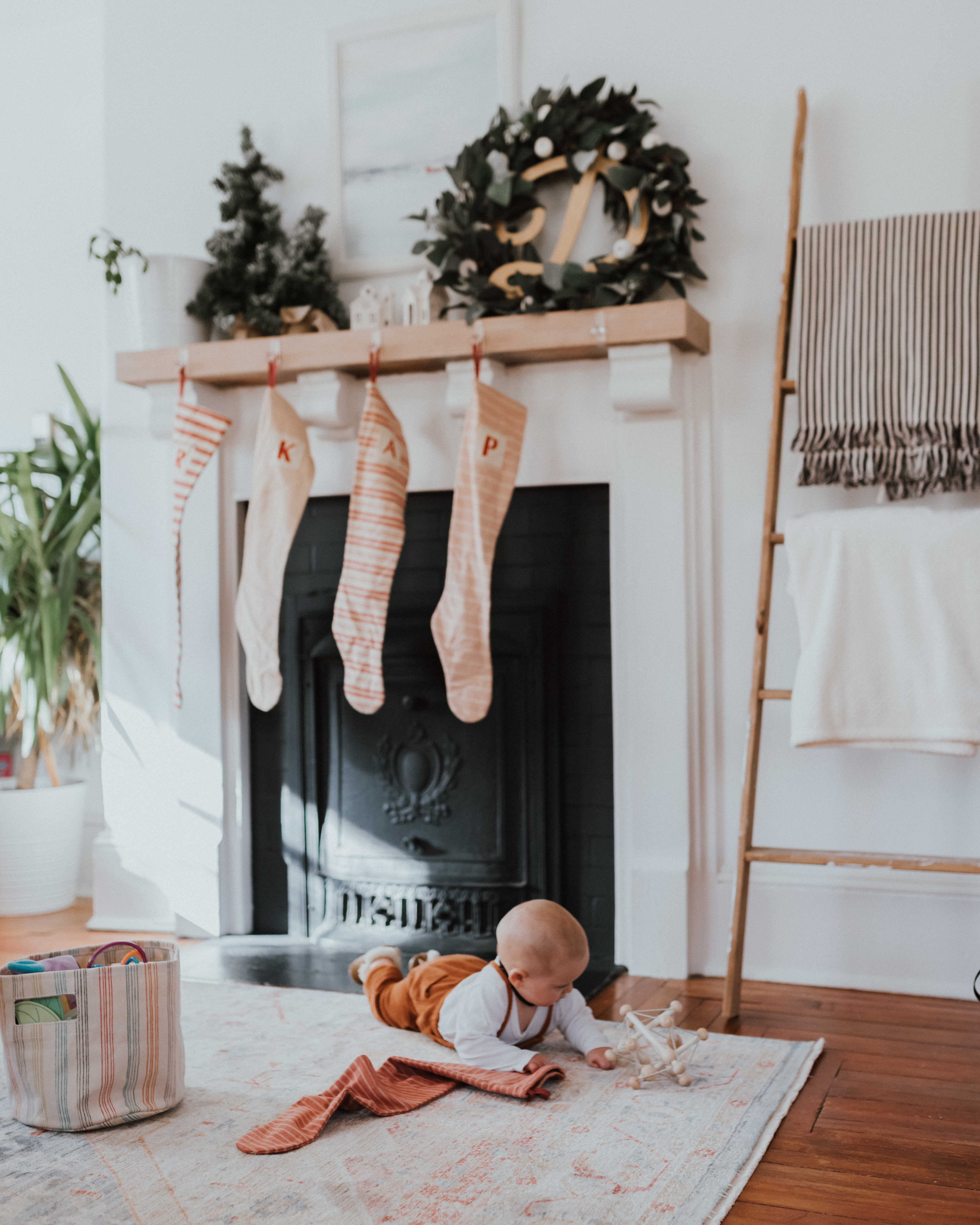 Christmas has always been MASSIVE for me. As the youngest of 3 girls, I loved the holidays because it was one of the only times of the year when my sisters would be guaranteed to be home and actually wanted to spend time with me. We also had parents who loved traditions and one of the best ones was on December 1st (their wedding anniversary) we were allowed to crank up the Christmas CDs and deck the halls.
Now with a family and a home of my own, traditions and the holidays are just as big, if not bigger. But as you all know, we have been working tirelessly on renovating our home, patching each nail hole and painting each nook. The things we used to use to Christmas-ify our home are now ways we don't even think want to think about. Staple gunsare not welcome here and putting nails up for seasonal items just makes me stressed thinking about it. It is also Emmitt's first Christmas, and our first Christmas in our home without being knee deep in renovations. We want to make that special not only him, but Poppy and Aubrey too. We also want all kids, but especially Emmitt,who is at an age where he puts everything in his mouth, to be safe. Which means we need to limit the screws and nails that could possibly end up on the floor.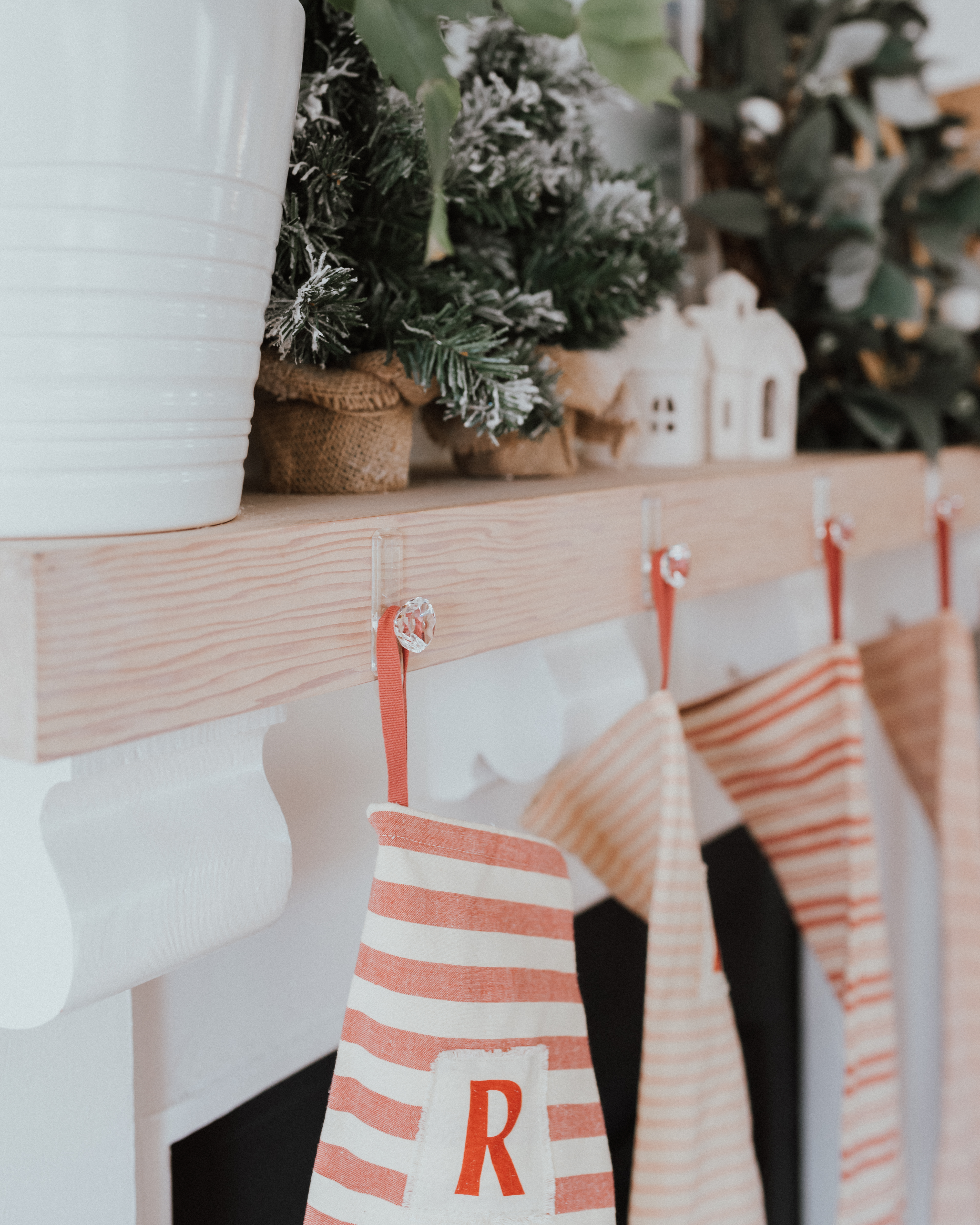 From our original BC Douglas mantels, to the 102-year-old wainscoting, we want to deck all of the house with beautiful and festive decor but not hurt the items that make this house a home. So, I've slowly started using Command products to make sure our homefeels as festive as it can but the damage is non-existent come January.
Our first project was to hang a wreath on our storm door. Usually, that would sound impossible, because if you know storm doors, their airtight build does not allow for a wreath hook. But by using the Command™Brand Medium Outdoor Terrace Hook on the glass, we were able to attach the hook right to the glass and get the look we were going for with our front door.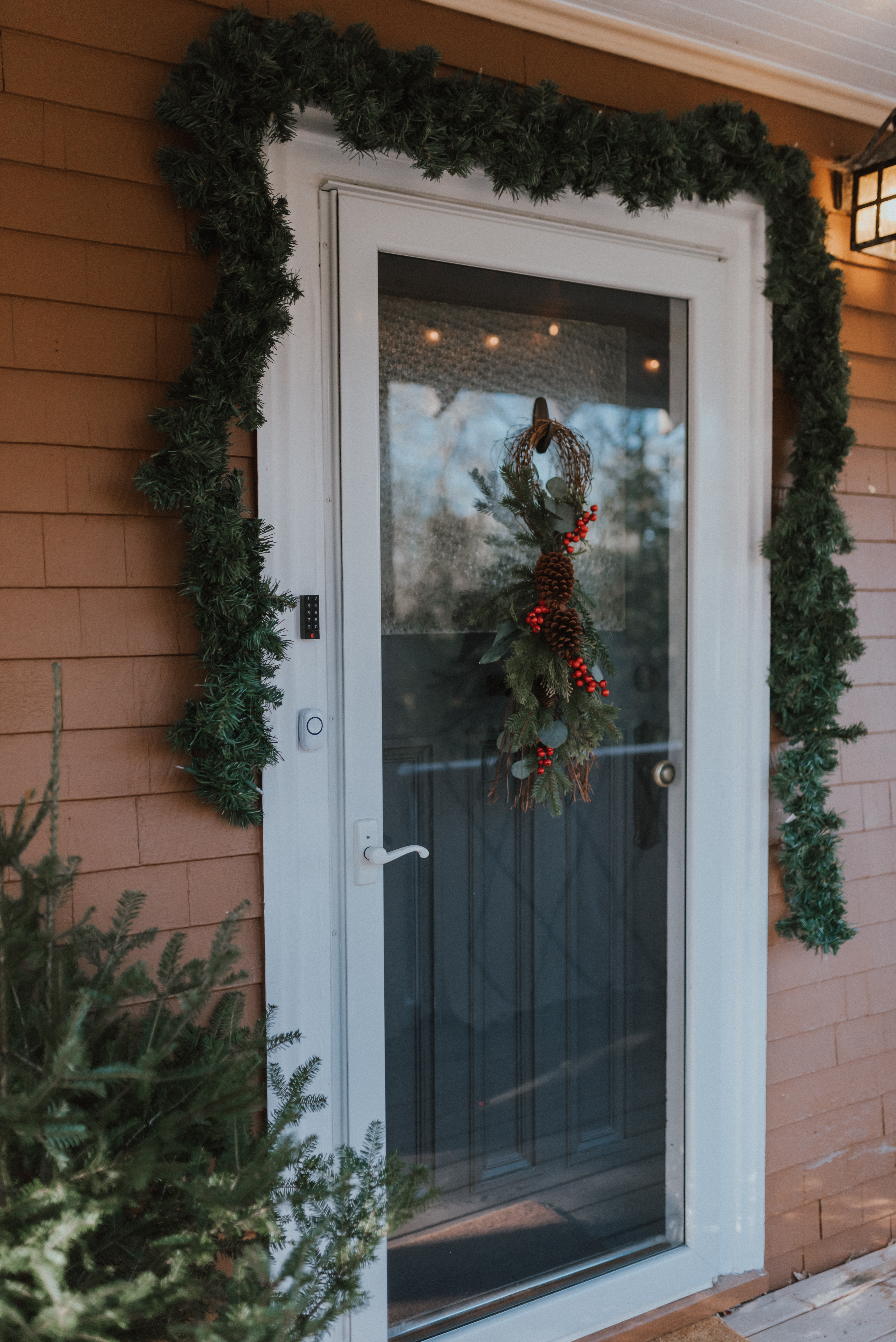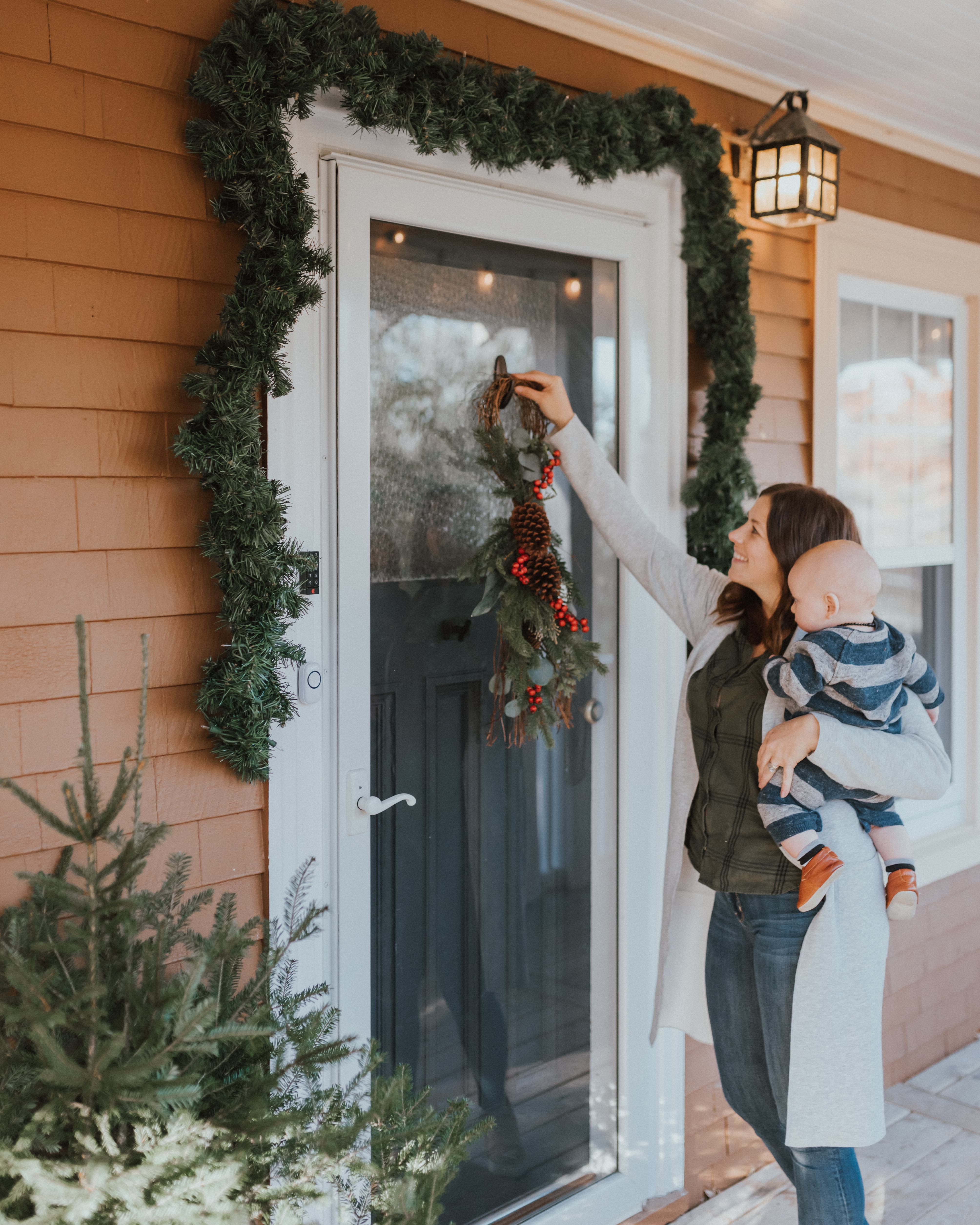 Next, we used Command™Brand's crystal jewelry hooks on our mantel. We love decorating our mantel but don't like the amount of space that stocking holders take up and take away from the overall feel. Plus, withEmmitt being here this year, we wanted to make sure he had a place for his stocking. Last year we screwed hooks into the bottom of the mantel but have recently redone the fireplace, patched those screw holes and we were looking for something fun to that wouldn't damage the wood. These were perfect. The stockings look great and the crystal ends add to the magical feel.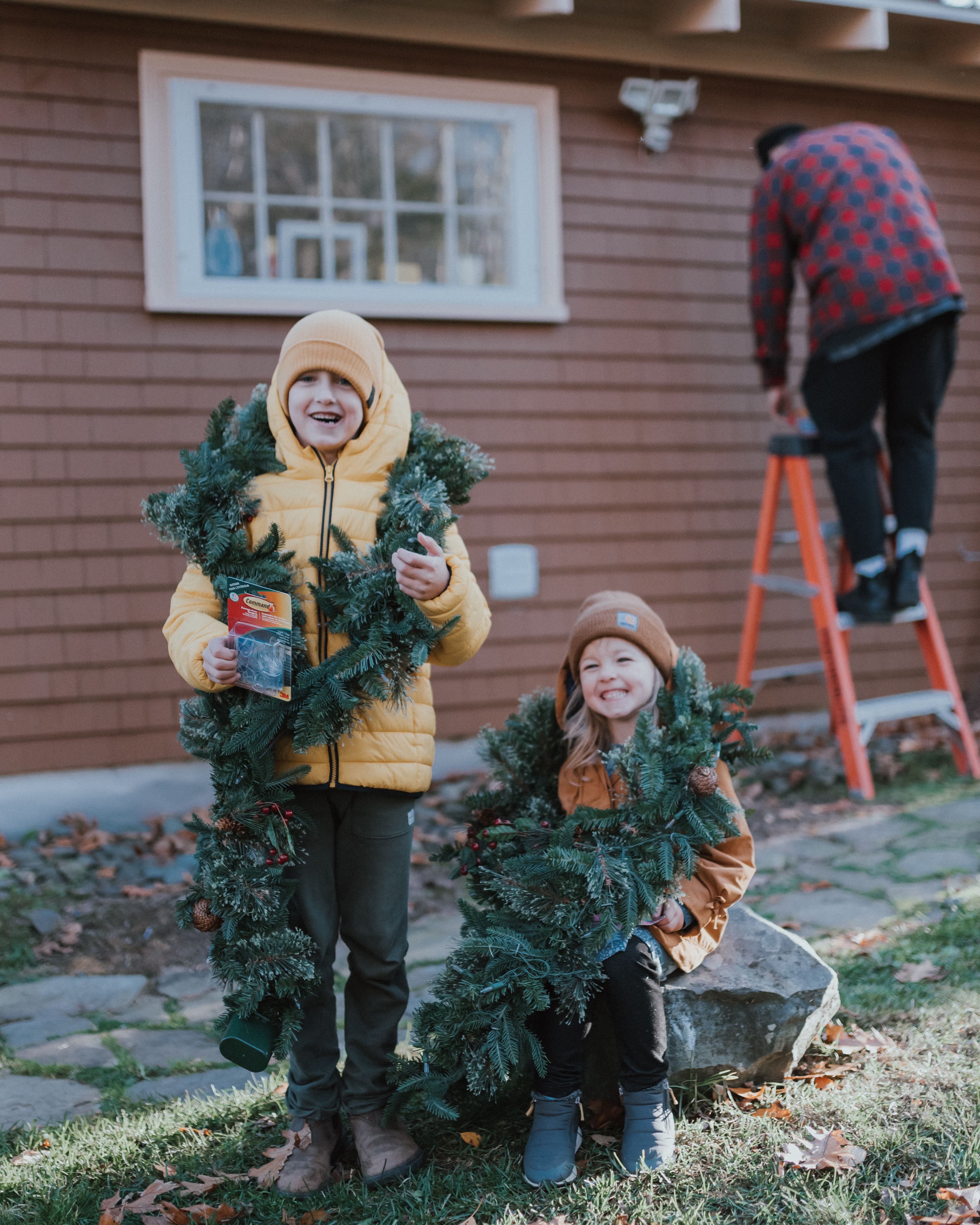 Our latest discovery is that they now make outdoor hooks for lights and other decor. This has made the tedious task of hanging lights with a dangerous staple gun,now a family-friendly event. For the first time, Aubrey and Poppy were able to help out by peeling the backs off of the strips before handing the light hooks to Rob to put up. They had so much fun and were proud about helping out. And at the end of the day, those moments and new traditions as a family of 5 are what make the holidays so special.
As you can see, we are slowly starting to decorate our home now and can't wait to show you how it goes along the way. Our family is officially complete and making sure our first Christmas is everything it can be as a new family of five, especially for our kids, is all we want as parents.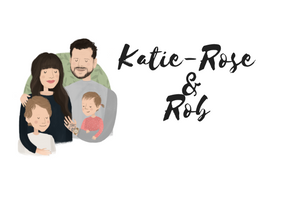 Thank you Command™ for supporting our family by sponsoring this post.