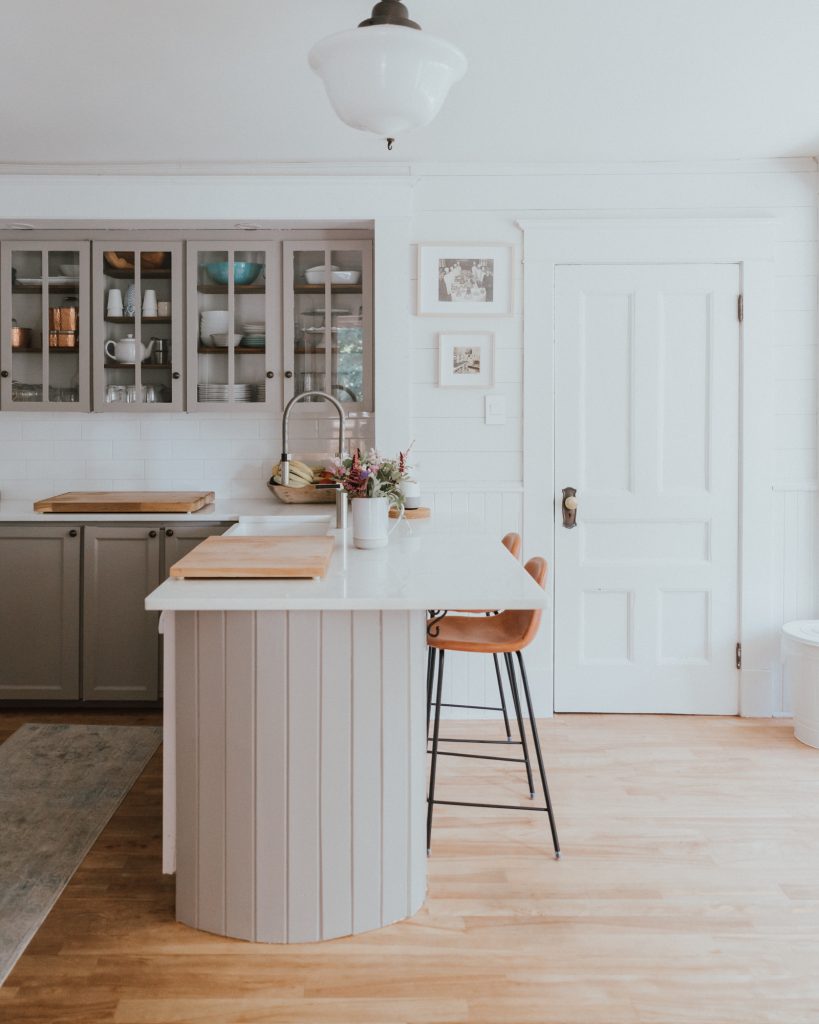 We LOVE to cook, and as Nova Scotians, kitchen parties are known to be a big thing, so our kitchen needs to be enjoyable to be in. So, we have decided to tweek some things that just arent working and thought we would give you a rundowm on our Kitchen update plans.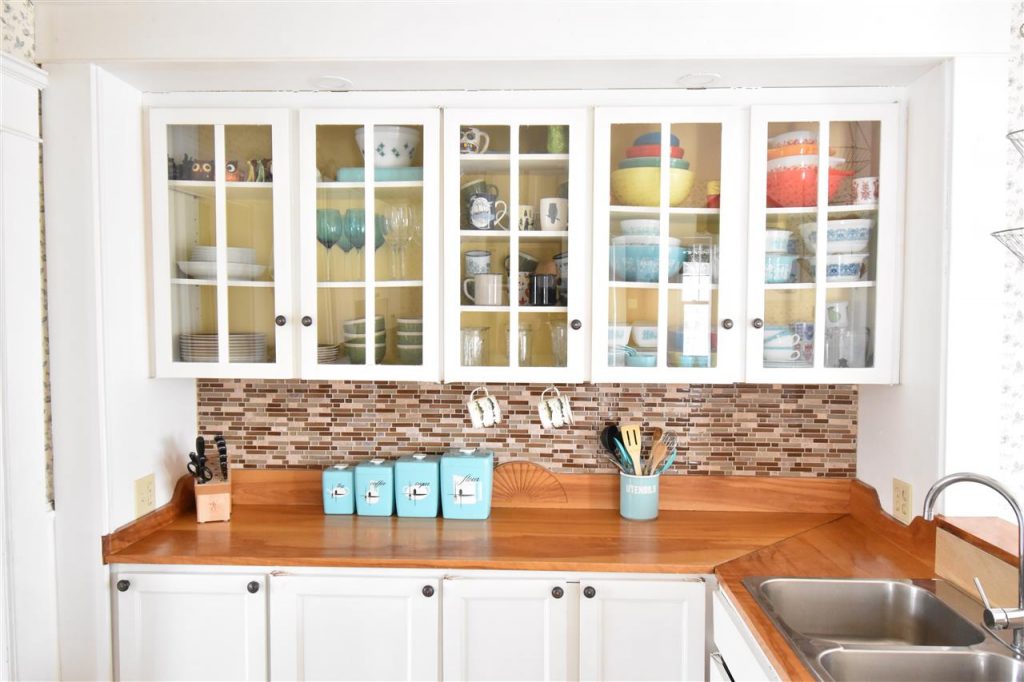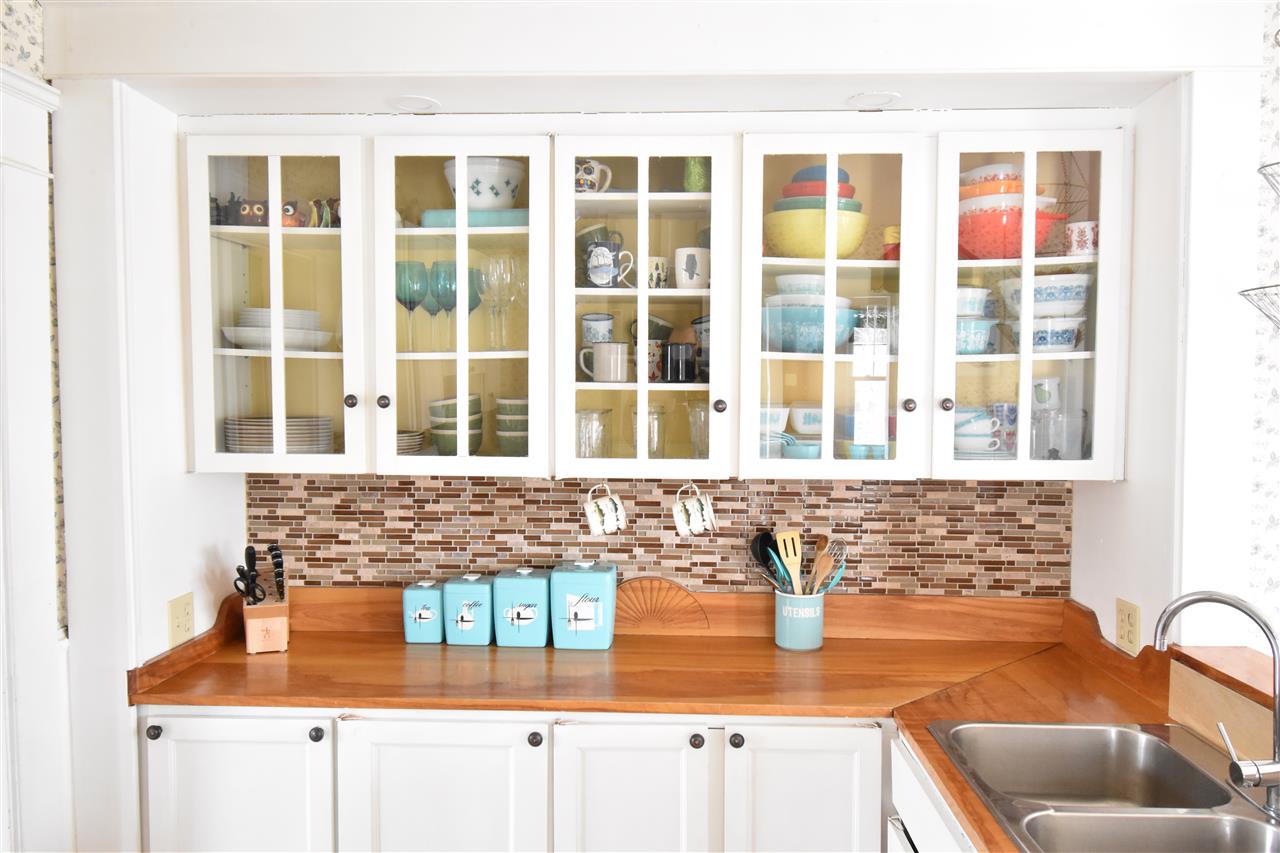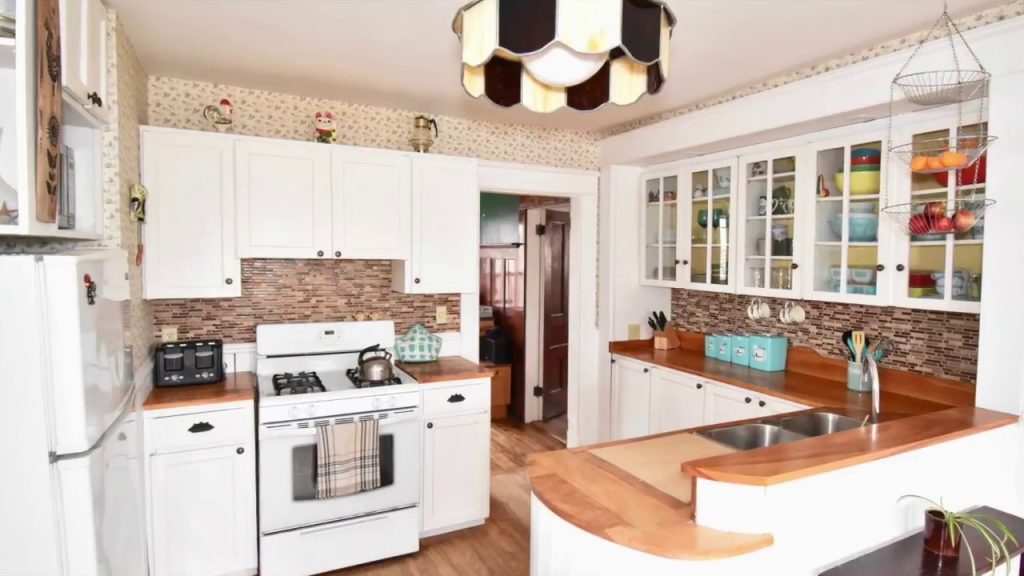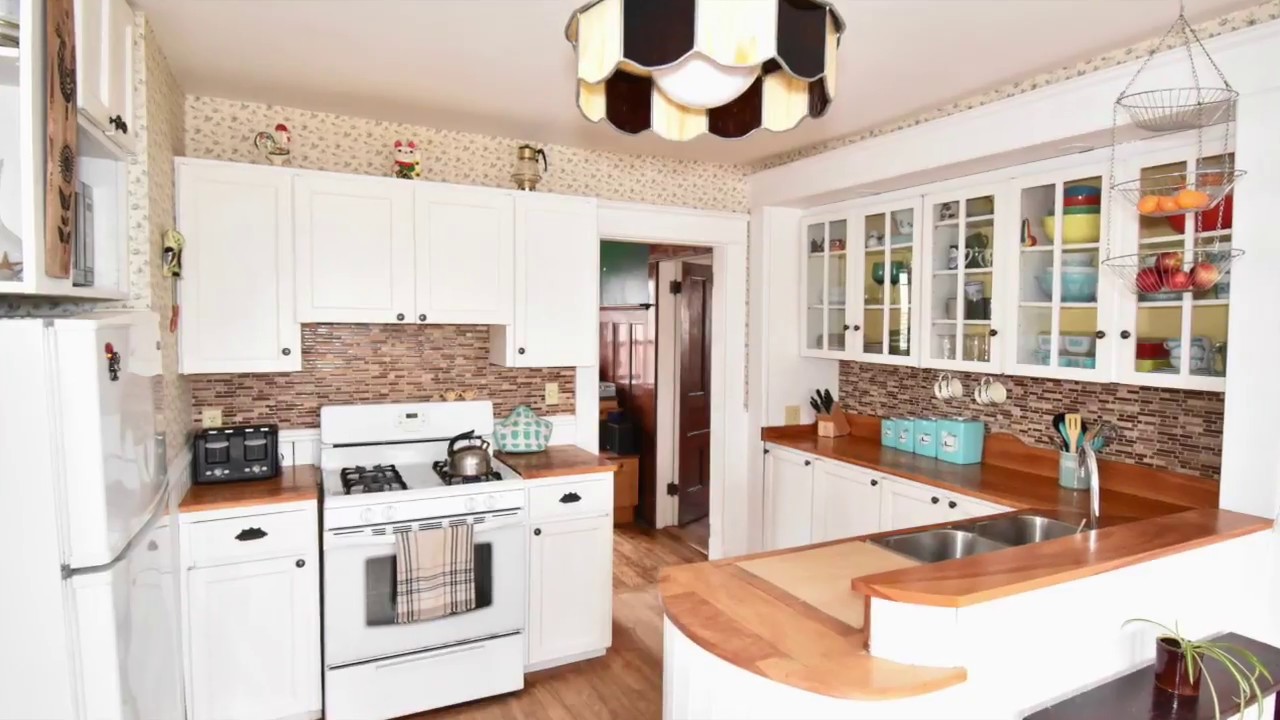 When we moved in, the walls of our kitchen had about six layers of wallpaper on them, there was homemade but your block countertops that were sticky to touch and had black mould around the sink, and there was also a very outdated lip on the counter making for a very closed in feeling.
The kitchen was one of the first things we started working on when we moved in and since then the cupboards have been two different colours and we've had new marble countertops installed, As well as purchased a new fridge that came the wrong size. You can see the reveal of it here.
Now I will say, maybe we jump too soon in hitting the kitchen as soon as we moved in. With every bone in my body, I wish I could rip out what the kitchen is now and totally replace it with a better flowing open floor concept and large island. But, having already put in expensive countertops, we feel like we need to just work with what we have.
So let's chat about what's working and what isn't. Original to the home was glass upper cabinets but every single time you go to close them they made such loud noises and rattles that when Emmitt was a baby it would wake him up. One night I was so sick of it that I grabbed a screwdriver and started ripping the cabinet doors off. Since then we have literally had upper cabinets with no doors, but they don't look great. It was supposed to be a quick fix over a year ago and we were going to be replacing the whole thing with floating shelves.
Well, finally that is what we are going to start with. We are going to rip away everything in that little alcove and replace it with new drywall, 2 x 2 inch pine shelves That go from one wall to the other, And a really beautiful organic backsplash up to the first shelf.
Next, are the doors and drawers. They are in such rough shape that there's really no fixing them at this point. We started pricing it out and it actually will cost less than $500 to get Custom made door and drawer fronts for the entire kitchen. If you are on a budget and are wanting to update your kitchen, this is probably the number one best thing to do to make it pop.
While we are updating the doors and drawers, we wanted to also update our hardware, adding in the brass and gold touches that so very much suit the style and era of our home. That means new hardware throughout as well as a new gorgeous gold kitchen faucet.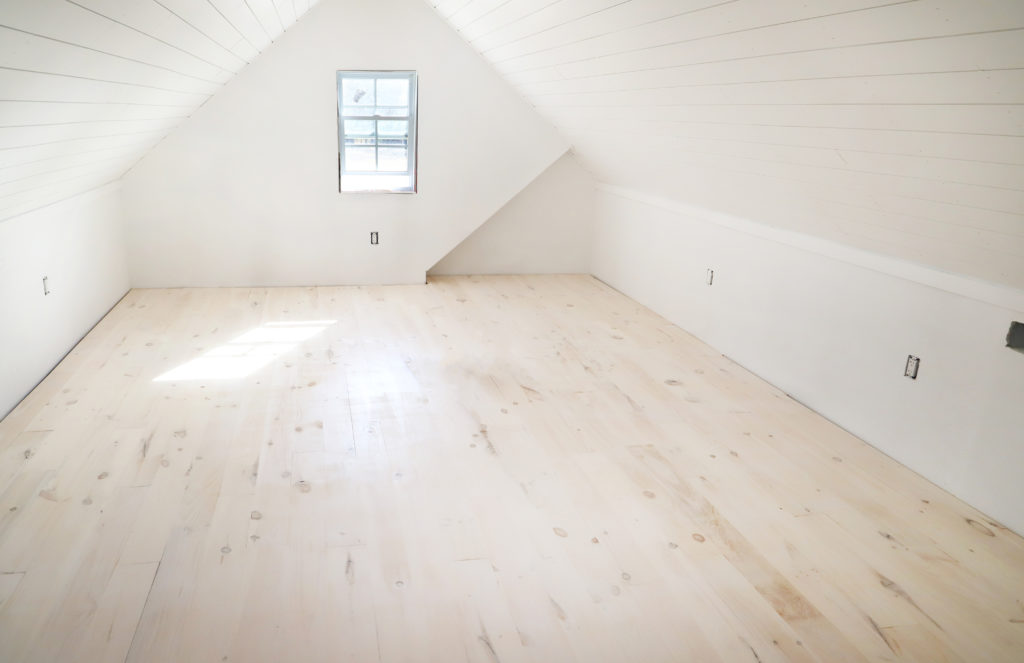 But before the cabinets fronts get replaced, We NEED To redo the kitchen floors. Unfortunately when we bought the house the previous owners had sanded down the floors to refinish them but had never sealed them and had never enclosed that In the sale of the home. We realized about three months Later when there was a large grease stain around the range. Since then, anytime the dog gets sick on the floor, the kids drop any piece of food that lasts on the floor longer than a minute, and multiple other occasions, The floors keep that memory because it literally gets stained to them. Because we're not sure how deep the stains are, we are going to tackle refinishing the floors ourselves Bringing back a little bit of what we did in our last house by white washing the wood. Then sealing it with a nice matte sealant. EEKK cant wait.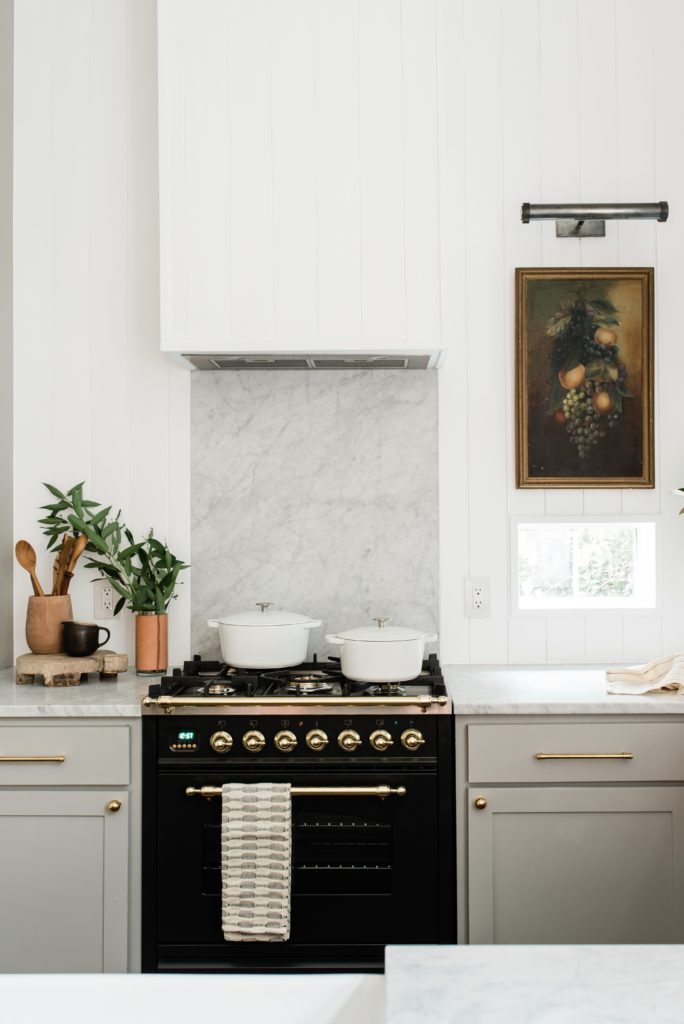 And finally, We will be purchasing a new range for the kitchen. Ours Was old when we purchased the home, and now three years later we have to light most of the burners with a barbeque later mixed with Only one burner having a knob so the others need to be turned with pliers. We are going to go for a stunning Black on black range with a low back. Thankfully for us, the counter company we purchased our marble from still has a good size slab Of our marble and we are hoping to add it behind our stove for a beautiful backsplash.
Our future plans will be to purchase the right sized fridge (32 inch counter depth one) and build it into cabinitry to make that corner look more finished and streamlined with the kitchen…. but that wont be until the Fall.
We can't wait to get it all started.