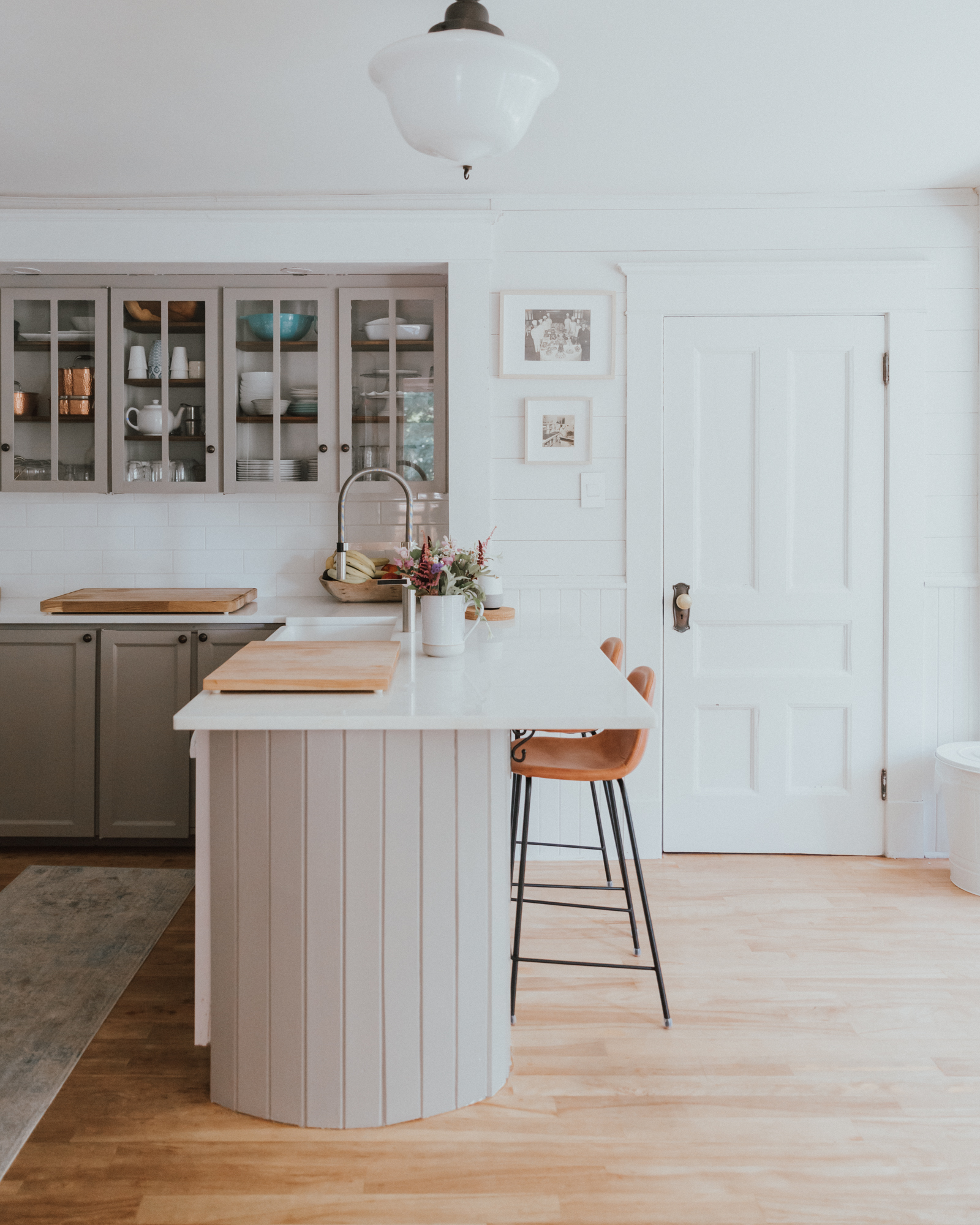 ITS ALMOST DONE!
With just refinishing the floors and painting the ceiling left, We are so releived that this major project we have been working on since last September is finally done.
We moved into this home seeing so much potential but knowing that budgets would be tight for each project. With that against us, we needed to pick away at projects when the extra cash was there as well as DIY what we can and prioritize what was important to us. So, because the kitchen was still totally functional, we started with the dining room, as you might remember and added a built in bench to match the original wainscoting. It turned out perfect and now it is not only where the kids run to eat their meals, but also the perfect perch to take a moment with Emmitt.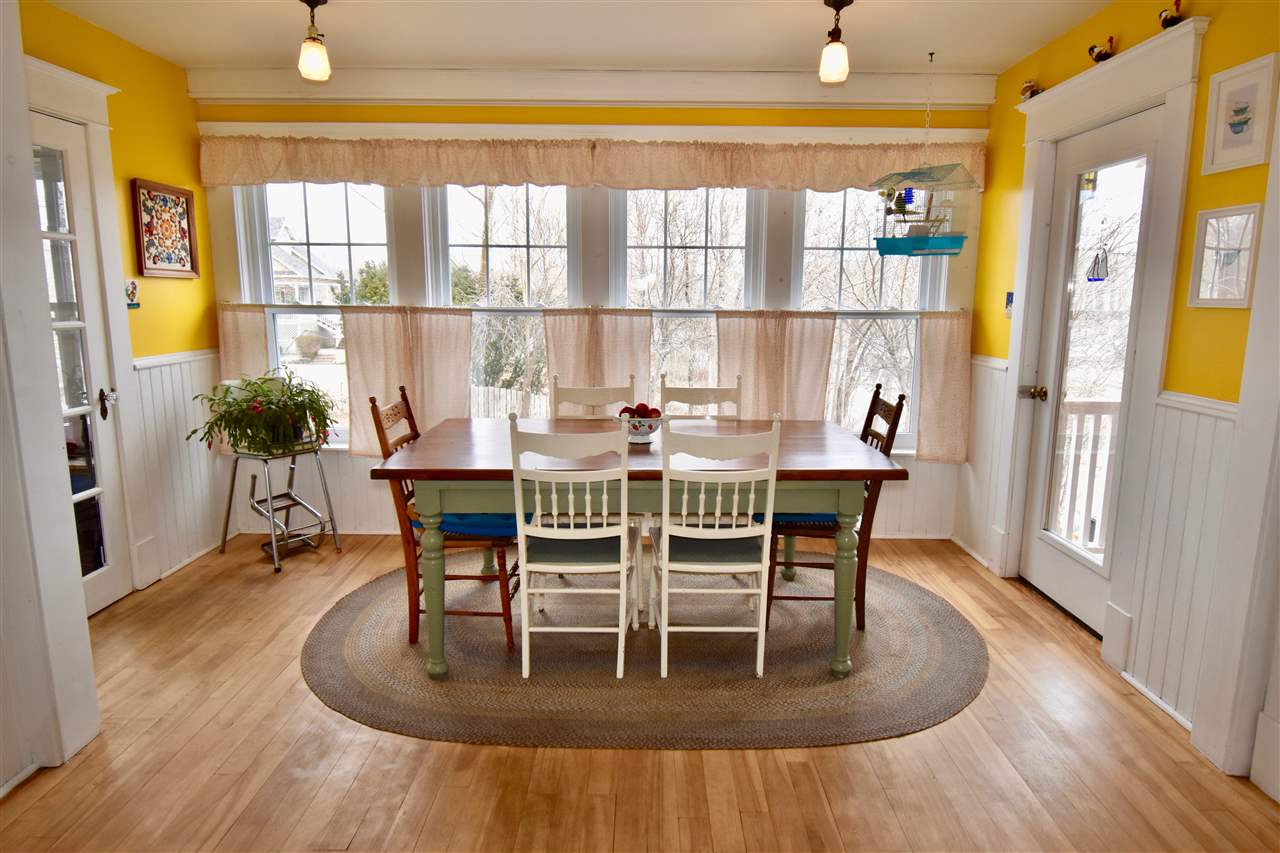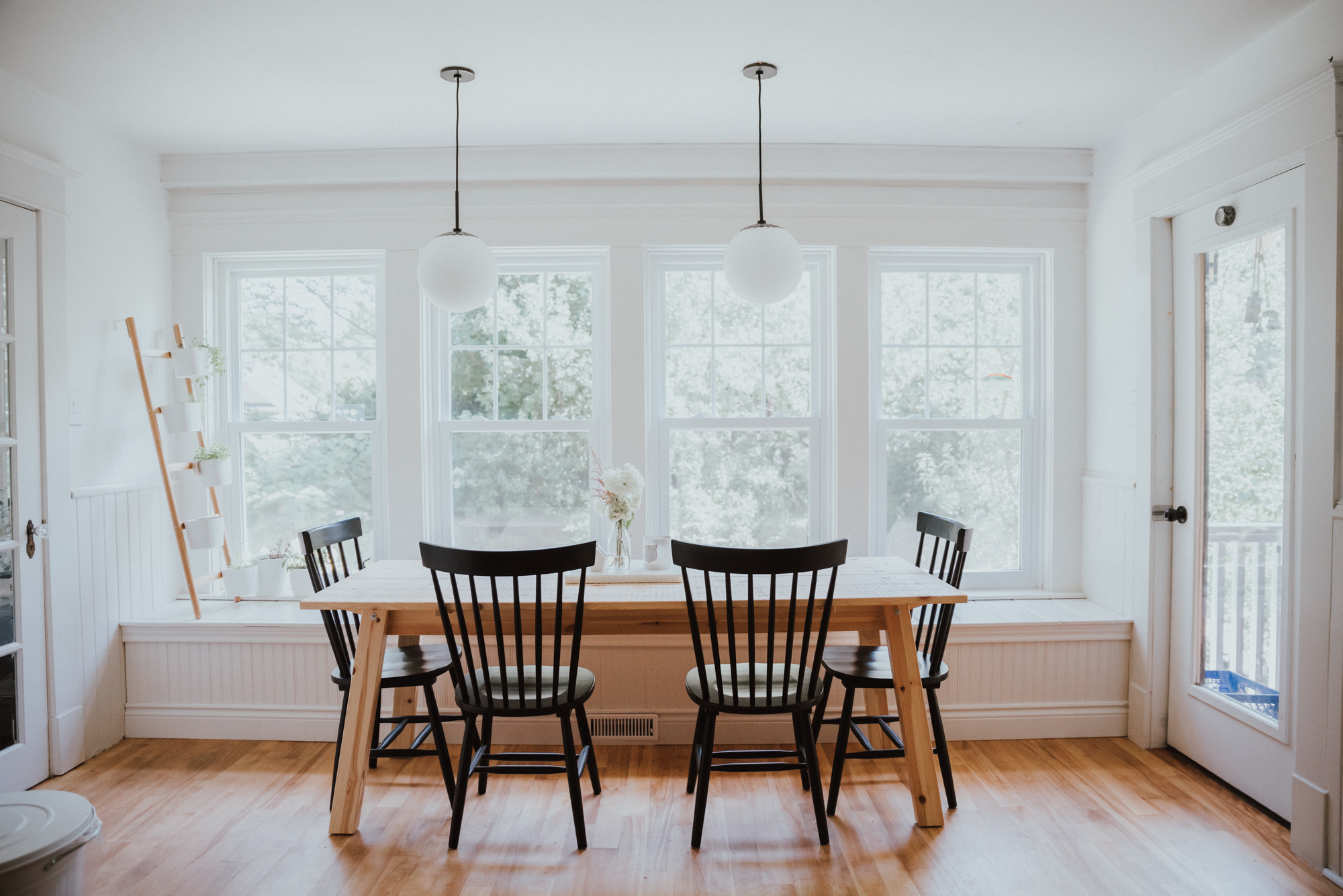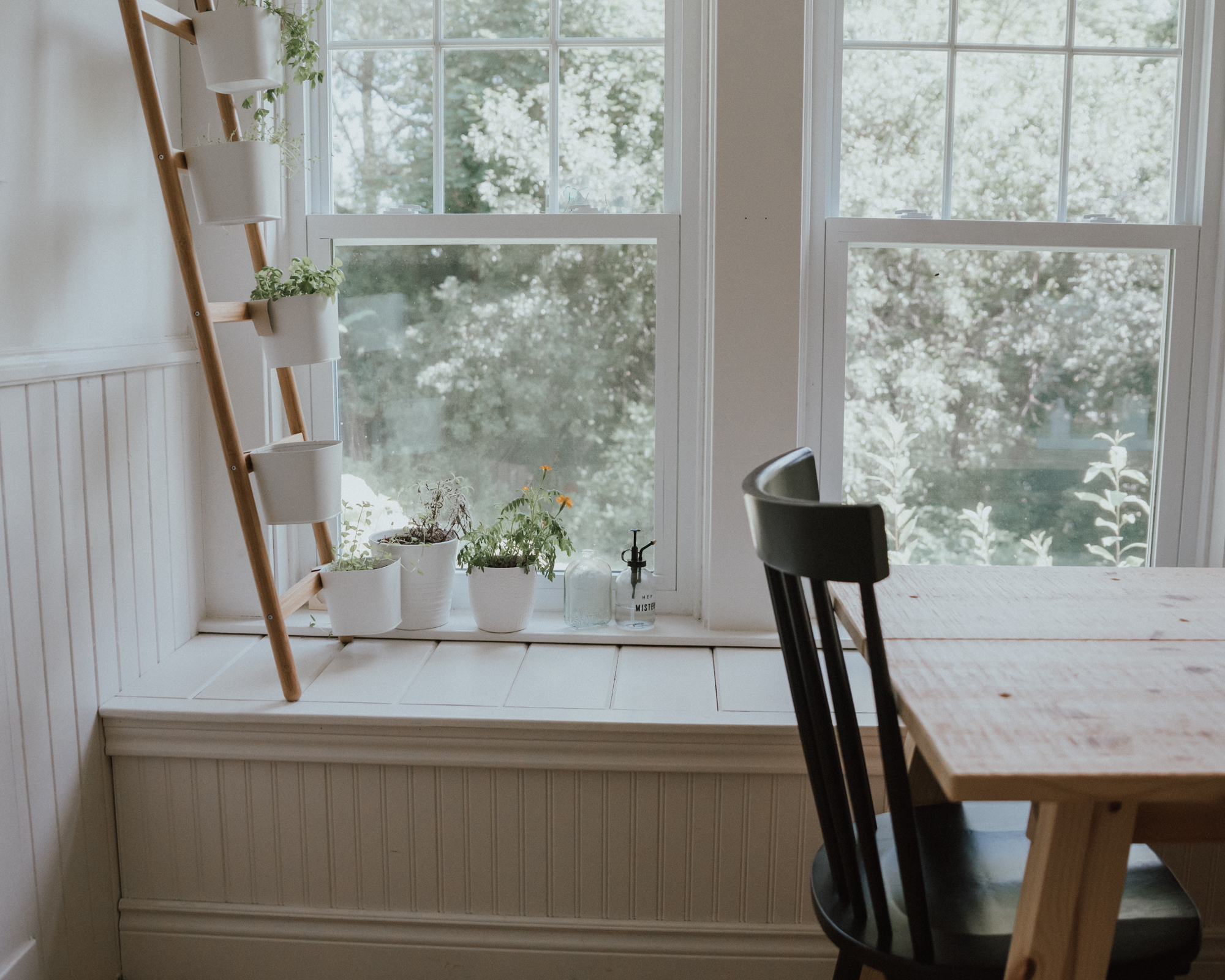 Our next project was to take that dated backsplash to the curb, try out some color and get rid of the wallpaper. This was our hardest moment as we had everything working against us. We ended up covering the backsplash with smarttiles to get by and shiplap to save the walls. But, alas, within a few months we were so sick of the temperary fixes, we started working on a game plan. We knew that we couldnt afford both new cabinets and countertops so we chose to work with our cabinets but add more counterspace by getting rid of the ledge behind the sink and adding a bar area with new countertops.
When it came to countertops, we knew that we were wanting something that suited the 102 year old age of our home. That means, natural like butcherblock or marble. knowing the issues with upkeep of both, and that the pricepoint was similar, we went with marble care of Living Stone Halifax. We were able to walk their warehouse and choose the exact slab that we wanted, going for a Bianco Rhyno white marble with grey and beige veins throughout. Because they have such a hightech CNC machine for precise cutting, we were able to chose exactly where we wanted each cut to go so that the best parts of the marble were shown on the main counter areas. Plus, they were so accomodating and their install team were teh sweetest, even installing my faucet for me and sealing our sink,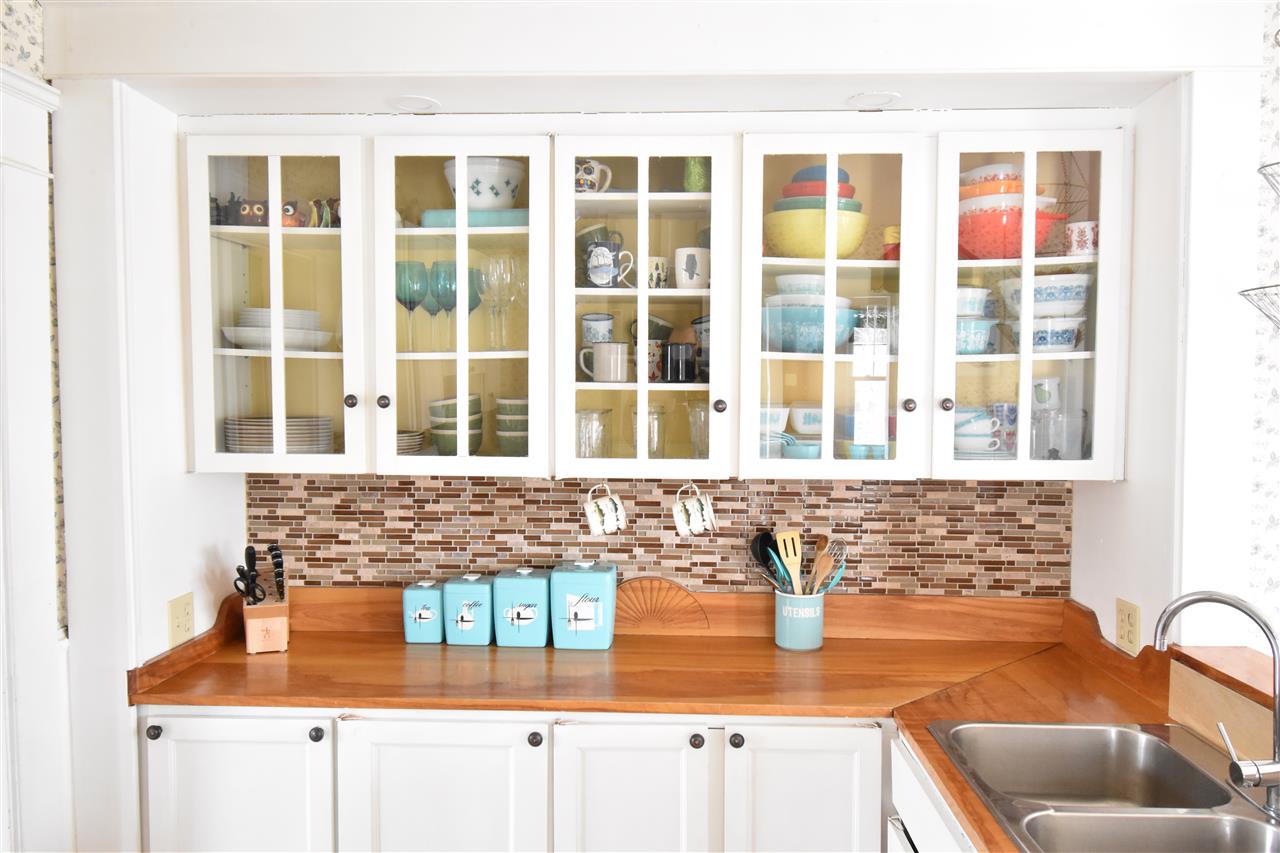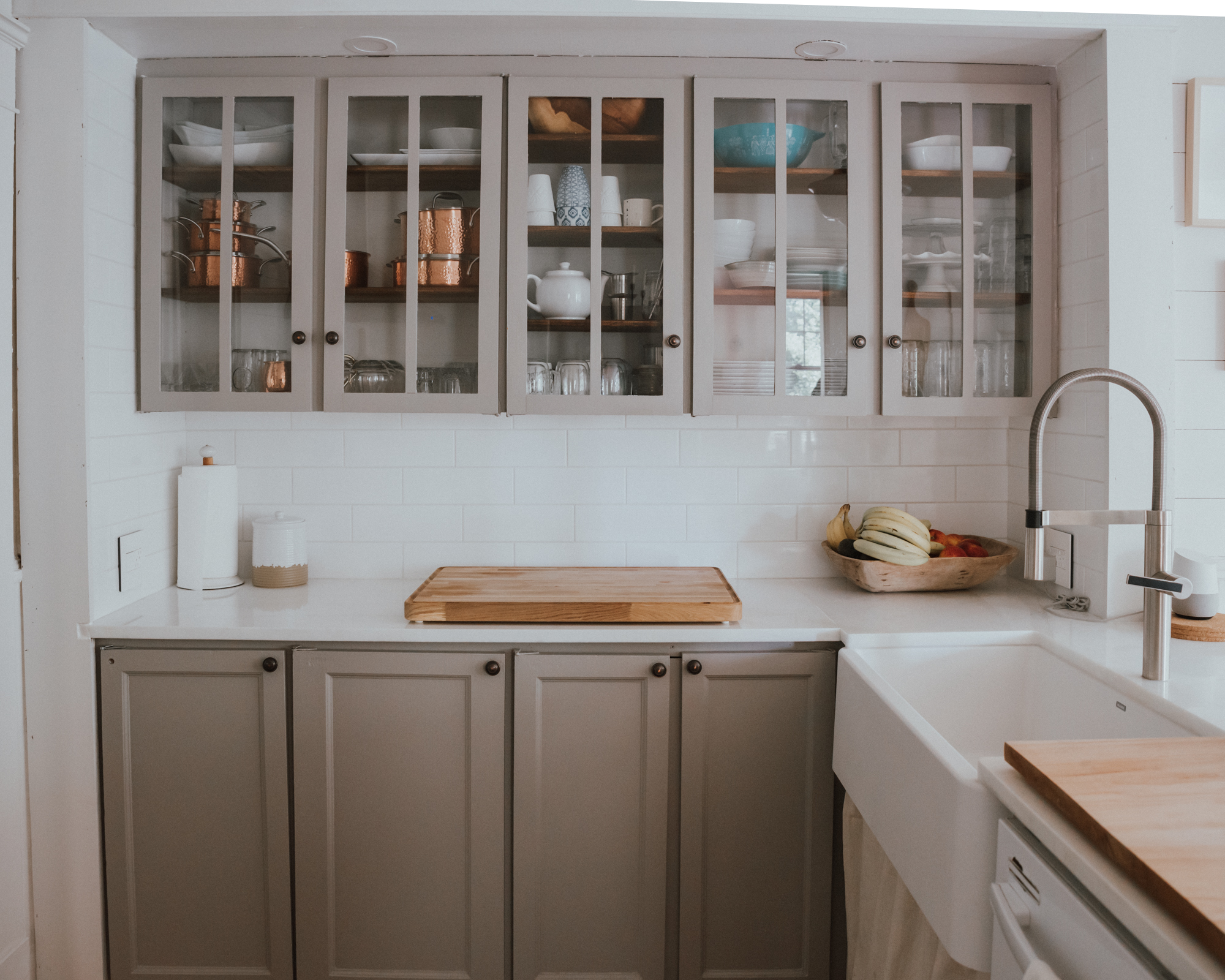 Im getting ahead of myself though. Before the countertops were installed, we needed to get our Blanco Ikon 33 farm sink installed, and choose a backsplash. thankfully we had a friend who is a master carpenter come and not only install the sink but level our countertops as the had sagged to one corner with the age of the home. I had always dreamed of having a farmsink and so this was a major moment for me.
As for backsplash, we wanted something timeless but also wouldnt be busy with the shiplap and wainscoting that was in the kitchen already. We ended up going for 3×12 inch white subway tile from Home Depot and Grout in snow white, the perfect off white color to tie in the wihte of the subway tile and the off white of the marble.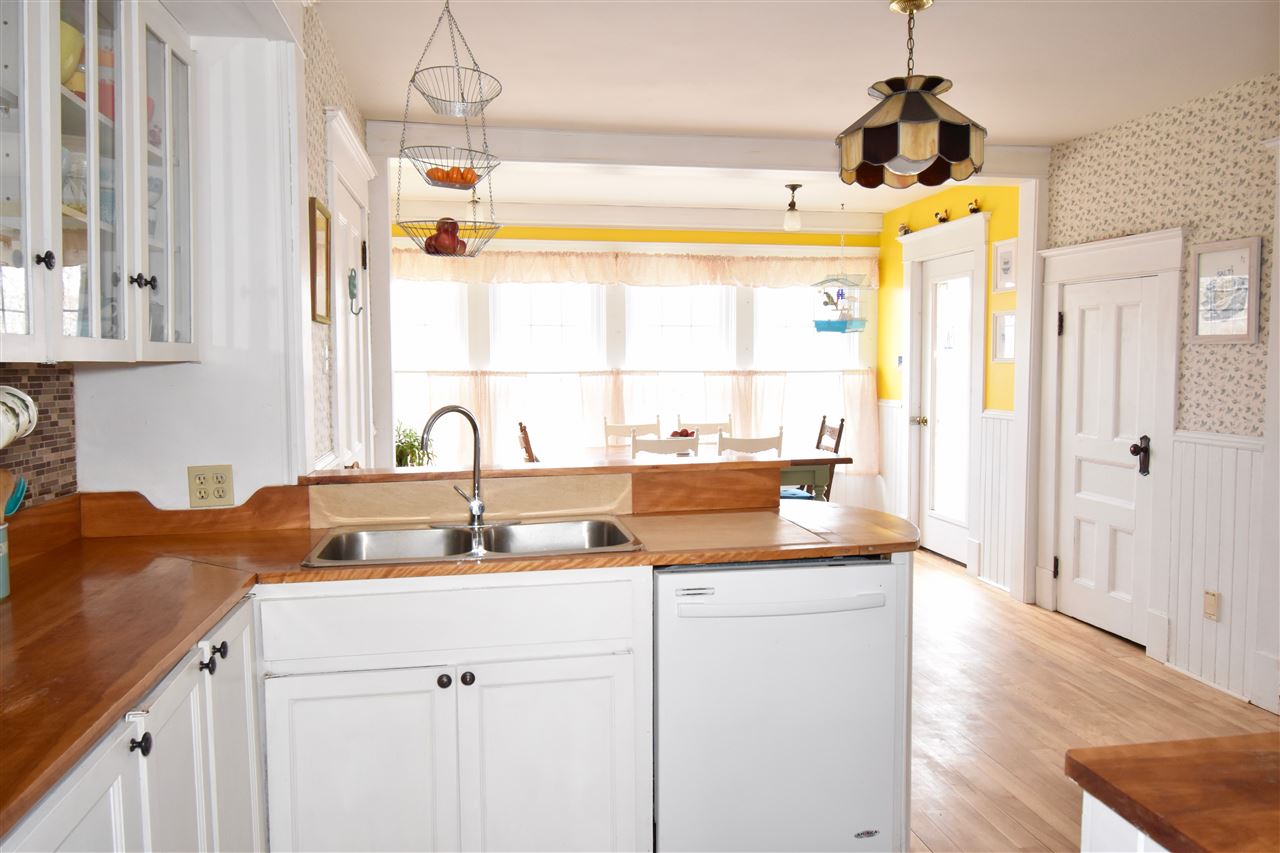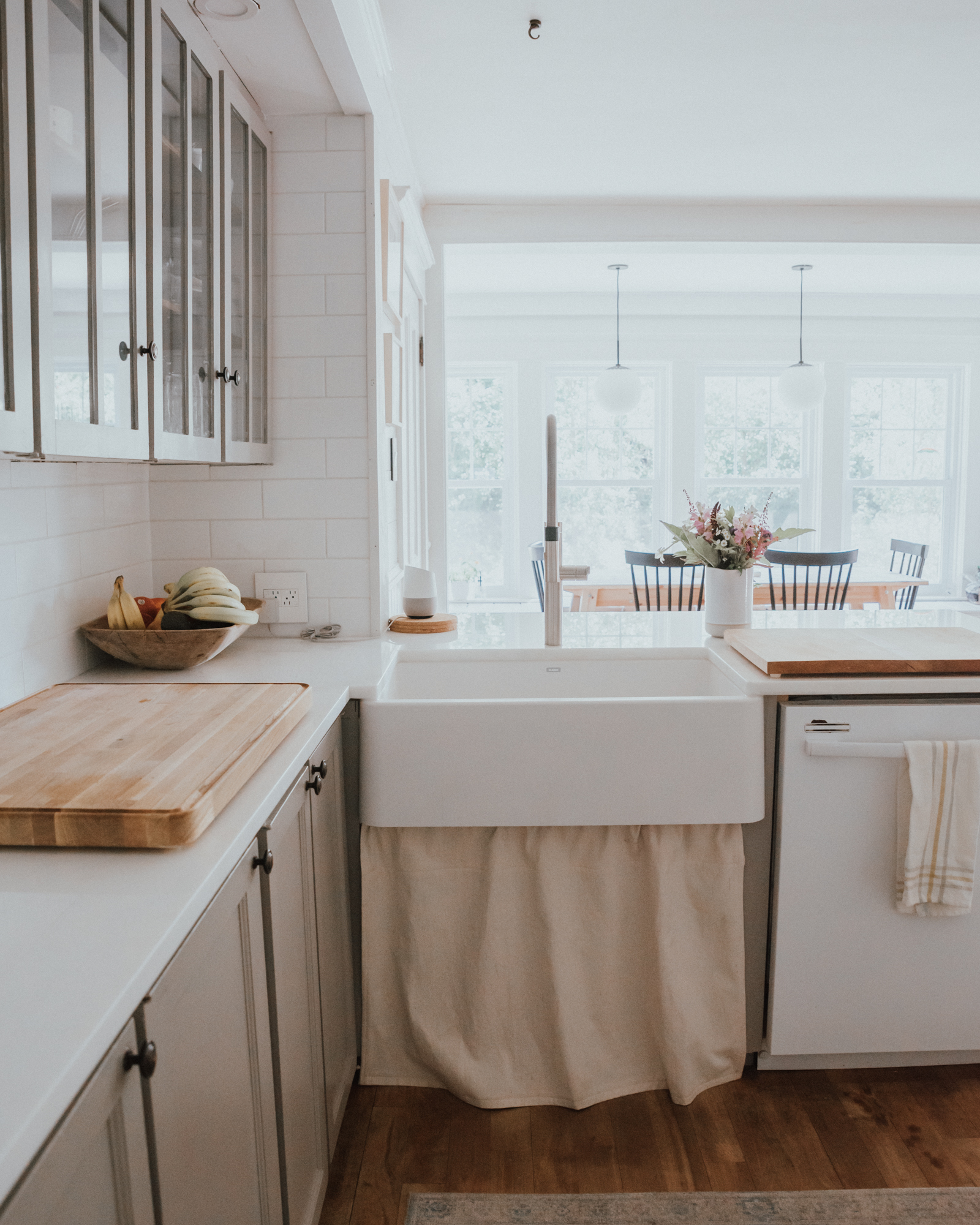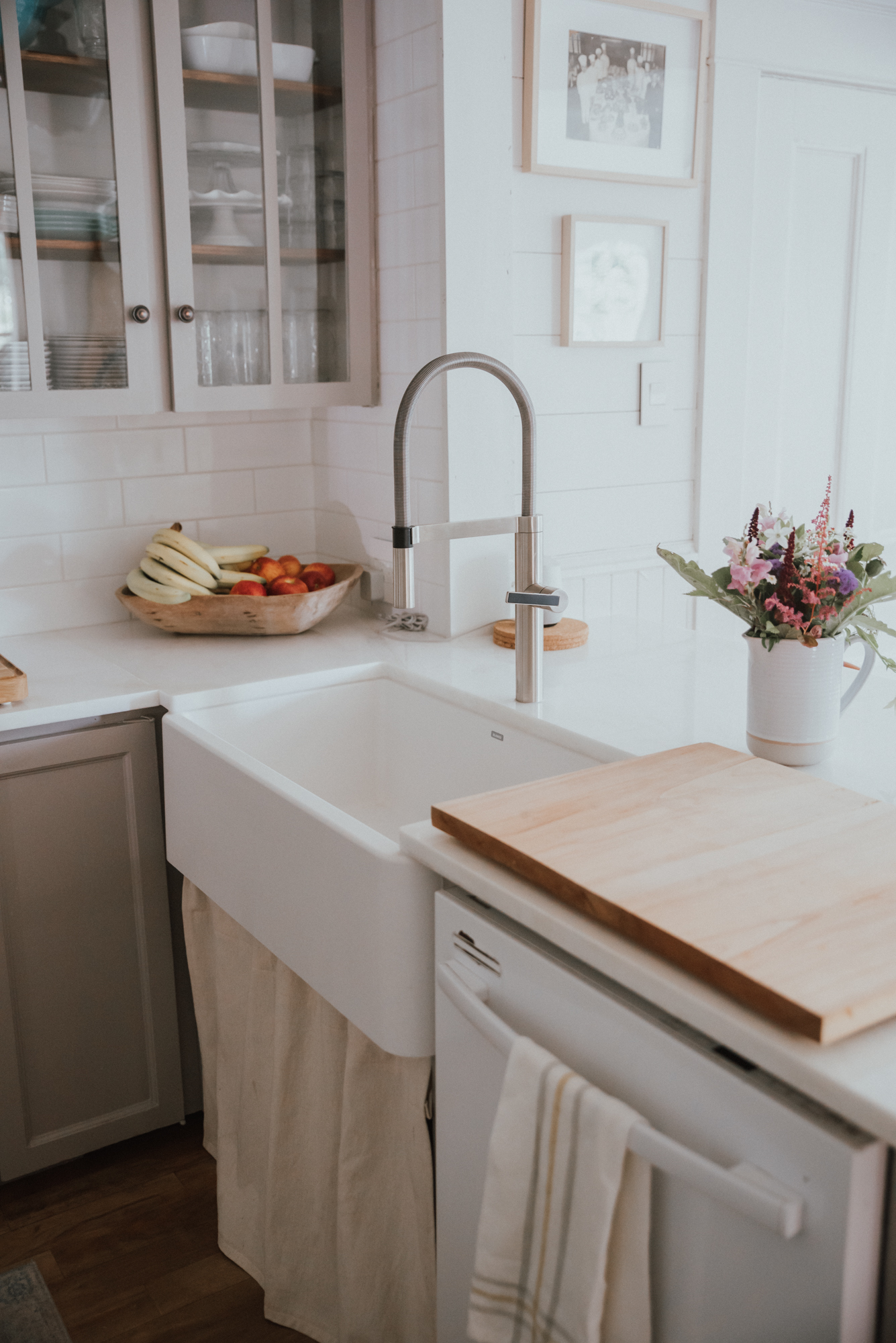 With the countertop selection, came the realization that our bright blue cabinets just wouldn't match. and so began our hunt for the perfect grey to go with the marble. I went to our towns Home Hardware and grabbed a bunch of samples, wanting somthing not too dark but also more beige than blue. We settled for Beauti-Tone Cabinet paint in FULL MOON color and once I began to paint the bottom cabinets, we made the decicion to also paint the uppers and I LOVE IT. It matches the age and vibe of this home so much better than the blue had.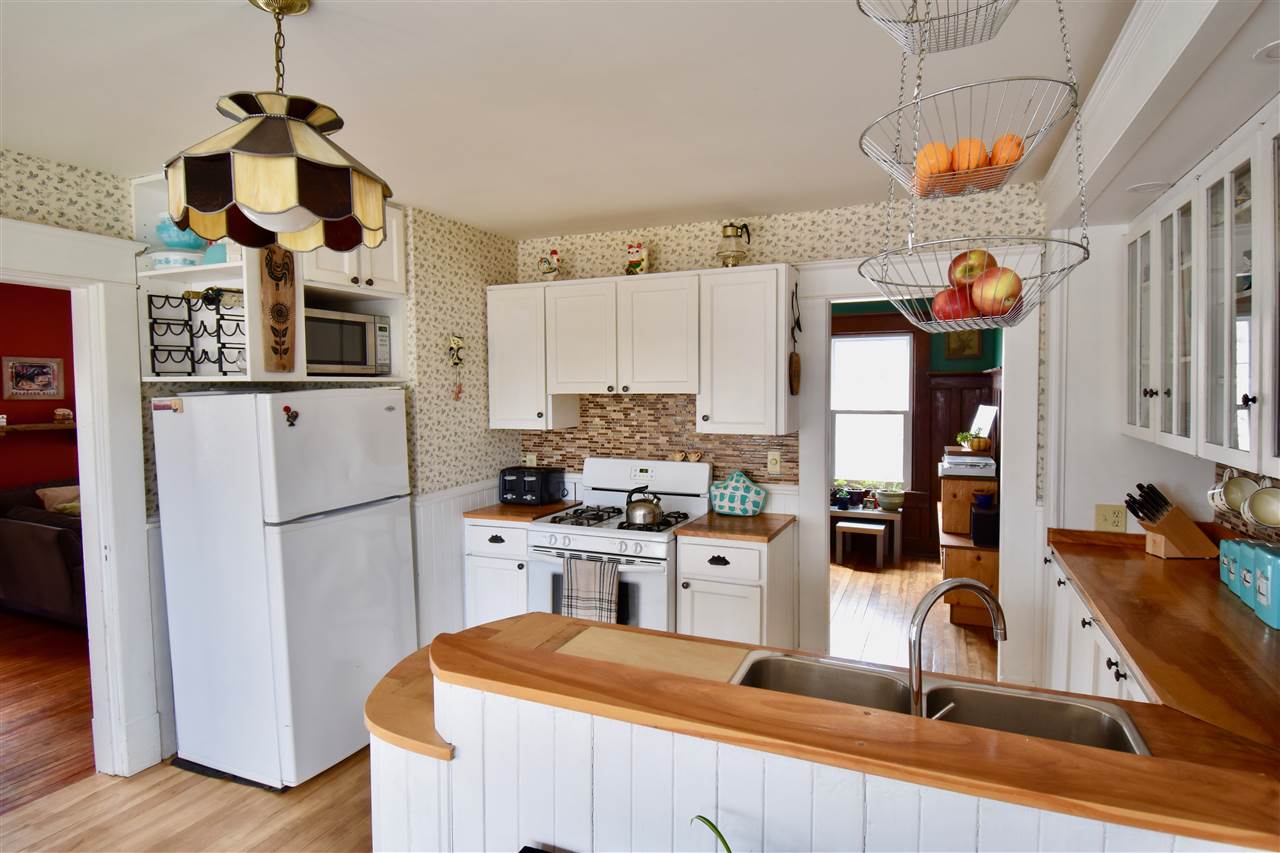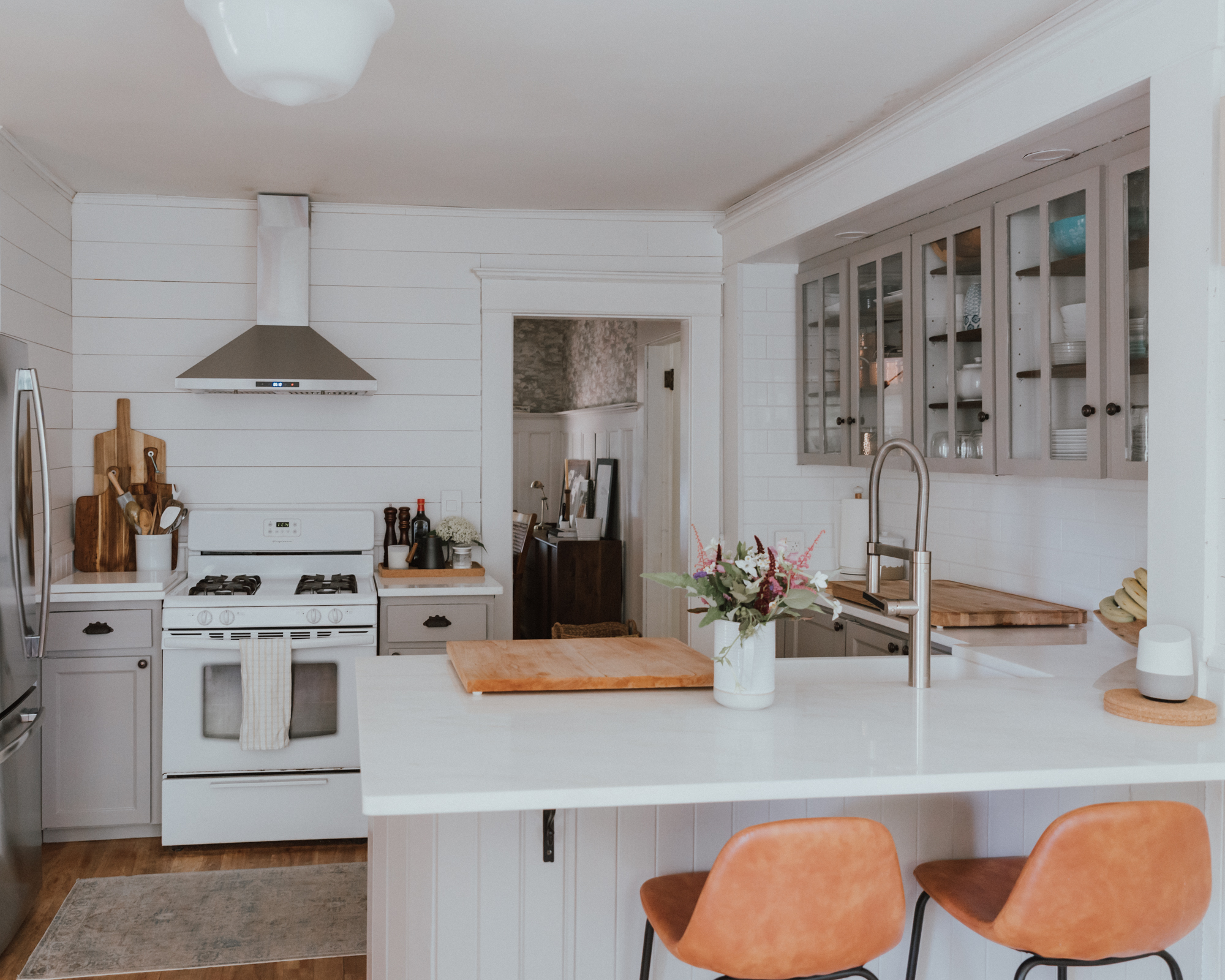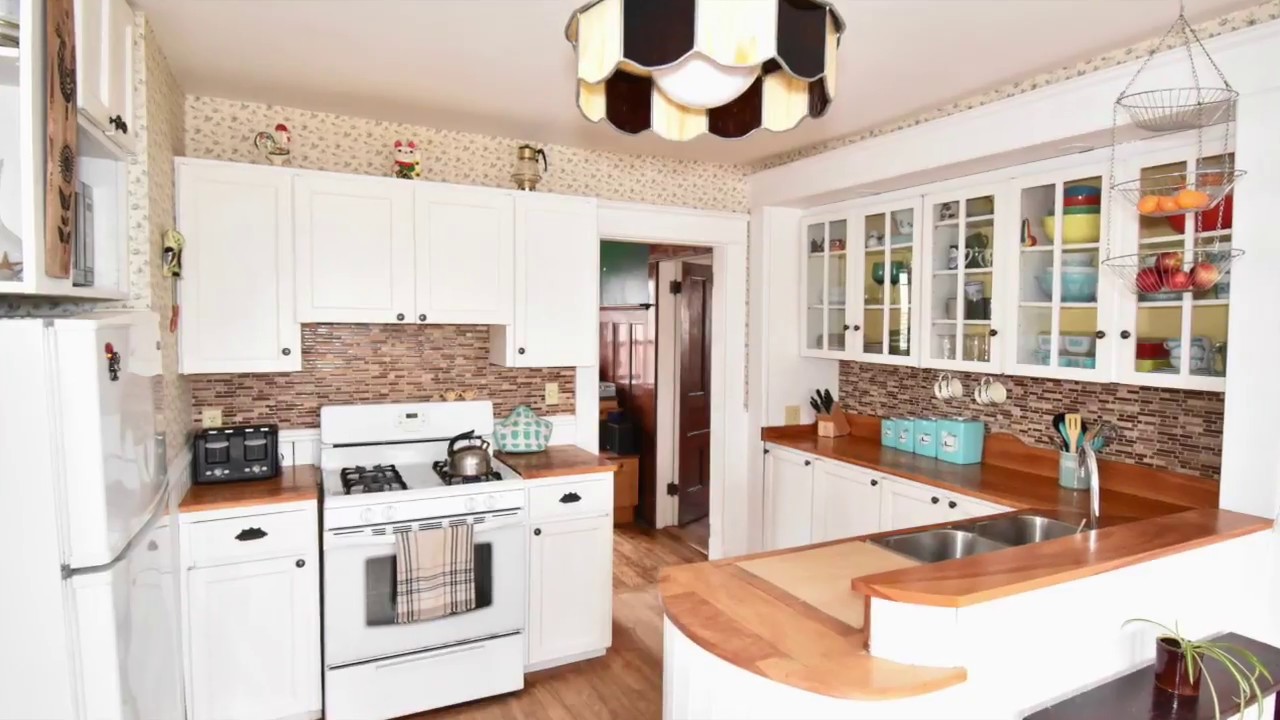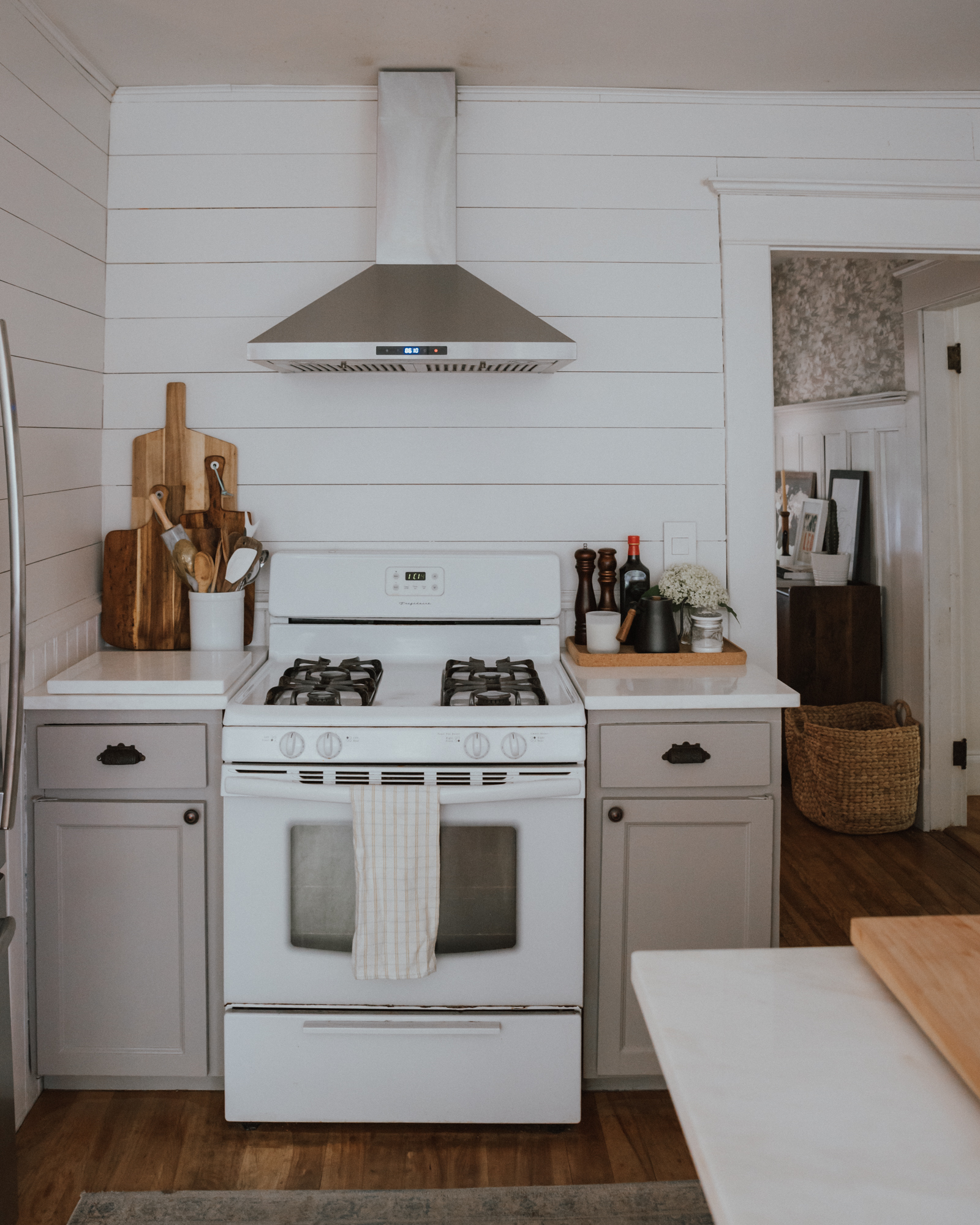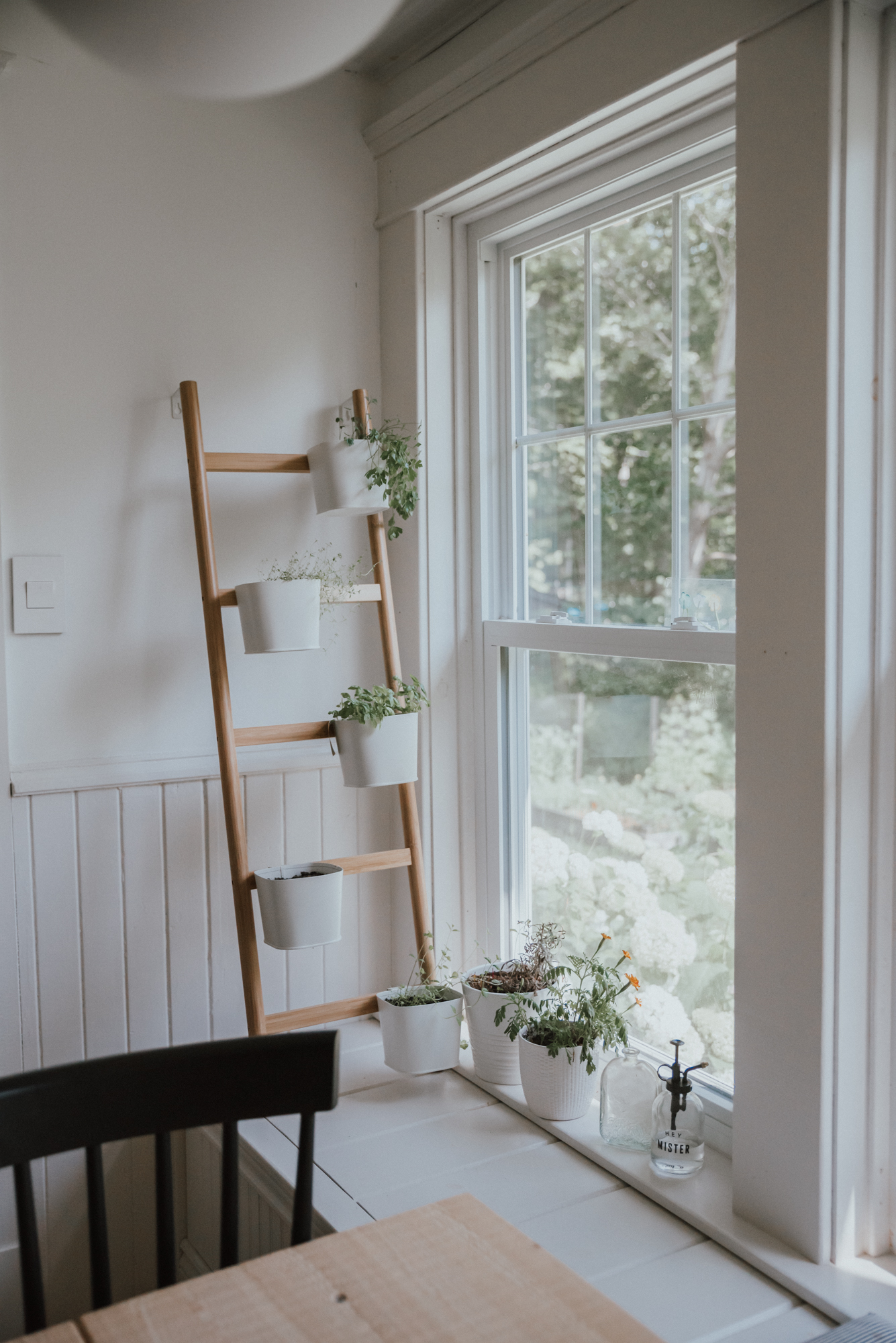 With all that done and behind us, it was time for the finishes. We got brand new lighting from Hudson Valley Lighting, going with a Schoolhouse vibe for our main light and Mitzi pendants over our dining table. We grabbed a large butcher block from Homesense to become our new work stationa nd used one of the old wood countertops refinished for another.
We added items that meant a lot to us around the kitchen, like old photos reframed, an antique bread bowl Rob's grandfather used in his restaurants and a Cutting board my brother in law made us froma tree my father had cut.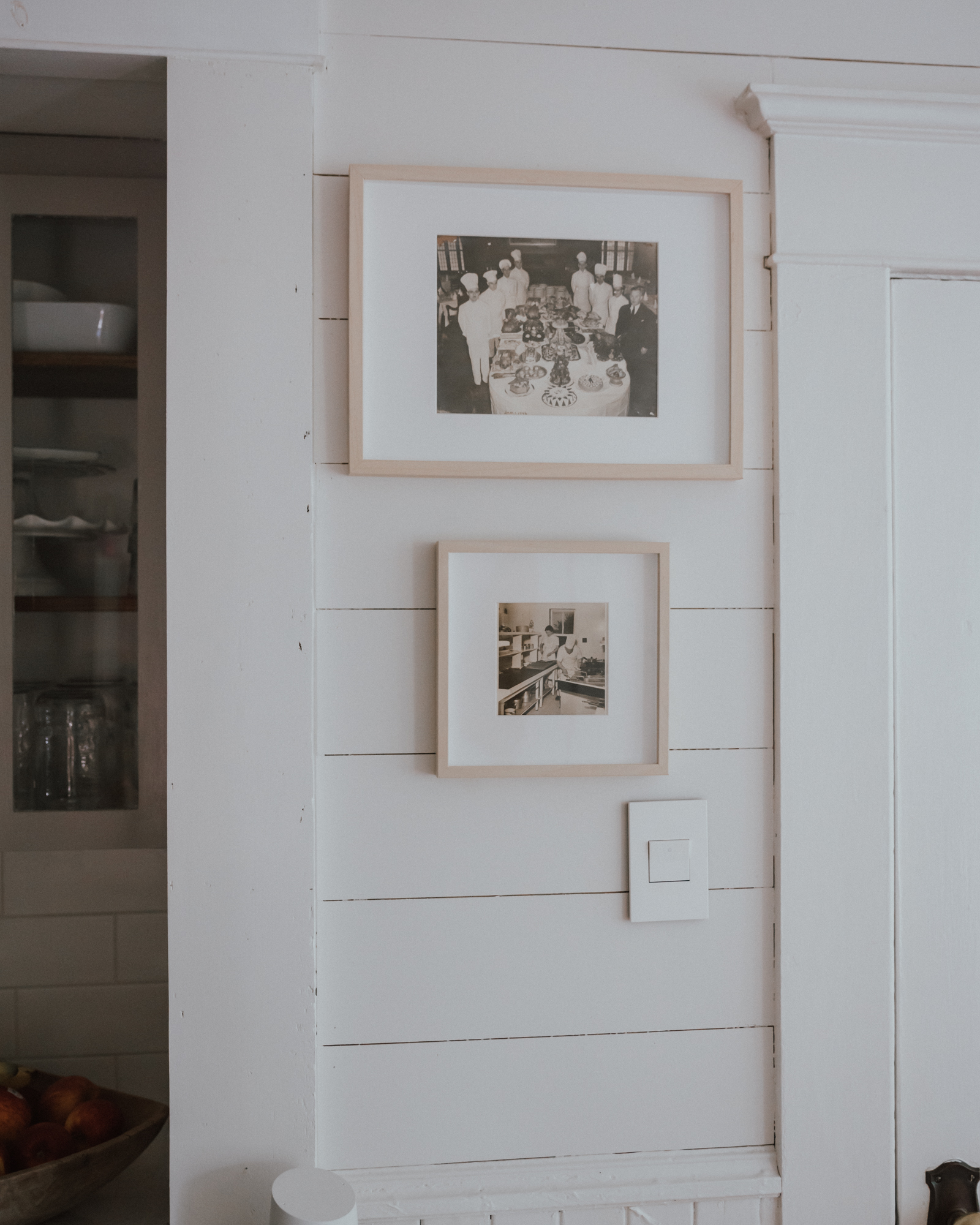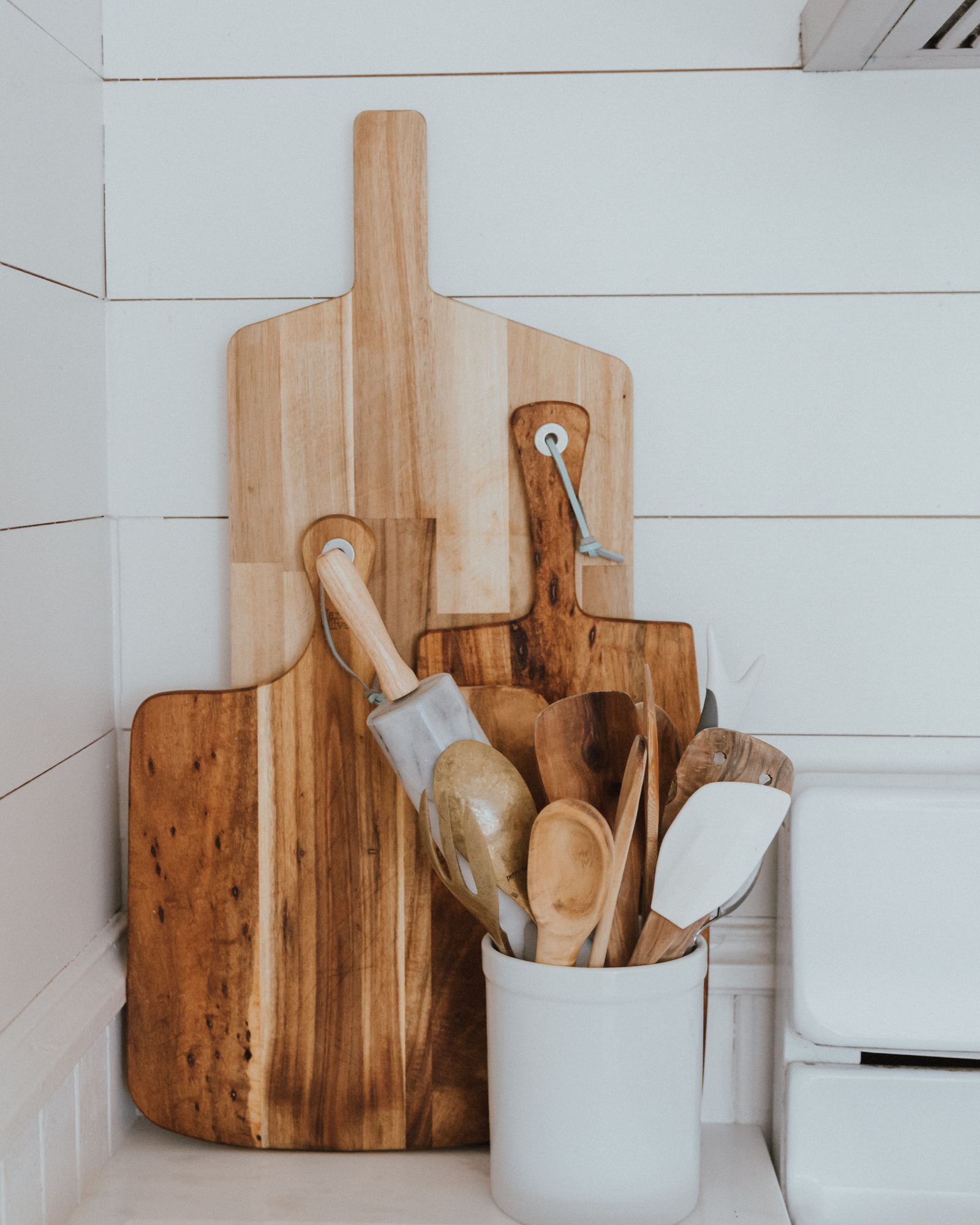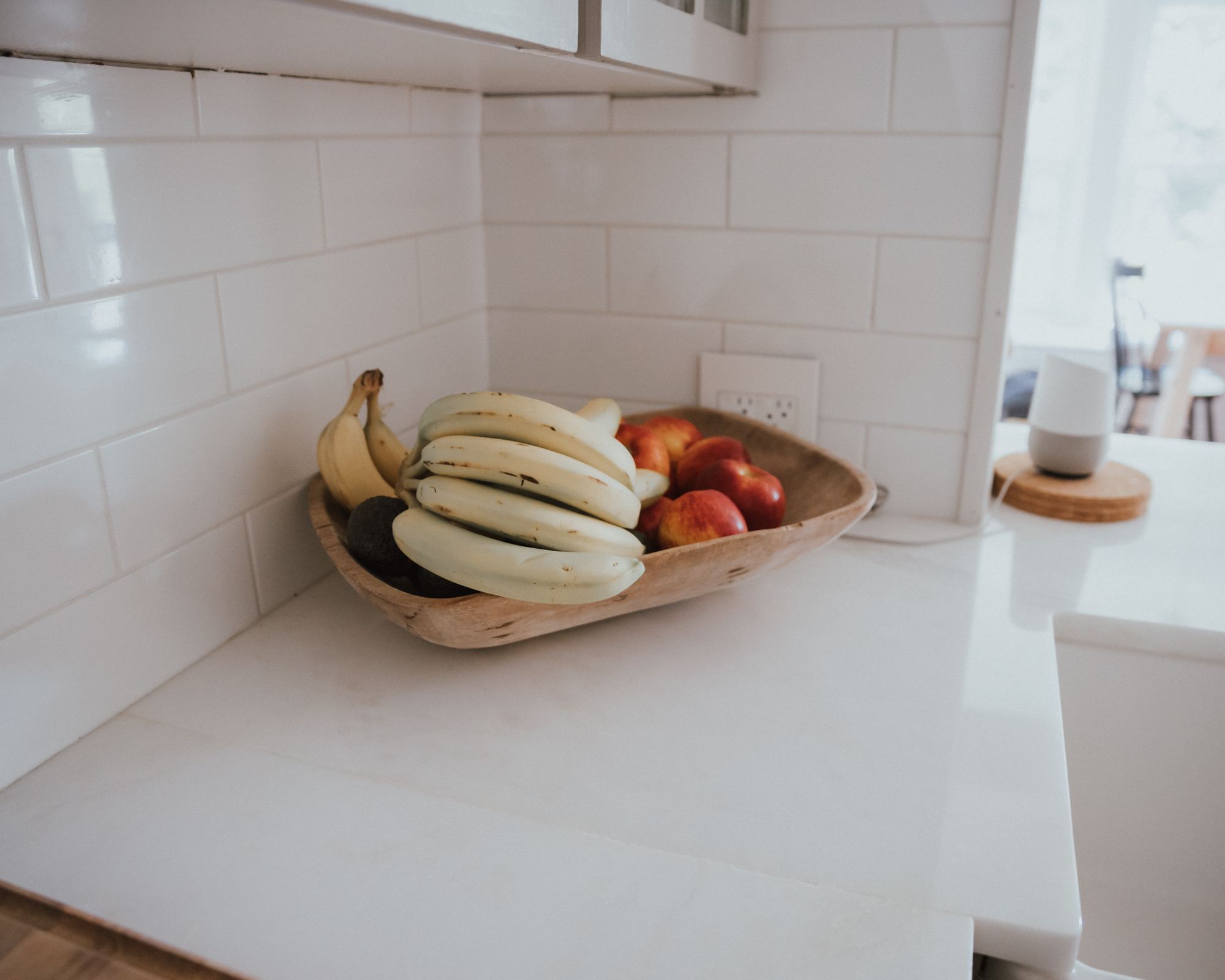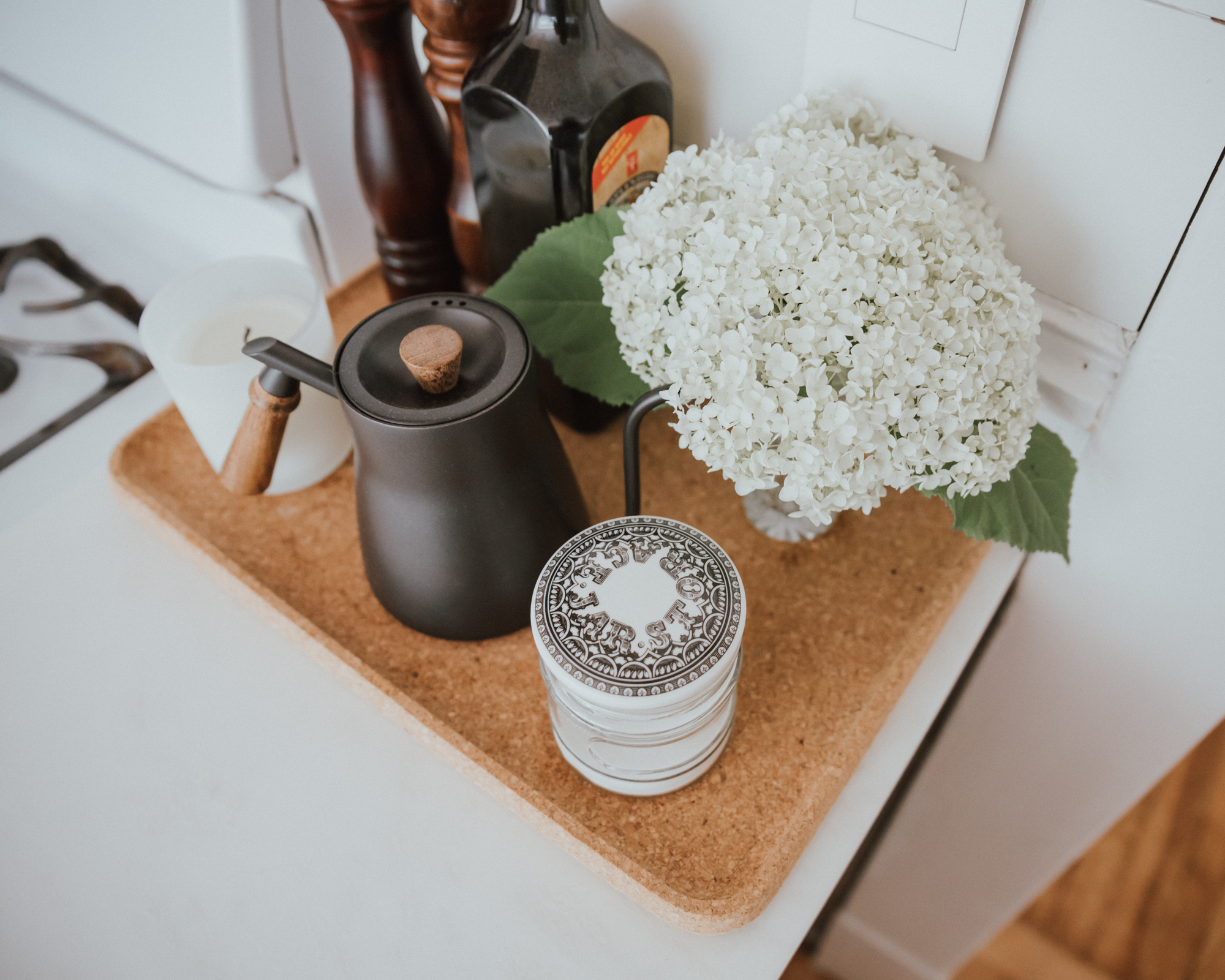 This room was a major labor of love for us over the last 10 months and It came out perfectly. Now we can enjoy it, entertain our friends and family and enjoy cooking again.
For everything we used, see below:
Wall Paint: Behr Marquee white without any tint
Trim and Shiplap: Behr cabinet paint in Shoelace
Cabinet Paint: Beauti-Tone Cabinet paint in Full Moon
Main Light: Hudson Valley Lighting
Pendant Lights: Mitzi
Countertops: Livingstone Bianco Rhyno Marble
Sink: Blanco Ikon 33
Faucet: Blanco Solenta
Range Hood: Wayfair
Table: Ikea
Chairs: Wayfair
Barstools: Wayfair
Rug: Wayfair
Cutting board: Homesense (similar)
Bread Bowl: Heirloom (similar)
Herb Garden: Ikea