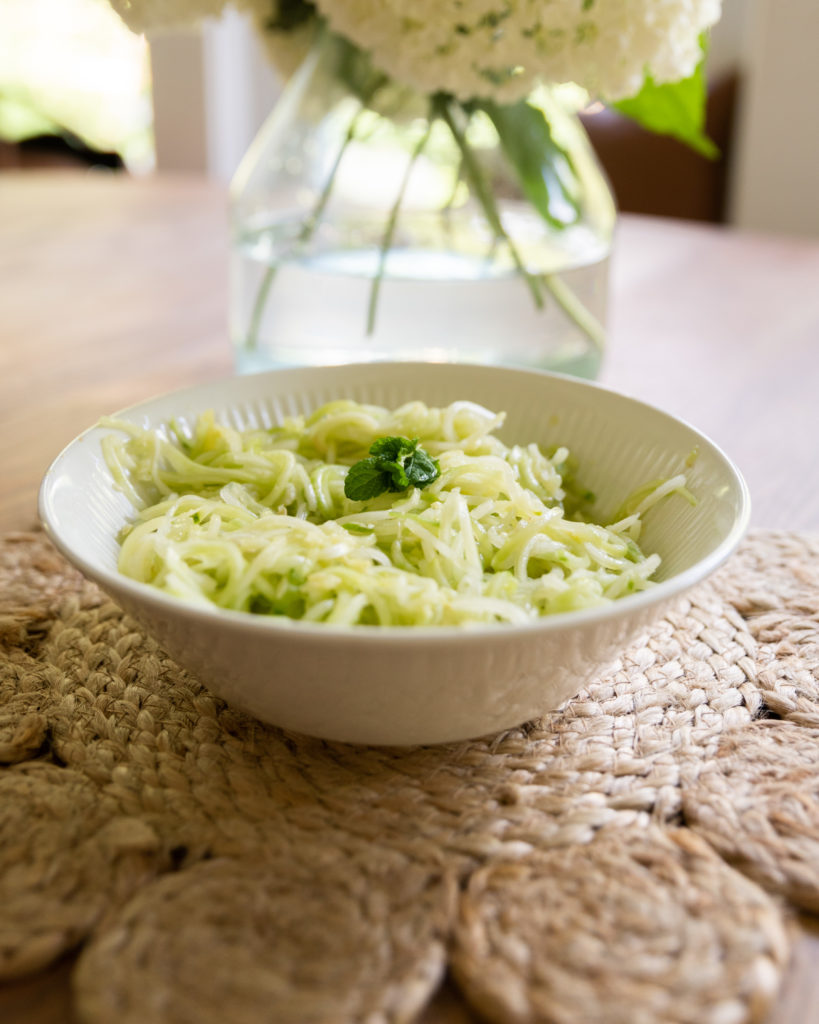 There is nothing like a fresh, cold salad on a hot summer day. We love this Cucumber salad as either a snack, or lunch with a protein, or we use it as a side at supper time.
It is super simple to make and you can choose to either slice, julienne, or like we did, spiral your cucumber and zucchini into noodles. we were lucky enough to have fresh zucchini, cucumbers, and garlic from our garden so it made this salad taste extra delicious.
If you are using a spiralizer, I would recommend that you use scissors. to chop up the noodles a bit, otherwise they are bit too long to serve or eat as they are cut.
We own this Spiralizer and its one of our favourites especially with paleo friendly recipes like this. One you own one, you'd be surprised with how many times you will use it. From zucchinis, to sweet potatoes, It really can add so much variety to your meal plans when you are trying to eat healthy.
Sesame Ginger Cucumber Salad
Ingredients:
1 zucchini peeled and spiralized
3 cucumbers peeled and spiralized
2 cloves of garlic minced
1 1/2 tbsp rice white wine vinegar
1/4 tsp of ground ginger or 1 tsp fresh ginger grated
1/4 tsp salt
2 tbsp sesame oil
5 mint leaves thinly sliced (optional)
Directions:
1. Combine the zucchini and cucumber noodles into a medium bowl.
2. In a measuring cup or small bowl, combine the garlic, vinegar, ginger, and sea salt. Whisk in the sesame oil. Pour the dressing onto the noodles.
3. Garnish with the mint
We usually eat it with in the first half an hour, but I would recommend letting it sit for 15 to 20 minutes in the vinegar to really get all of the flavors. It's not good sitting for too long though so I wouldn't recommend making it ahead of time too long.