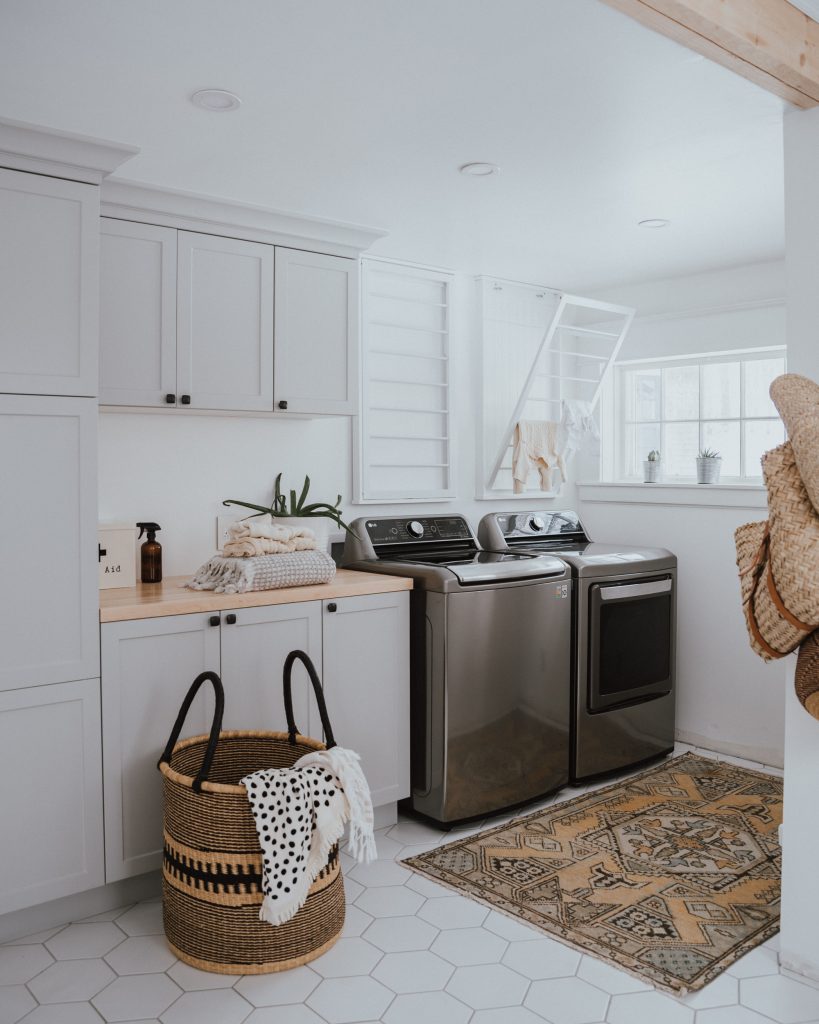 Our laundry room renovation was a long process…I mean like 5 months of work to get to where we are and it isn't even finished yet. But, just as long as a process was making a decision on what washer and dryer to invest in for the space. We knew we wanted a top loading washer but that was as far as it had gone.
We took the 5 months of the construction of the laundry room to really dig deep into the reviews and figure out which top loading washer was for us. Our first inkling was to get one with a tap on the inside you could use to pre wash as we weren't adding a sink to the room, but after looking more into it, that seemed like one more thing to break from over use. Plus, with our kitchen farm sink, we didn't necessarily need another oversized sink 2 steps away.
We ended up turning to consumer reports. LG held the top 6 spots for top loading washers. But, the #1 was a bit too basic for what we wanted so we decided to research the second top spot which was the Steam washer with a 6.0 cu/ft drum. If you are a family you KNOW big washers are EVERYTHING! with our kids all still in diapers and pull ups through the night, we loved the idea of being able to wash their blankets (whether from the flu or from a pee accident) in our own home.
The steam function was an added bonus. Using steam to help clean, kills bacteria and smells on the clothing so it seemed pretty prefect for a busy family with 3 stinky boys and a dog.
But, the biggest question that we had after showcasing our laundry room was why did we want a top loading washer. so here are….
5 Reasons Why We Went With A Top Loading Washer
Rob Does the Laundry and he is 6'6″
Have you ever seen a tall guy like the scrunch down to try and get laundry out of a front load? it's pretty comical. Having a top loading washer was Ideal for him as he does most of the laundry, so it meant no crunching into small spaces
2. No Rubber Gasket
If you look into it, rubber gaskets, which are essentially what keeps the water from leaking out of a front loaded washer and disgusting. They are where all the germs and mould live and if not disinfected weekly, can become pretty unsanitary. We just didn't want to think of that when we were washing our clothes that our kids wear so close to them.
3. The smell
So all those germs and caught stagnant water in that gasket, now stand still and put off an awful smell. So again, ain't no one got time for that.
4. Our Small Laundry Room
As you know, to make our laundry, we borrowed space from out family room. Its not a massive space. But with washers now-a-days, you need to keep the doors open to stop the mold and mildew from growing. We didn't want to waste the small space we have by taking it up with an open door on a front load. With a top load, we are able to keep the lid open when not in use and not lose out on floor space.
5. Capacity
As a family of 5, on a well, doing less loads because they are larger was pretty important to us. in order to get the biggest capacity in a washer, a top load was the way to go. We were able to get a 6.0 cu/ft washer with the same footprint as our old smaller washer. and we don't regret it at all.
I get that with all the magazines showcasing front loading washers as the pretty ones in their pages, it can be hard to realize top loaders have come a far distance from those laundromat like white top loading ones we all remember too well. The only way I'd ever switch to a front loading washer would be if it was to do with counter space and needing the counter to be over the washer and dryer. But in our case, we had space on the side so we didn't run into this issue and 3 months in, our washer and dryer have been everything we wanted and more.