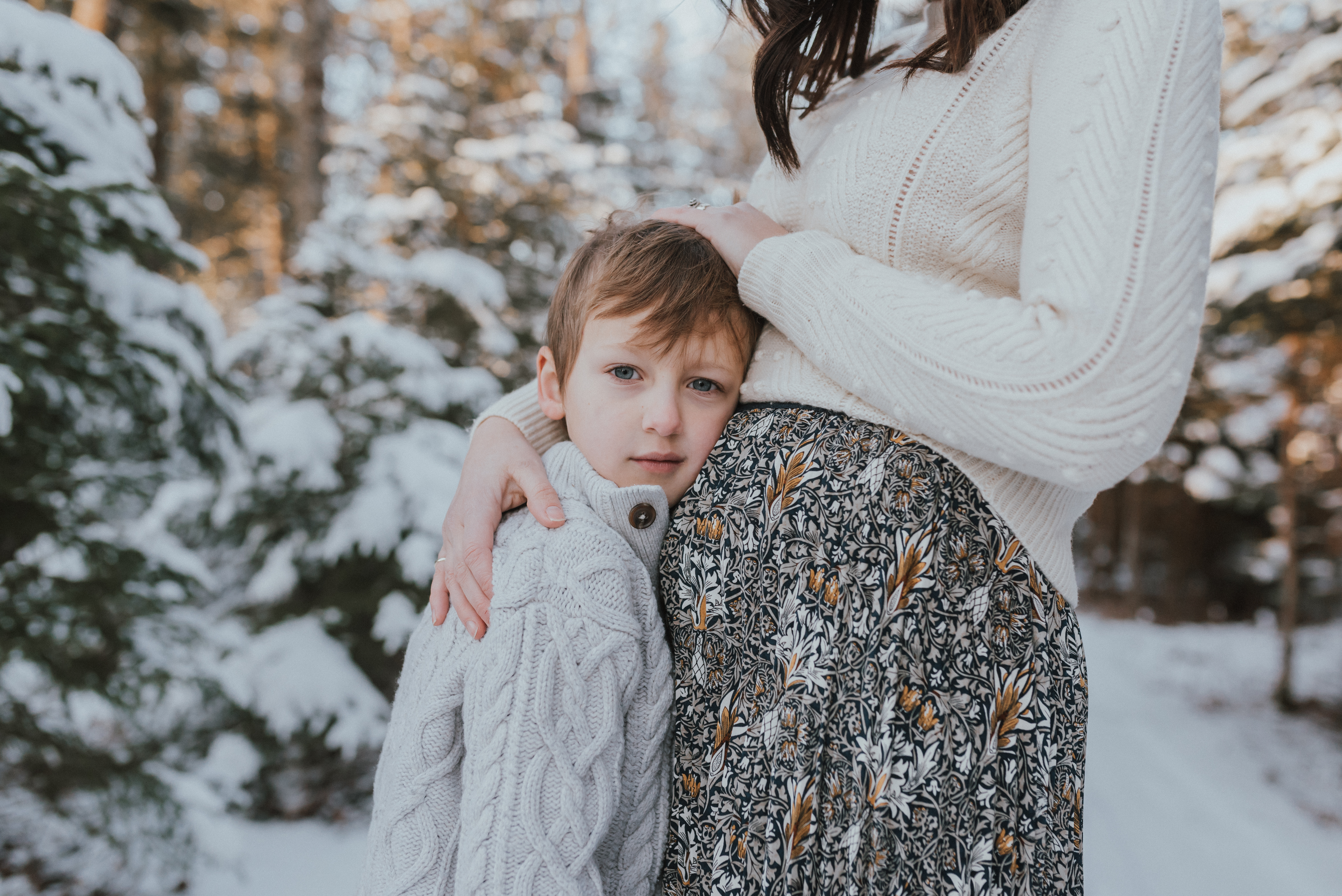 If you Follow me on social media, then you probably already know the BIG NEWS! Baby Decoeli Number 3 is on the way. Our due date is June 22, but looking at the history of my other pregnancies, and health conditions that usually develop during, I will probably go early or be induced early. Which we are actually happy about as Aubrey and Poppy are both born June 28th and 29th so it will be nice to have a bit of space between the new baby joining us, and celebrating Aubrey and Poppy.
So, I guess I should tell the story of how we found out and what has happened since. I have had so many of you reach out who are also pregnant and it is so refreshing to know that I have so many of you fellow mamas near and far away, going through this journey with me.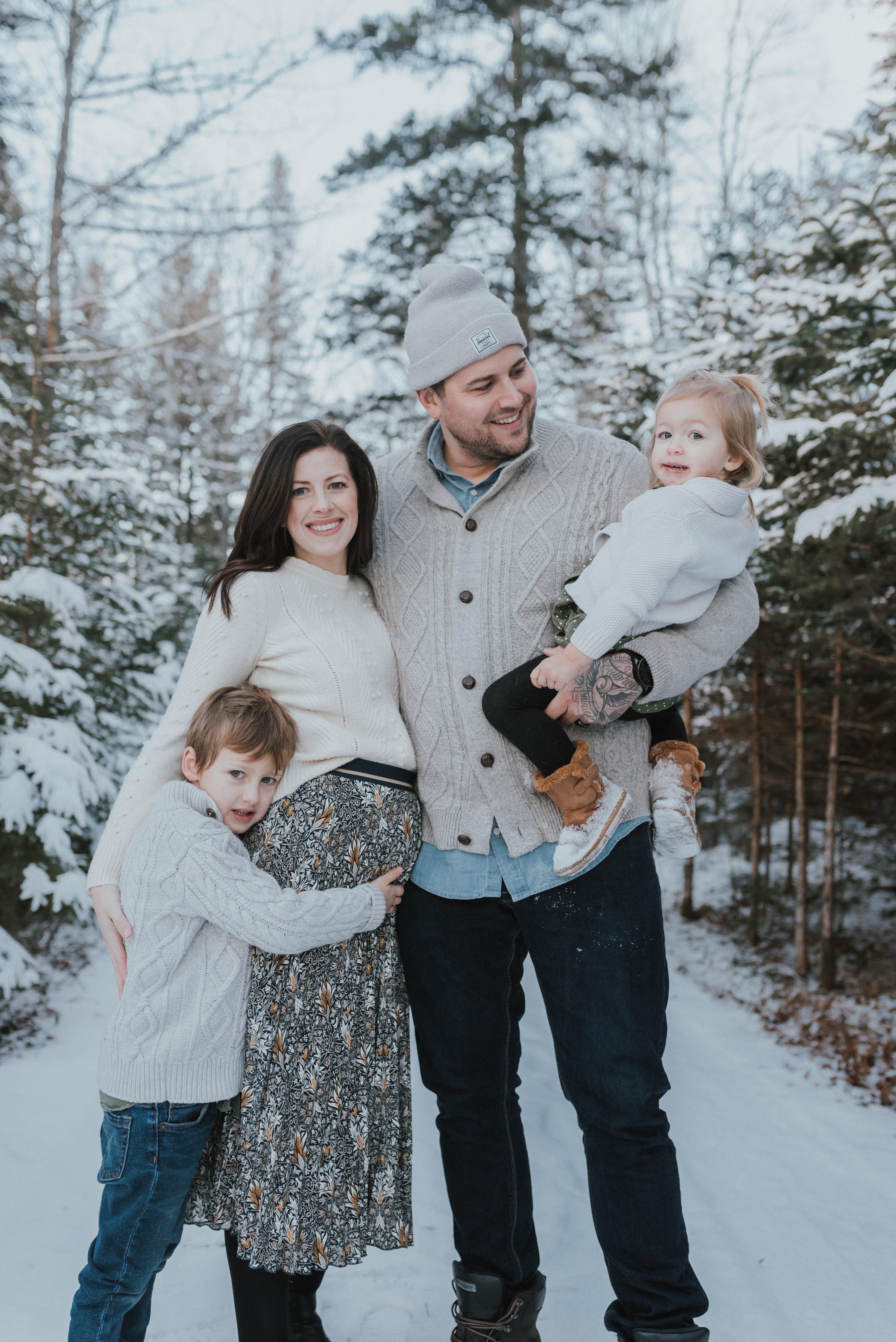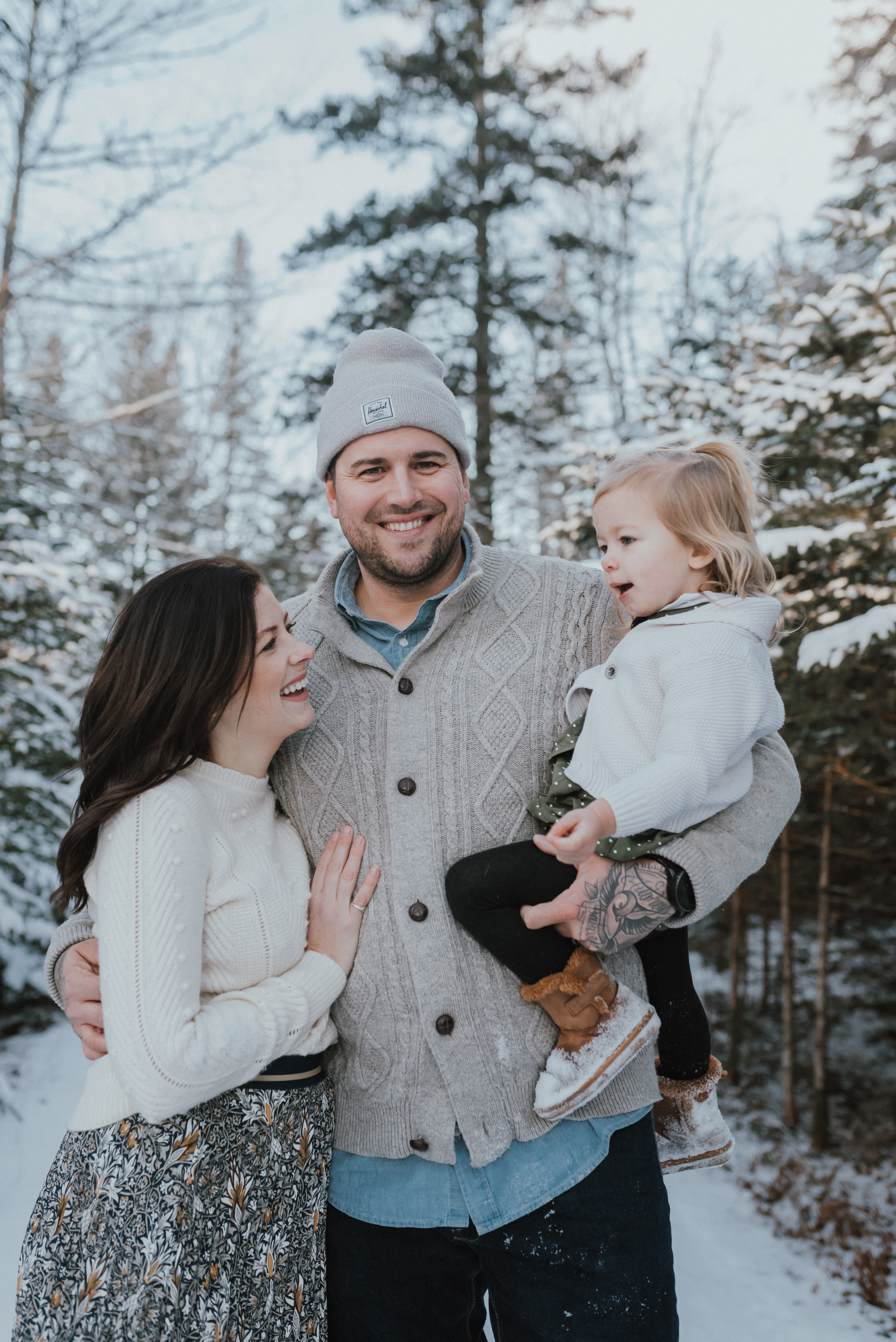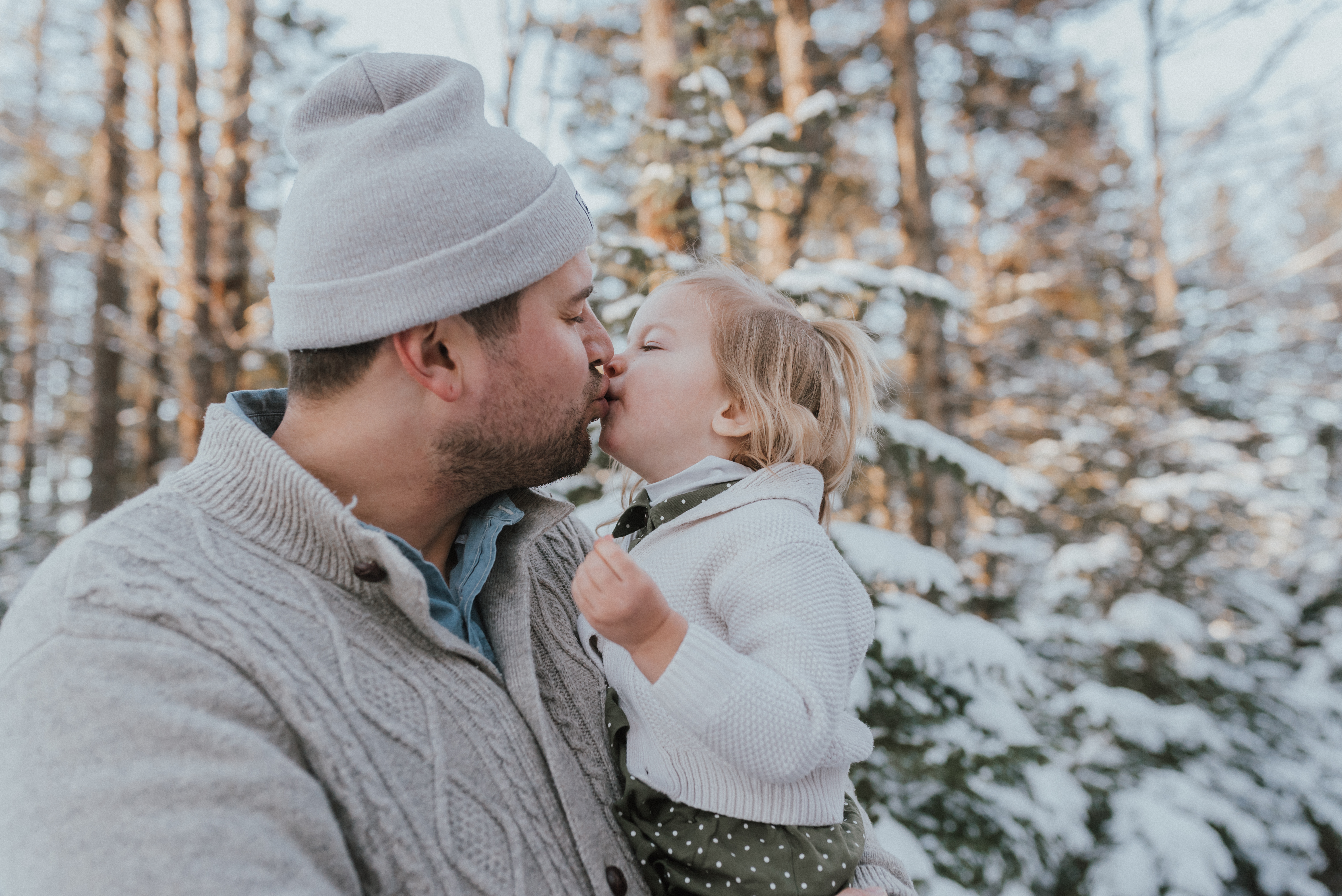 Rob and I opened the conversation about having a third baby last year. As soon as poppy was a few months old, we knew our family wasn't complete but weren't sure if it was due to our miscarriage between them, or if we truly were meant to have one more. We decided to give it a year and open the conversation back up in the spring.
Well, springtime happened, and so did long chats about our future both in our businesses and our family. We decided to give ourselves the summer to enjoy. It was our first summer where I wasn't breastfeeding, Rob wasn't working two jobs, and the kids were at a great age to actually enjoy it. Once summer was over we would give it a go and if we had a miscarriage again, we agreed that two was what we were meant to have. We were so happy we waited because, well, you guys saw our summer…instead of relaxing and enjoying the kids, we bought a house and traveled to the other side of the country.
Once we got home from Disney in September, we decided we were ready to try. We talked about it once, and well you know the deal. Before we could even really opened the conversation fully, I felt off like I was pregnant. For the next week, while waiting for my period, I had an uneasy feeling. If I was pregnant like I was feeling, it was too easy. We had only tried the once and I just couldn't calm my mind down that something was going to be wrong. The day I was due to get my period, I took a test, and then two more. All confirmed I was pregnant. Because I was so scared I came down right away and told Rob. No big surprise or cute way. I just passed him the test and he was just as shocked as me and also just as worried. You see, our miscarriage was a Partial Molar pregnancy (read about it here) which is very dangerous and if you have it once, it can happen again. That was all that we could think about.
The next week, we went in to see the doctor and she ordered blood tests and an ultrasound to make sure it was viable.  With my partial molar pregnancy history, they rushed me into ultrasound a few days later. While there we saw a healthy little embryo and the perfect little heart flicker. I measured at 6 weeks and 2 days.
The next few weeks were painful. I began to get insanely tired and nauseous and spent at least one day a week sleeping on the couch for the ENTIRE day. But, on top of the extreme fatigue and nausea, we were still so scared. It was too soon to hear the baby's heartbeat at the doctors, but our ultrasound was done so early, we were afraid we would lose the baby in between and have no idea.
In the midst of all of that, by 7 weeks, none of my clothes fit anymore and I had already popped and put on 9lbs. My diet, although all I wanted was fresh salads and fruit, consisted of carbs in different forms to combat my nausea, with a side of Dicletin to try to help me not actually throwing up.
5 weeks slowly went by in the midst of kitchen renos, and Christmas rush on the blog beginning. Our doctor, being amazing, told us to come back at 10 weeks just to see if we could hear the heartbeat to rest our nerves and then again at 12 weeks for our official prenatal appointment. Rob came with and we went straight to it with the doppler. Within the first minute, she found the heart beat so fast and strong and Rob and  I both instantly burst into tears. The baby was still in there and healthy.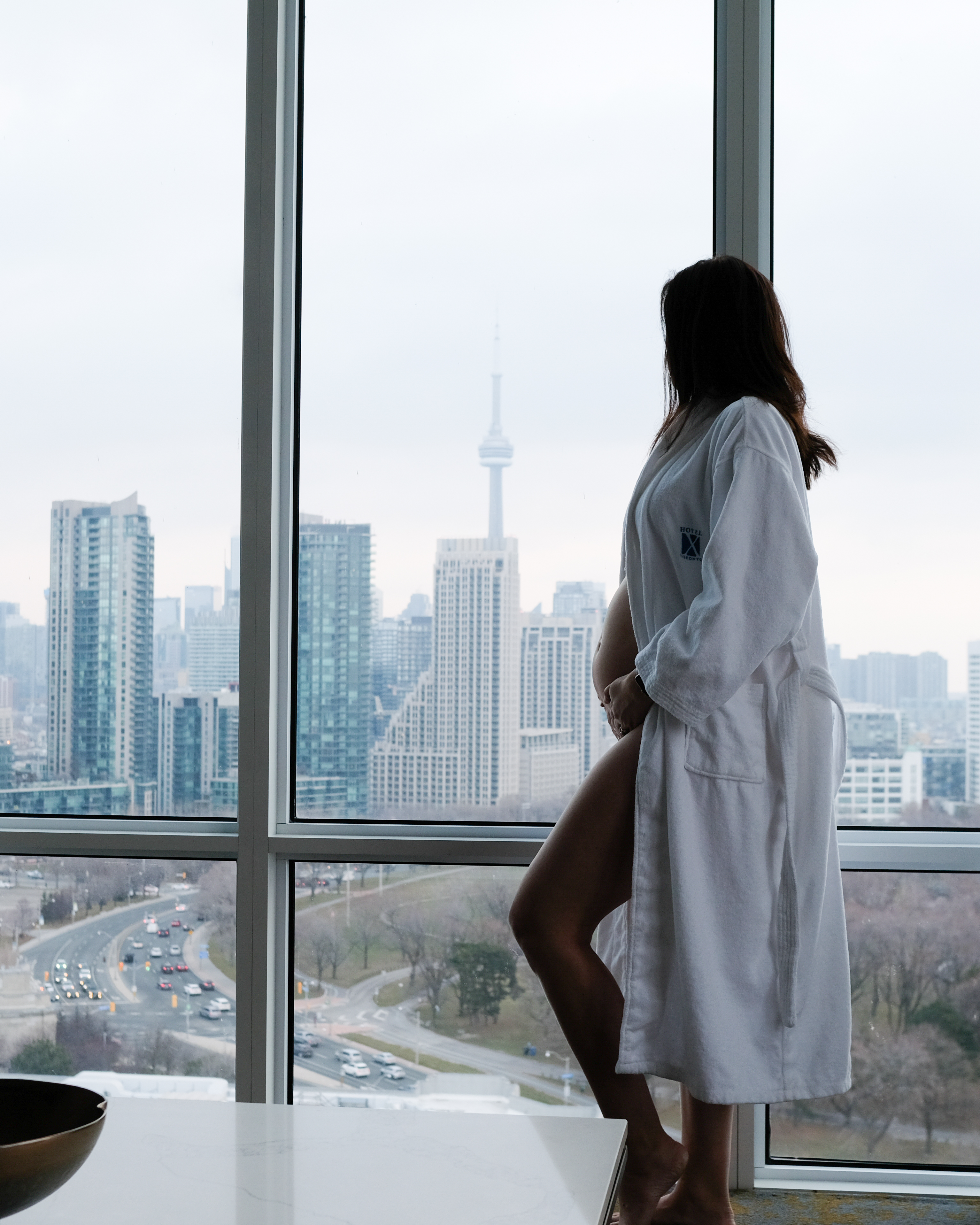 We knew we wanted to announce to you around Christmas, and the plan was to wait until 15-16 weeks. But, with my belly so big, and already in maternity clothing, I couldn't hide it anymore. We decided to do our first out of province getaway last week to attend our Management teams holiday party in Toronto. While staying at the stunning Hotel X Toronto, Rob snapped such a stunning shot that I knew I needed to announce.
So here we are, 12 weeks and 3 days pregnant. The baby is the size of a kiwi and officially a fetus. My nausea and tiredness are subsiding and I am getting back into the gym this week to make sure this body is ready o hold and deliver this baby.
Stay tuned every second Friday as I do a byweekly update on how things are going. I am so excited to share this journey with all of you!
Below are some iPhone shots from over the past months of the growing belly.