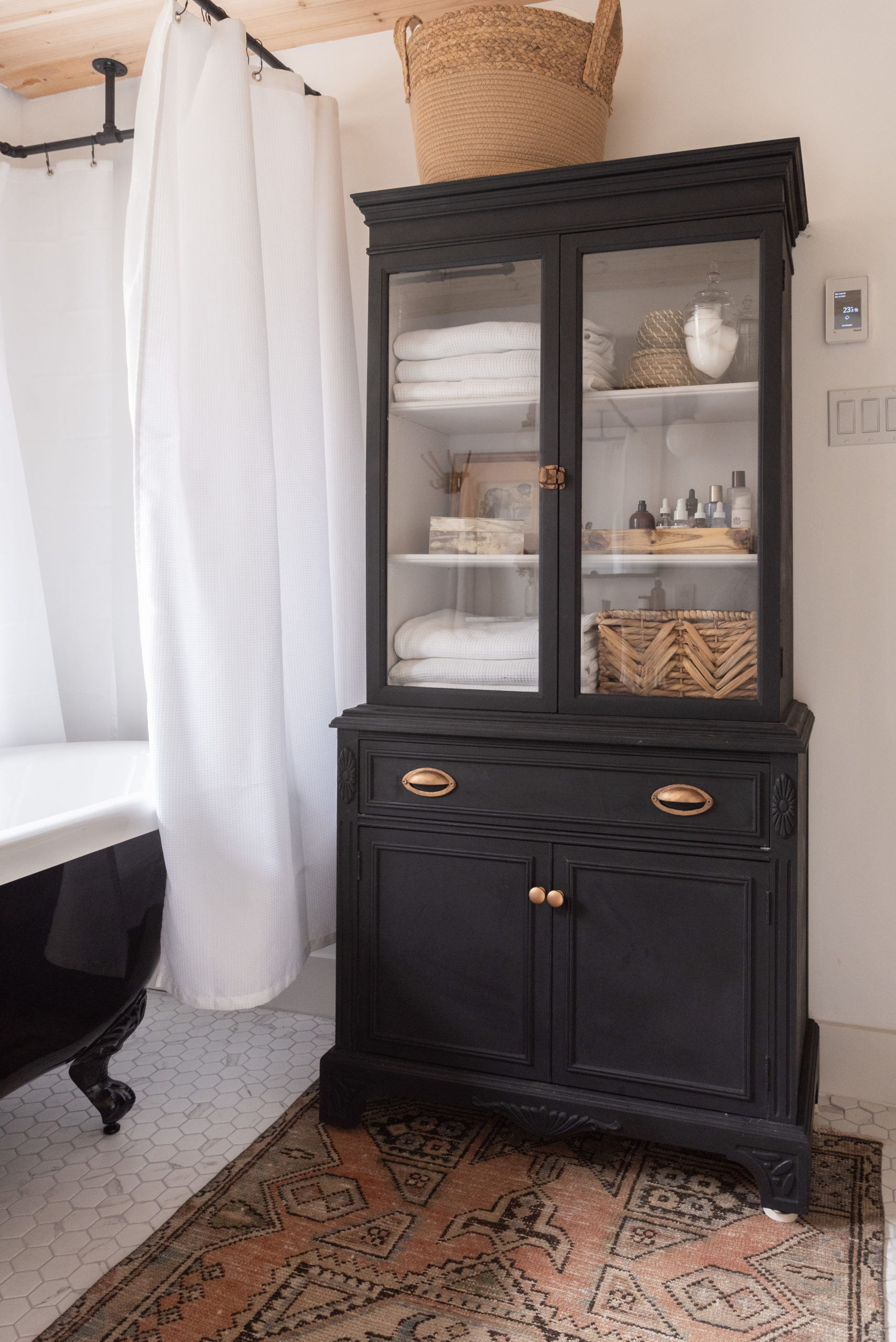 As soon as I started brainstorming for our bathroom renovation, about a year into living in this home, I knew we needed extra storage but not in a conventional way. I loved the way Old glass door Antique medicine cabinets looked in the bathroom setting, with your face products as decor alongside folded towels. I knew I wanted that in our bathroom as it would solve our storage problem.
Little did I know that an antique medicine cabinet Would be so hard to find, especially in Nova Scotia. So I decided to get the same look by hunting down a China cabinet that gave the same vibes. After 2 1/2 months of searching Facebook marketplace almost every day, I found the perfect one for $150 including delivery.
The big problem with it was that the wood colour was way too red for our space. Once it got here we realized it had a veneer finish which meant we couldn't even sand down the wood and re-stain it to match so I need to find a different way.
We love chalk paint because it adheres to most surfaces without having much prep work and after surfing Pinterest for a few hours I realized my heart was pulling towards painting the exterior a matte black and the interior a light gray, so light that it almost pulls as a white. These colours would also match the rest of our room with our black clawfoot tub, black accessories and our gray vanity and marble accents.
We decided to go with Behr Chalk paint in 'Classic Noir' for the exterior. When it came to the prep work all I had to do was scrub down the entire China cabinet with a degreaser and then do a quick light sand by hand with an 80 grit piece of sandpaper. I used a small roller For the larger areas, and a small paint brush for the detailed areas and applied 3 coats. Once the Black was dry, I used Behr wax decorative finish in Black And applied for generous coats with a wax brush over the entire exterior, buffing in between. This will allow the paint to seal and the exterior to be better in a humid environment.
For the inside, we went with the same paint in 'Trellis Gray'. It's a perfect light gray that really plays off with the black exterior. We then took Behr wax decorative finish in the clear and put two coats of it on the light gray interior To not only seal the paint and make it more durable, but also to help if any of our products we keep on the inside spill.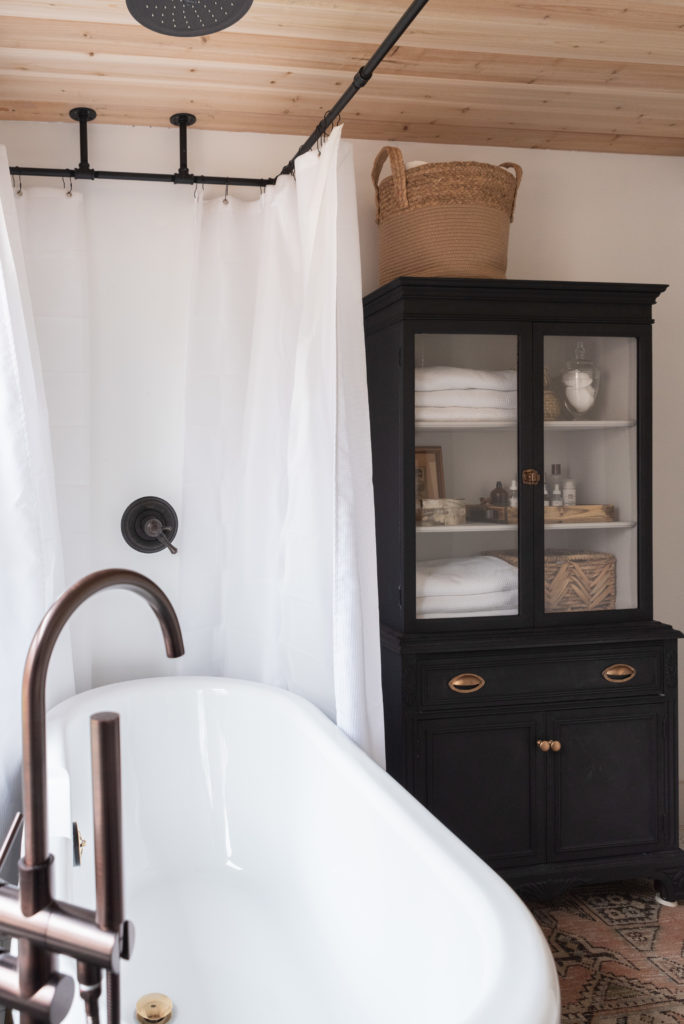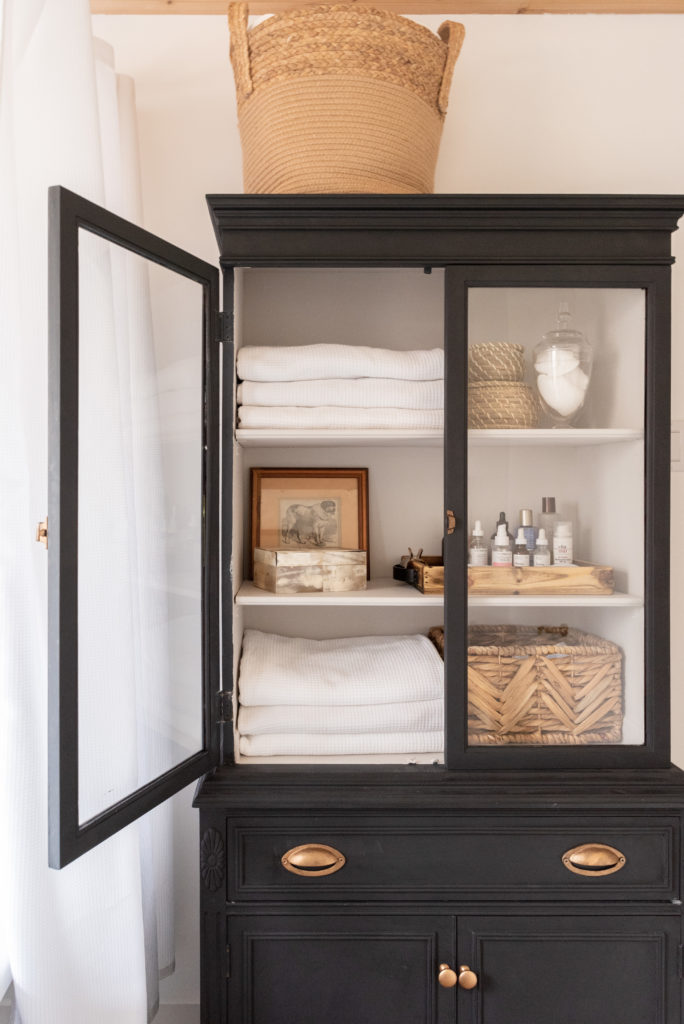 Next was adding the new hardware. As you can probably see in the before photos versus the after, we did end up adding new hardware and relocating it. To do this, before we started painting after the prep work we used would fill to fully seal the holes From the previous hardware. Once it was dry, we sanded it and then painted. Now that the paint was finished we added the new hardware into the new locations. We went with a cabinet latch from Lee Valley, Drawer pulls from our local garden centre, and knobs we had left over fro other projects. They all were a different finish so I took Rub'n'buff in antique gold and rubbed it on them to all match and really pop against the black.
And then we had the finished product. We moved it into the bathroom as the last piece to the puzzle when we renovated and I filled it with folded white towels, pretty baskets that hold everything we need, and all of our face products that are now so easy to grab. I hope this answers everyone's questions that I've gotten since we revealed it and I'm so happy you love it as much as us!