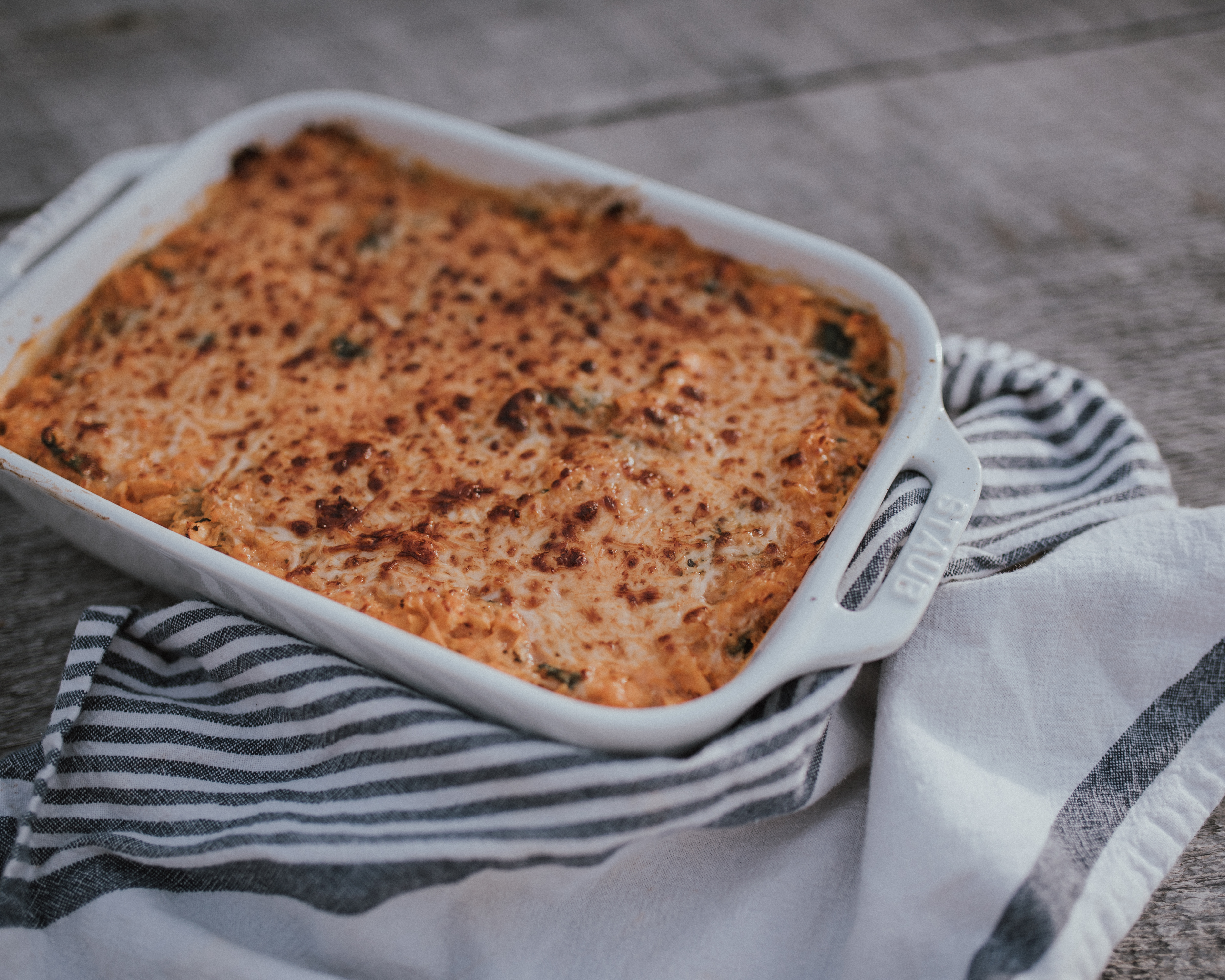 As I sit here and write this post, the weather station beside me says that it is -5 outside. Well that explains why all I want is warm fatty comfort food, the opposite of what my body likes to process. Recently, Rob and I had a discussion about how its human intuition to prepare themselves to go without food for days, eating severely fatty foods in one sitting throughout the winter months.  That would be great if we were back in the caveman days and only had the one meal for 3 days. But, we eat them 3 times a day for weeks on end and then complain about the beach bod we now have to work our arses off for.
I am 100% guilty of this. I get so lazy when the cold weather comes and just want anything that comes in a slow cooker or oven with pasta, or gravy. But, as of yesterday, Rob and I made a pact to stay healthy this winter, not for the weight loss (well not just for the weight loss) but of our mental sanity. The very first blog post I ever wrote on Wild Rosebuds was when I was 5 months pregnant with Aubrey, in the middle of the winter opening up about my Seasonal Affective Disorder and how vitamin D doesn't stay in my body like it does for most of you during the winter months, so I become severely depressed. Add weight gain and unhealthy eating to that, it's like a ticking time bomb. Rob also has this issue and we want to make sure we are on the right path for ourselves and our kids.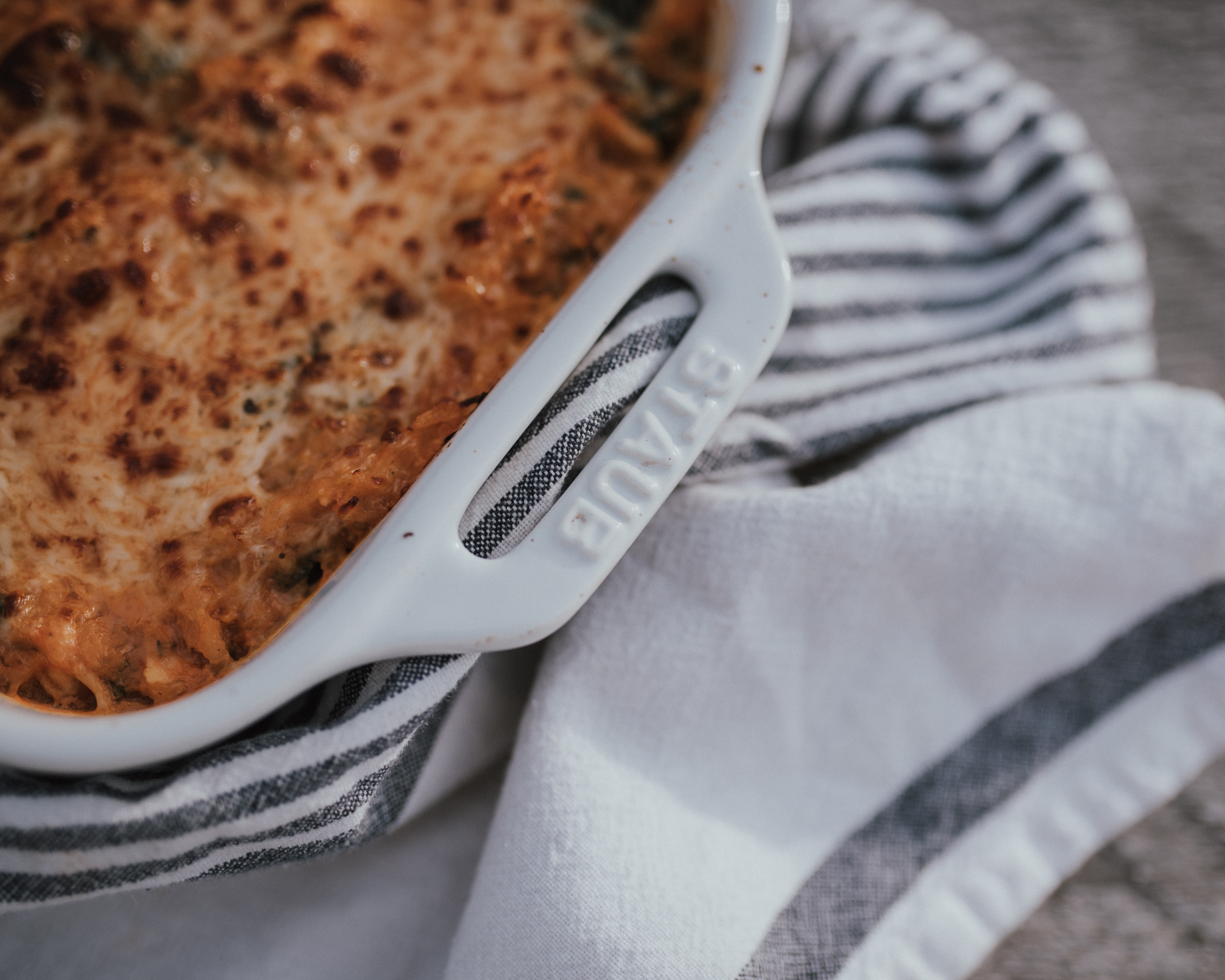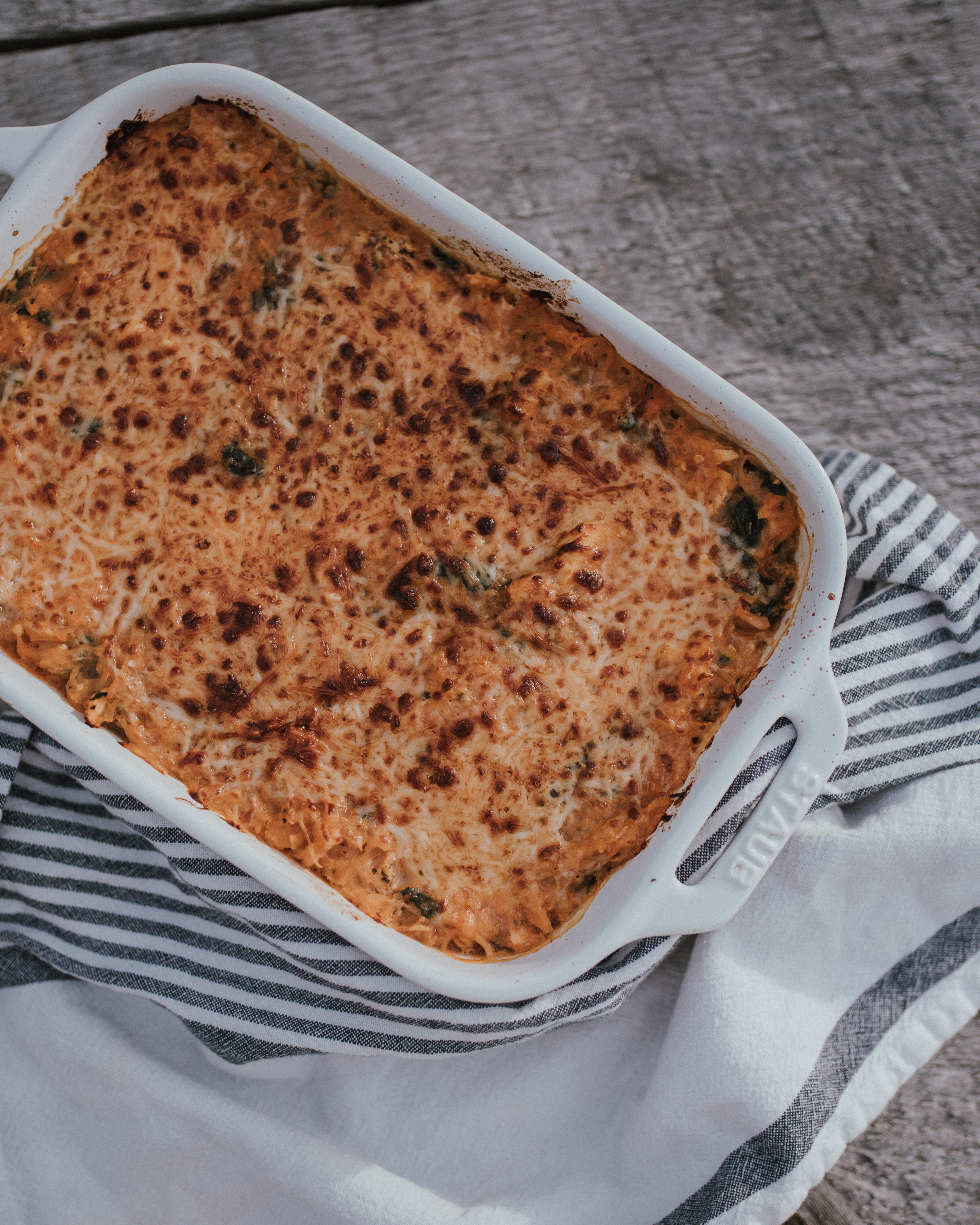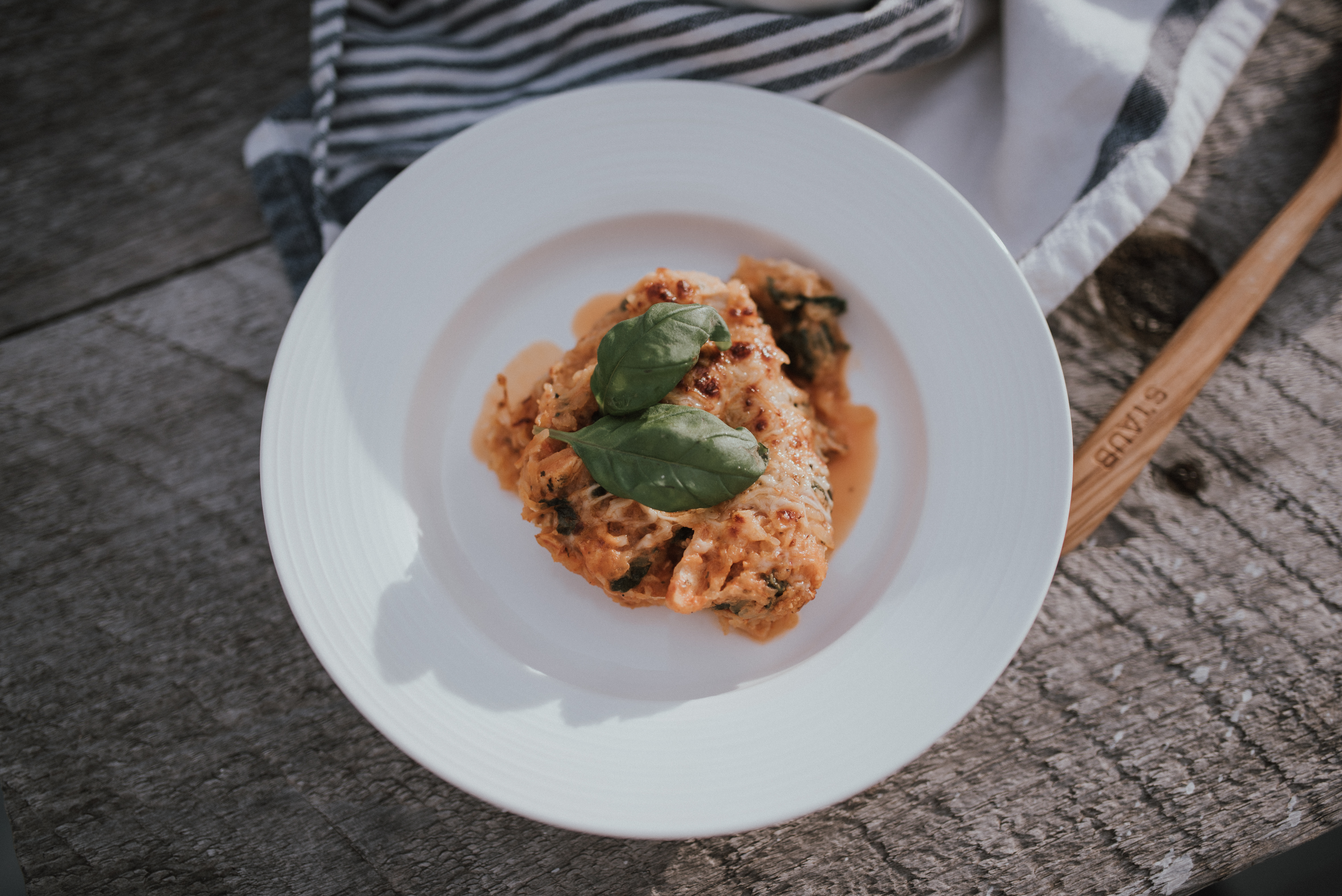 Taking recipes like a spaghetti casserole and spinning it to fit into a healthier lifestyle and help us stick to our 80% paleo eating goal, will fill the cravings for those fatty foods. When I recently stumbled across this one from Lexi's Clean Kitchen, I knew I wanted to try it for myself. It turned out so good and we got to use our new Staub Bakeware for it, which not only looks great for the photos, but is easy to bake in and clean.
Want to try this recipe for yourself? Check out below.
Paleo Italian Spaghetti Squash Casserole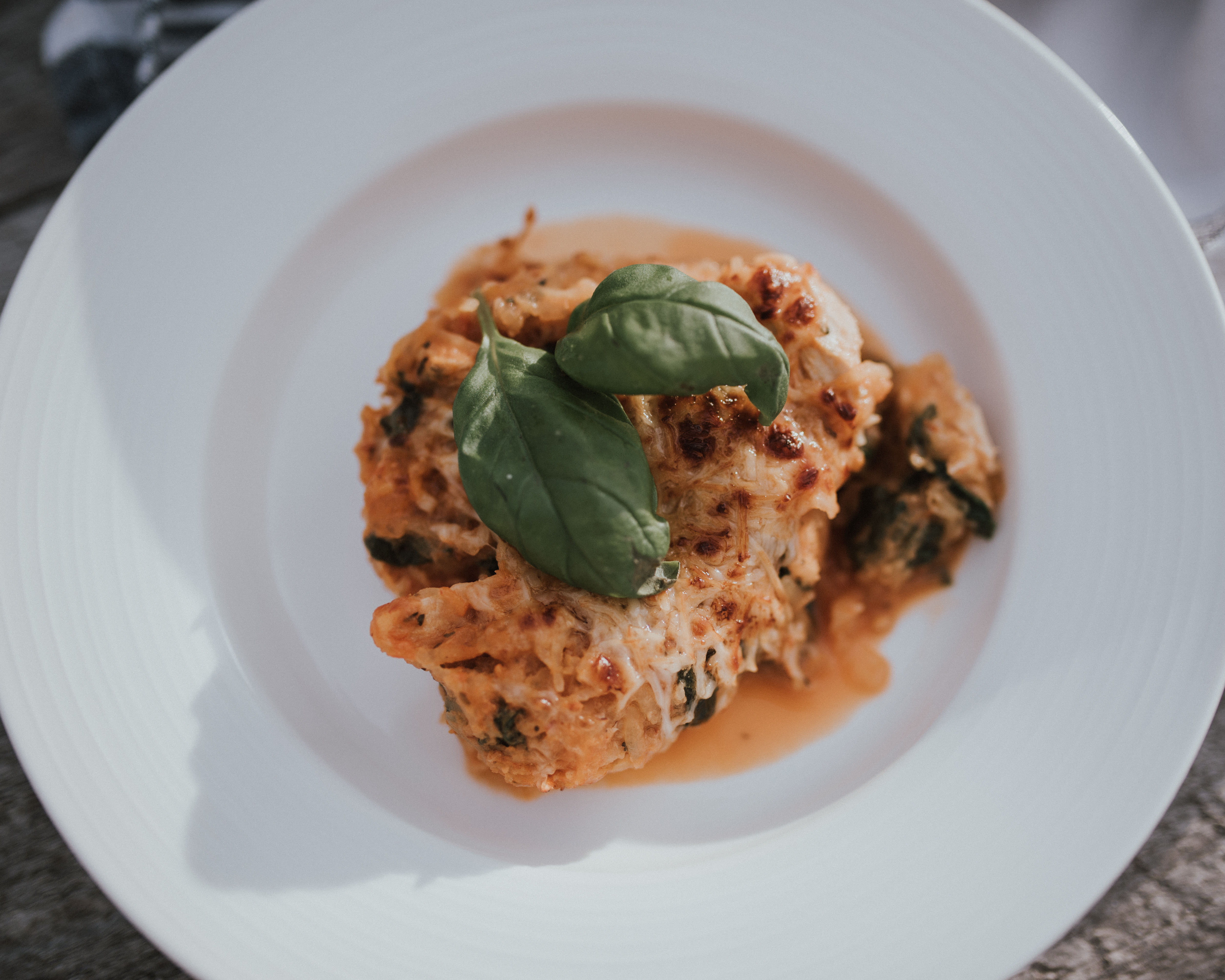 Ingredients:
Squash:
1 Spaghetti Squash Sliced in half, seeds removed
2 tbsp olive oil
1/2 tsp Salt (we use Pink Himilayan)
1/2 tsp pepper
Other:
1

teaspoon extra-virgin olive oil

1

clove garlic, crushed

3

handfuls fresh spinach

1

lb. organic boneless chicken breasts, baked or boiled and shredded

1

cup tomato sauce of choice (homemade or store-bought)

1

egg

1 1/2

tablespoons Italian seasoning, more to taste

1/2

tsp red pepper flakes, more to taste

1

tablespoon garlic powder

1/2

teaspoon freshly ground pepper

1/2

teaspoon salt

Optional: 1/4 cup fresh parmesan cheese, more for topping
Directions:
Preheat the oven to 375 °F.
Cut spaghetti squash in half and scoop out seeds. Drizzle with olive oil, sea salt, and black pepper.
Line baking sheet with parchment paper.
Lay spaghetti squash face down on baking sheet, and add 1/4 cup water. Bake for about 30 minutes until fork tender. Let cool.
Once cool, scrape out spaghetti squash using a fork and place in a medium mixing bowl and set aside.
In a small skillet over medium-heat, heat oil and sauté garlic. Add spinach and sauté until wilted.
Add spinach and garlic mixture, shredded chicken, tomato sauce, egg, cheese if using and spices to the bowl with the spaghetti squash. Mix until well combined.
Transfer entire mixture to a baking dish.
Sprinkle with fresh parmesan and red pepper flakes
Bake at 375 °F for 10 minutes. Broil on high for 3-5 minutes, or until the cheese has started to bubble and brown.
Serve warm!