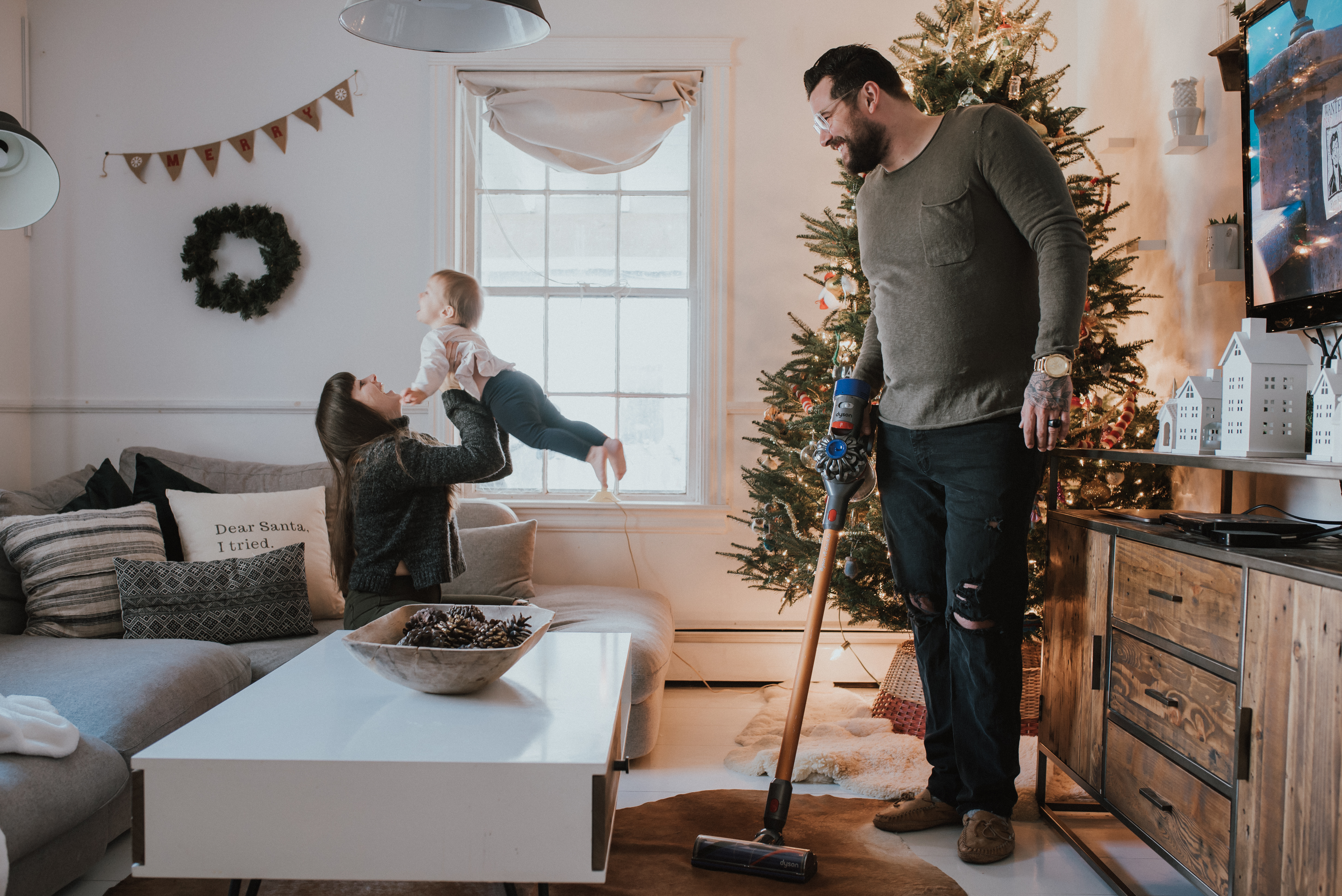 I have a confession to make, Up until last Monday, I was using a shop vac to clean my floor. I mean, I do have a good excuse. At a young age, Aubrey became obsessed with vacuums and taking them apart and putting them back together. When he was one, my nanny had bought us a nice vacuum. It wasn't cordless or really easy to use or anything, but from using a bagged upright humungous vacuum to the one she gave us, it was a major step up.
Over the past two years, that vacuum lost suction, we spent $100 of dollars on filters as they needed to be changed monthly, and with Aubrey's experiments, in the spring it decided to die right before we refinished the floors to white. We needed something fast and although we loved the idea of a Dyson, we ended up procrastinating and buying a shop vac when we picked up the paint (cue hand on face).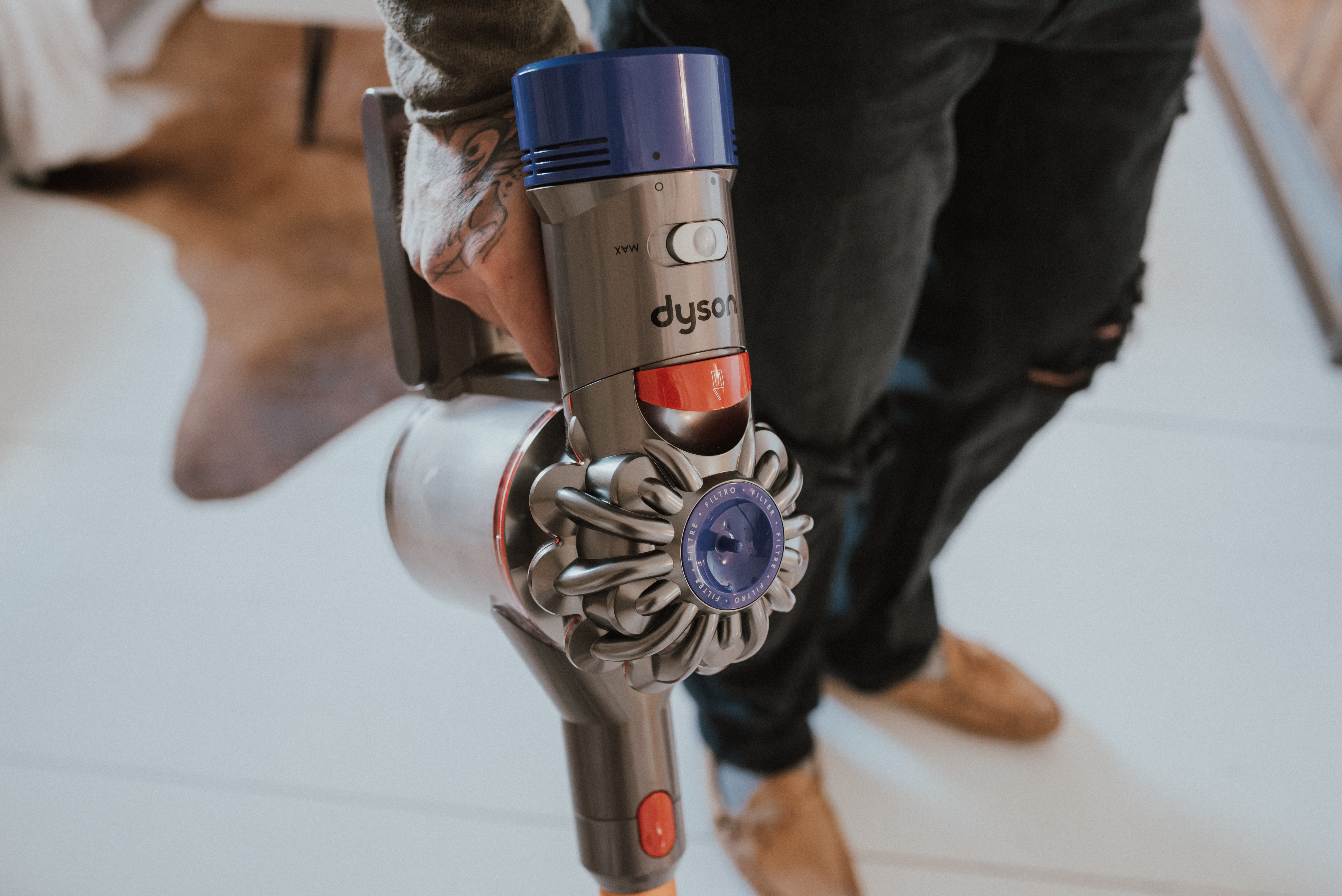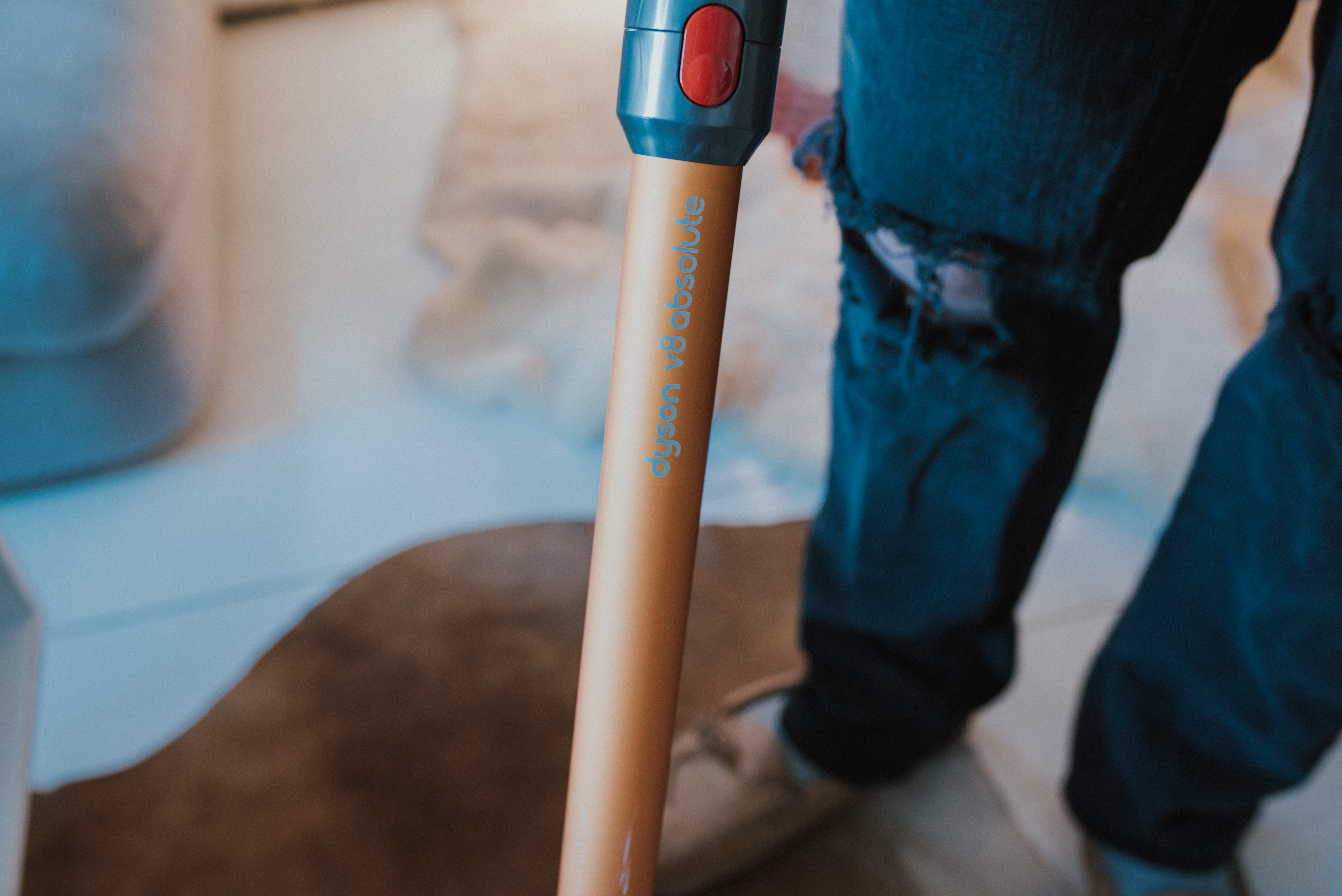 Ok, let me start this story by saying that a shop vac is the most awkward, hard maneuvering, pain in the royal behind. Because of that, we resorted to sweeping. But sweeping our home would literally take over an hour and still not get all the dog hair Zeus left wherever he went. It ended up being such a pain and we needed something to change FAST!
Last Monday, Dyson sent us their V8 Absolute Vacuum to review after hearing about the vacuum dilemmas we have had over the past few years. Now, I would love to fully review this but to be honest, Rob is now vacuum obsessed and has taken over that household duty, vacuuming multiple times a day (no joke). But, between him and I, we have a good gauge on what we love and what we don't.
To make this review a bit easier to read, I'm laying it out in a pros and cons list: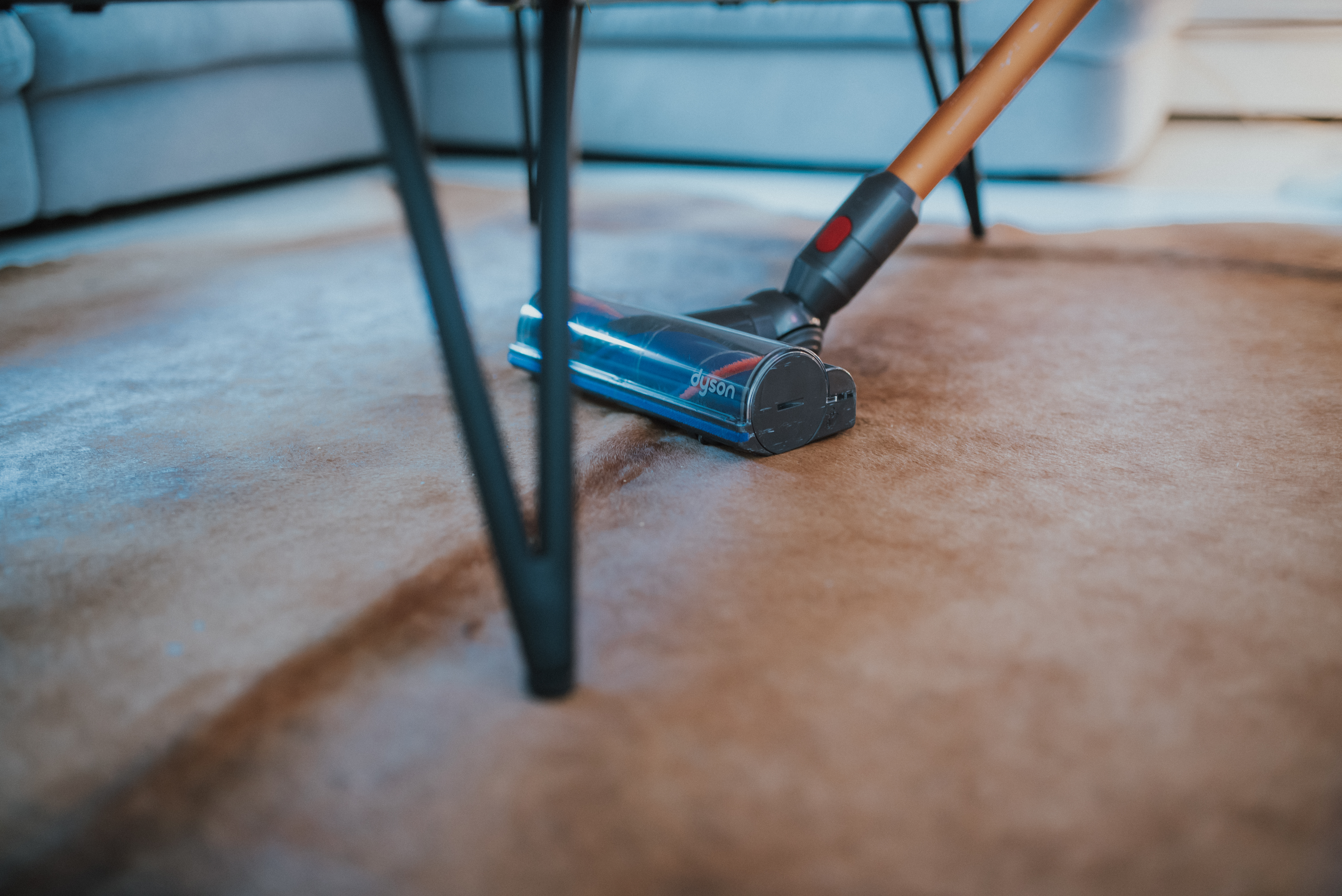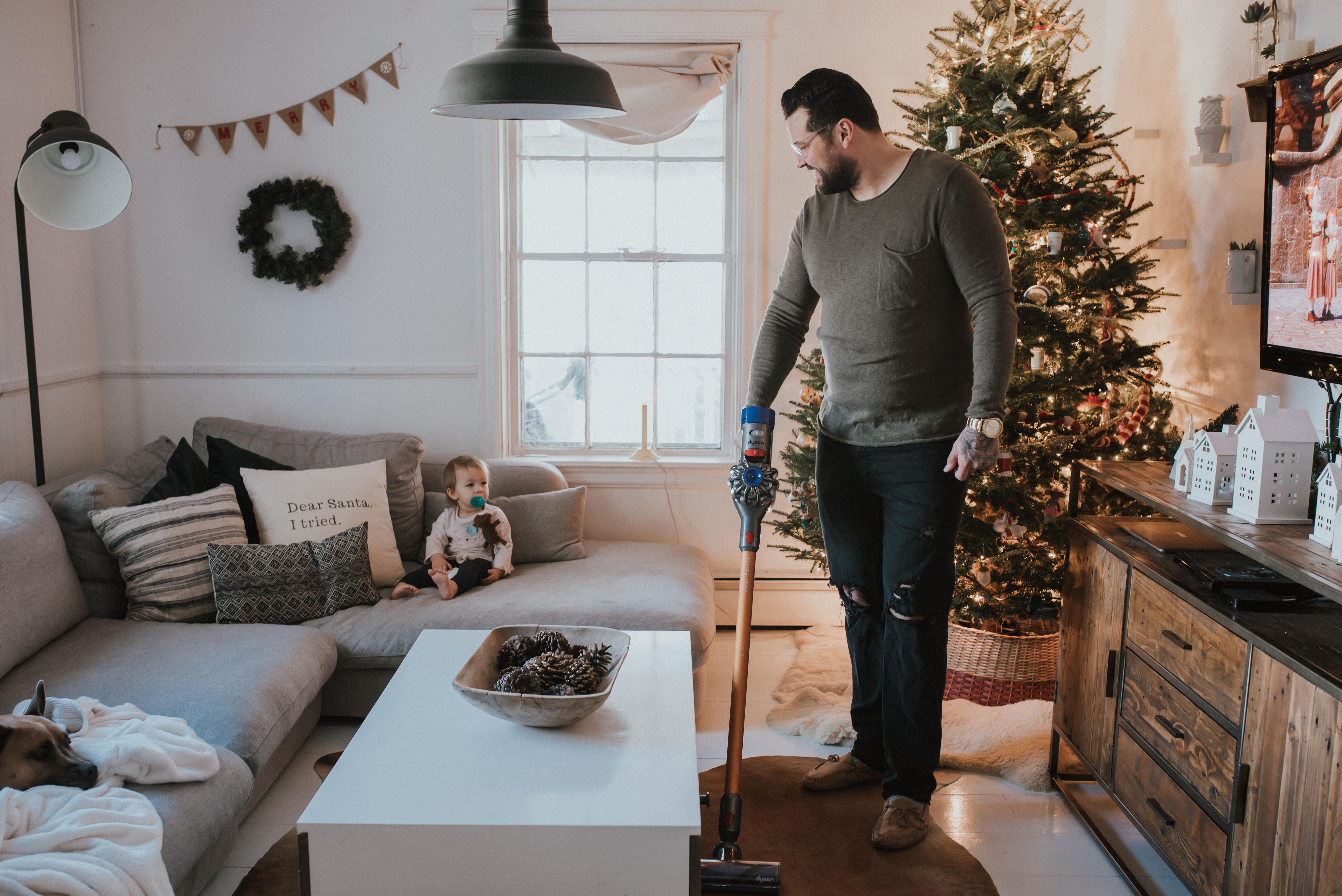 Cordless: Ok, this is life changing after having corded vacuums my entire life. The Dyson being cordless allows for quick grab and go and the ability to go to any room in the house with ease. Our home, because it's so old, doesn't have outlets in some areas, like hallways so seriously this is a game changer.
Bagless/filterless: we have been using bagless vacuums for years now, but I have always had to worry about having extra filters on deck. It ends but being such an added cost and a bother. The filter that Dyson uses is metal, built in and you can actually take it out and wash it instead of replacing. My friend also tipped me on adding a drop of essential oil to the filter when you are air drying it so that the air it puts out had a great smell
Battery Life: so far we have been able to vacuum the whole home on one full charge as long as we don't go into max mode which is super convenient.
Max mode: with the switch on the handle, you can get a deeper suction out of the vacuum. We use this on our jute rug in the dining room and it has never been cleaner.
Included pieces: The Vacuum came with many adapters, allowing it to become not only a handheld vacuum but also allowing use in cars, couches and in small areas.
Easy To Empty: This is the best part. By just holding the vacuum body above a garbage and pulling a lever at the top, all of your dirt gets let out of the bottom in one quick motion. That way you can empty and go.
Swivel Head: With an easy to move head, the vacuum is a dream for under low tables and on stairs.
Cons Of The Dyson V8 Absolute Vacuum:
Easily Scratched: After only a week of use, you can see from the photos above that the vacuum's stick is already scratched. Due to the matte finish, we have actually been able to scratch the paint off with our finger.
Small Canister: Although easily emptied, the canister that houses the dirt is actually quite small and doesn't have any warning when it is full. We have to empty it every time we use it.
Battery Life: I know this is also a pro but if you don't allow the battery to fully charge, or you use max mode too much, the battery ends up dying quite a lot quicker than it should.
Overall, after over a week of using the vacuum, I have to say with full confidence, this vacuum is worth every penny. We have used our fair share of vacuums and compared to our most recent shop vac with crazy suction, we prefer the Dyson with equal if not better suction. So, if you still need to get that last minute gift for someone special, you won't go wrong with this, I promise.