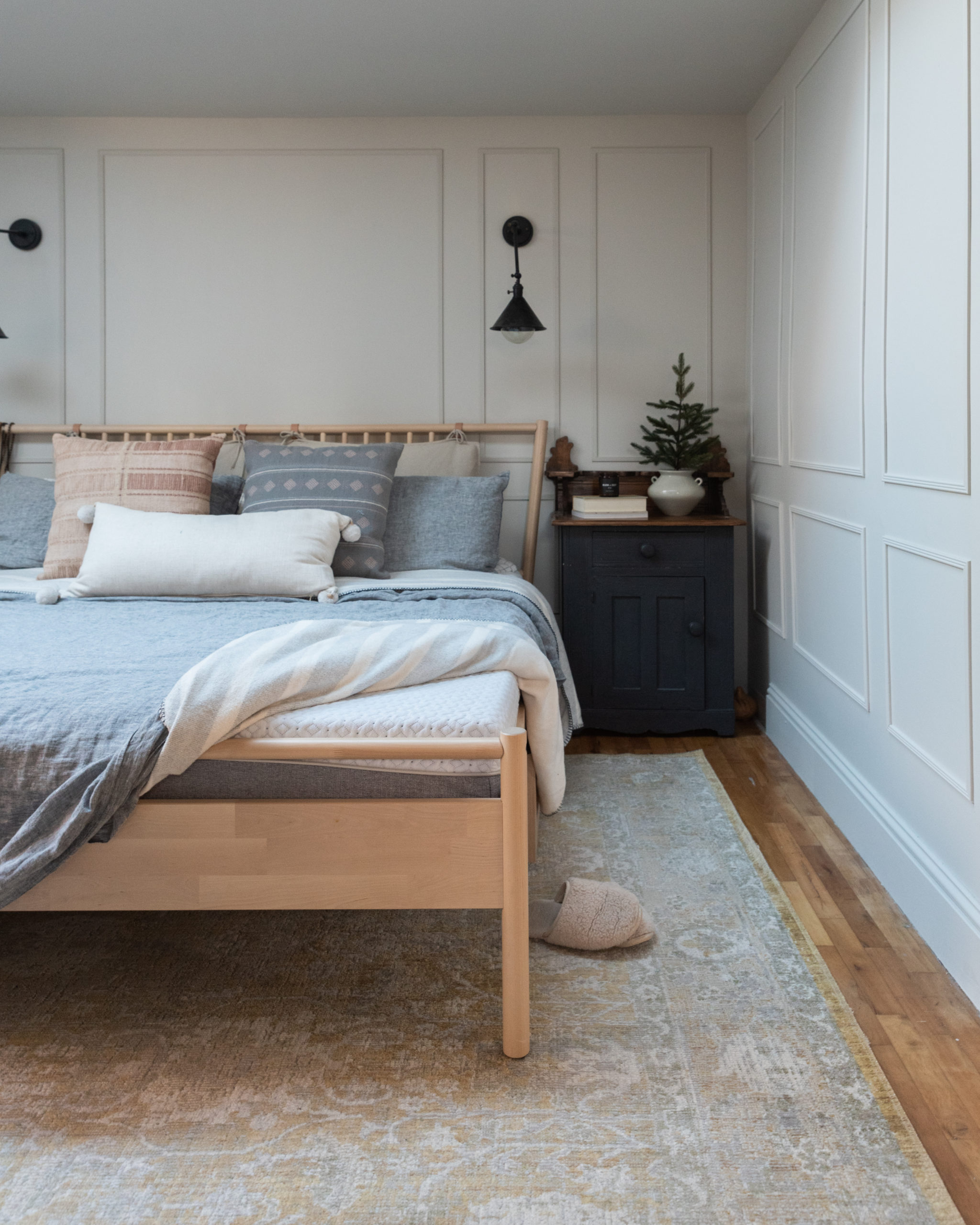 We love our sleep. We are the type of family who stick to a very strict bedtime schedule and Rob and I both curl into bed at around 9pm each night. Having such busy lives with three kids to take care of, we know firsthand how much a good night's sleep can affect the overall mood in our house. We need that comfortable room to sleep in or we don't function at all.
Five years ago, when Endy first launched in Canada, we tested out their Canadian-made king size mattress. Rob being a large man at 280 lb and 6 ft 6 was sharing a queen size bed with me, a newborn baby, and our three-year-old son. We knew a king size bed would be life-changing and fell in love with the comfort of Endy. We still often get asked what our true feelings are on the mattress and to be honest I don't know if we realize how much we love our own bed until we sleep somewhere else. Then we just long for the comfort of our Endy mattress.
With the mattress now becoming a bit older, we wanted to test out one of the newer mattresses that can be delivered to your door. We heard great things about Hush, which is a Canadian weighted blanket company that recently launched a mattress. Over the last two weeks, we've put it to the test to see if it beats our Endy mattress.
Here's what we think:
Delivery:
When we received our Endy mattress, the box was well equipped with handles, and they dropped it off conveniently at our front door. The overall size and weight of the mattress wasn't too extreme, so we were able to bring it up to our primary suite on the second level of our older home pretty easily.
Hush came in a box about half a size bigger and weighing 110 pounds. It was difficult for Rob and me to move, but that could be because he could only lift with one hand due to his broken arm. The box did have handles but if it were just me living alone, I would find it difficult to bring it upstairs if needed.
Set-up:
The Endy set up was quite straightforward. Once we unboxed, unrolled and removed the plastic covering from the mattress, it started to inflate right away and was ready to use in seconds. It did have a bit of off-gassing for the first week or two. I know people who have purchased it and have opened it up in their garage or spare room a week before they started to use it to allow for this process. We didn't and didn't find the off-gassing too strong.
The Hush set up was awkward. We couldn't find the seam that the directions had mentioned, and having followed the directions, it was hard to do everything on our slatted bed as per the recommendations. Once open, the weight of the mattress caused moving it to be difficult, especially to remove the plastic wrap from under it. Once it was on the bed frame fully set up, we were quite surprised at how quickly it inflated. This mattress is ready to use in an hour and had no smell to it whatsoever, which was fantastic.
Comfort:
We love our Endy. The plush mattress is so comfortable, and it feels like it hugs all of your body. It does sink a little too far in when you're just sitting on the edge or sitting up in the middle. This fact about it misleads you at first when you get into the bed. But then when you lay down, it feels like you're sleeping on a cloud that is well supported. Plus, the top layer is Endy's Comfort Foam, which is breathable and temperature neutral, so it maintains the same level of comfort and support in all seasons.
Motion Transfer
Both mattresses have been great for eliminating motion transfer. I'd say about even. We don't feel each other rolling around throughout the night, and if a kid crawls in during the middle of the night, we don't know they are there until we wake up.
General design:
Something I grew up on doing before the pillow top mattresses came around was flipping your mattress. Neither of these can flip but both are able to be rotated which I think helps in the longevity of the mattress, plus they're both backed by a 10-year warranty.
The Hush mattress top material is slippery, which for busy sleepers like us, causes the sheets to slide off of it easily. On any given night, Rob or I are having to fix the sheets so that we are not sleeping directly on the mattress. Endy's top material is more like a jersey cotton and grips better to sheets so we've never had this issue with that mattress. (It's also removable and machine washable!)
So which one is better?
We've only had the Hush mattress for 2 weeks so I can't go into big details on the longevity of the mattress. I will say we are very excited to get back into our Endy. If it wasn't so firm, I think we might have enjoyed the Hush more, but for us, we prefer the Endy! We enjoyed the ability to wash the cover in case of accidents (3 kids do live here). We also love its Comfort Foam and the way it supports our whole body, as we are side sleepers.
In the end, we longed for the comfort and support of our Endy the entire last few weeks. Next time we need another mattress for the house, we now have no hesitation that it will be from them. We look forward to crawling into our Endy bed every night, knowing we'll be getting a great night's sleep. Click here to try it yourself, with their 100-night risk-free trial!

*This post and the opinions reflected are my own, and the mattresses reviewed (Endy and Hush) were thoroughly tested prior to an overall winner being selected. Endy provided mattresses for testing and review purposes.