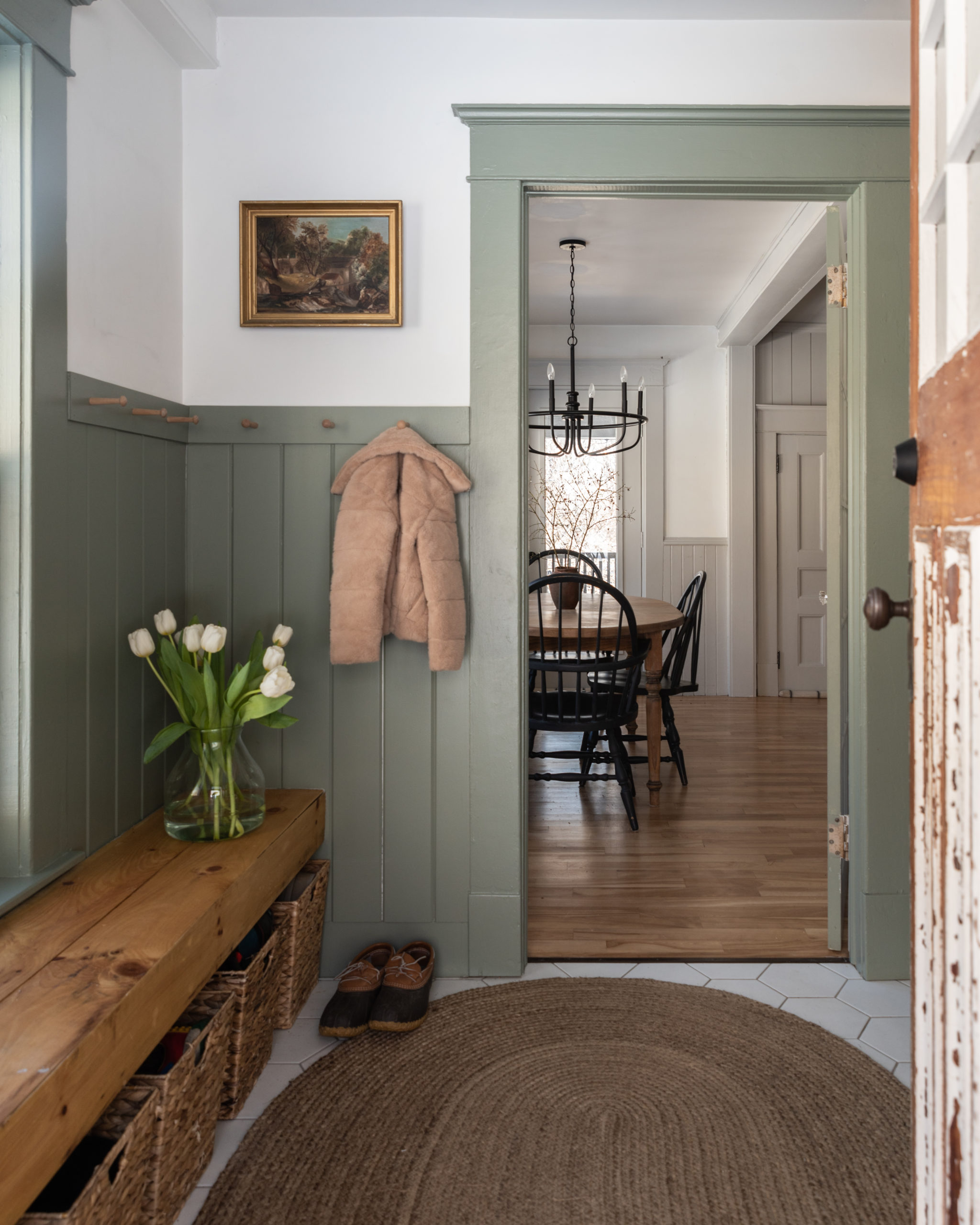 Back in September as we tackled the kitchen, we were sent a swatch of Sherwin-Williams colour of the year 'Evergreen Fog'. We fell absolutely in love with the colour and knew we needed to use it somewhere in the home. Back then, the laundry room was a custom gray paint that we had colour matched to our custom cabinetry. When we decided to paint our dining area woodwork the same gray as our kitchen, the laundry room gray leading into the kitchen gray just didn't work. There is such thing as too much gray in one space.
So, we decided to go for it. This stunning green paint worked really well next to our new kitchen colour so we painted our laundry room with it. And it was not a small job.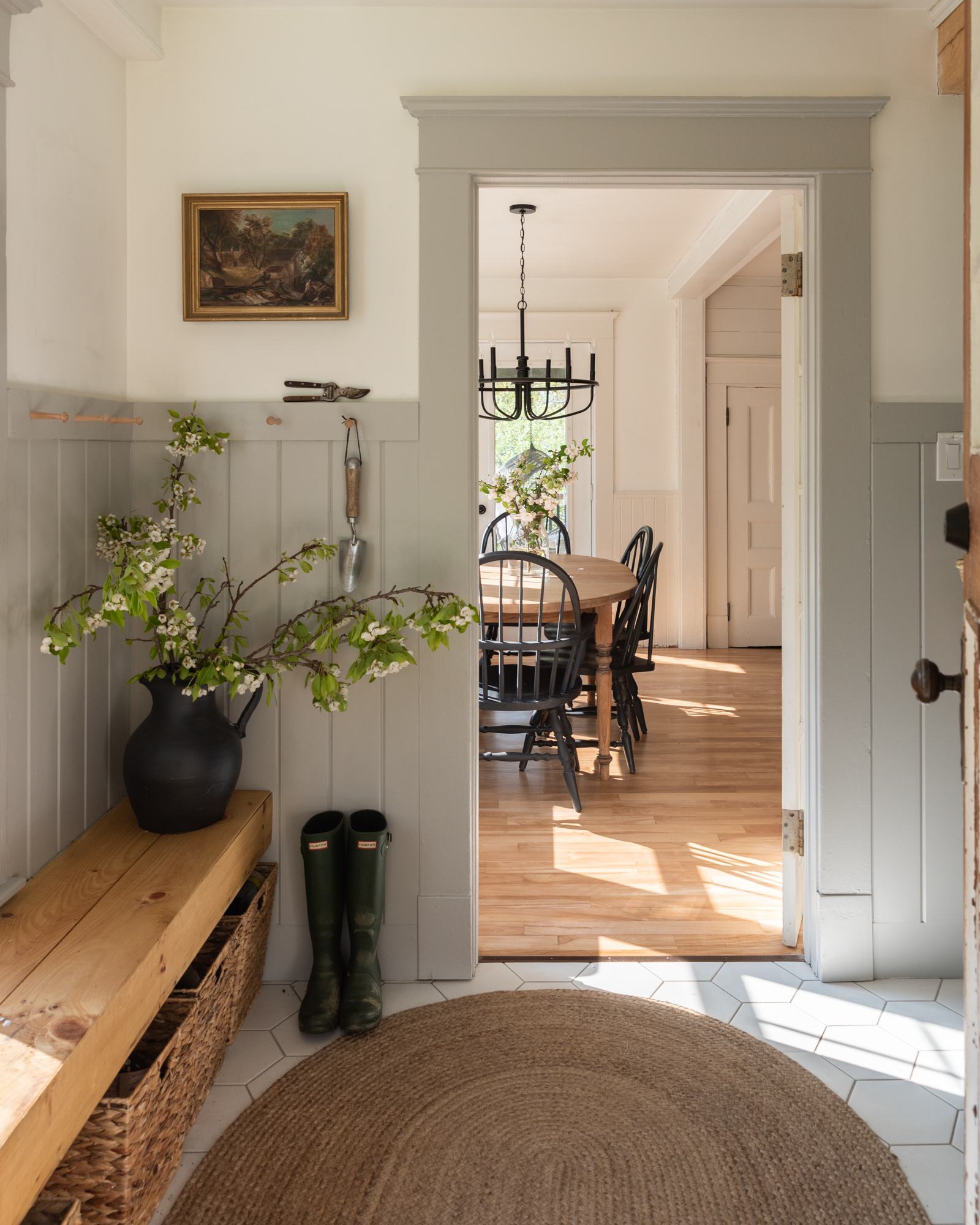 To prep for paint, especially with our MDF cabinets, we had to do a few steps. First step was taking TSP which is a chemical you can find in the paint section of your home improvement store that you dilute with water and washed down all of our surfaces we were going to paint. This removed any dirt and grime that had been built up over the two years of the laundry room being finished. Next, I took a 80 grit sanding block and lightly roughed up the surface of the cabinet doors, cabinet boxes and our wood panelling so that the primer had some texture to stick to. It was then time to prime. When you're working with MDF you have to use a good primer so we always recommend Zinsser Primer. It is really strong in odor so make sure you are having all of your windows open and wearing proper ventilation when using it.
I ended up doing two thick coats of the primer. I then moved onto the actual paint. Because these are areas that get smashed, rubbed on and just beat up on a day-to-day basis, I made sure I went with an enamel cabinet and trim paint by Sherwin-Williams so that it was strong enough to handle our lifestyle. I ended up doing three coats of the paint as I wanted to make sure there were no brushstrokes. We used a combination of foam roller and paint sprayer to get the finish we wanted with both the primer and paint.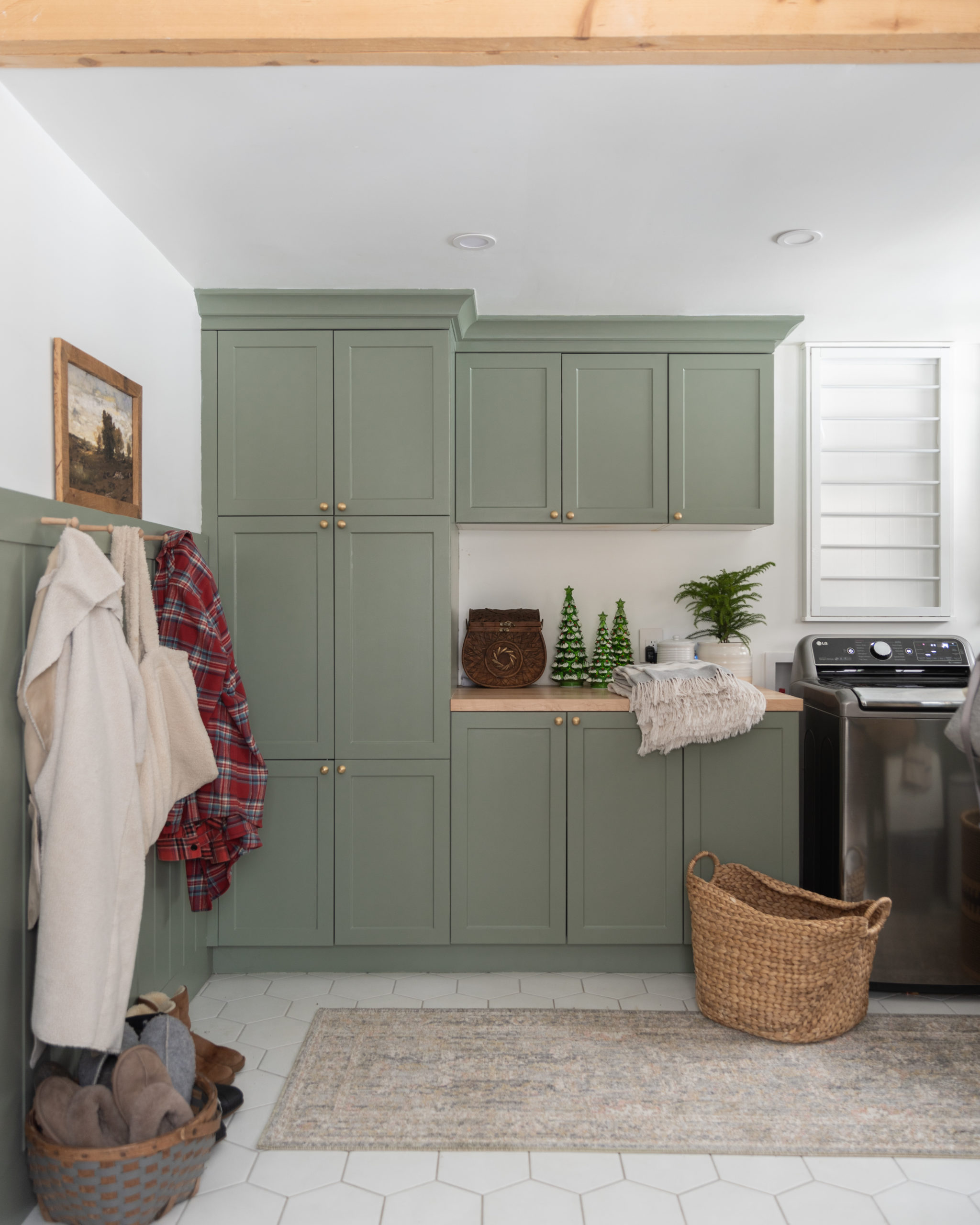 We ended up doing two other major things once we've got the paint taken care of in the space. The black hardware that we had originally fallen in love with for the room just didn't give the punch of depth we were wanting. We ended up ordering these awesome pulls from Amazon that we were going to use in our kitchen but they were the wrong color. I kept them knowing that we would have a use for them and sure enough they looked perfect against the green.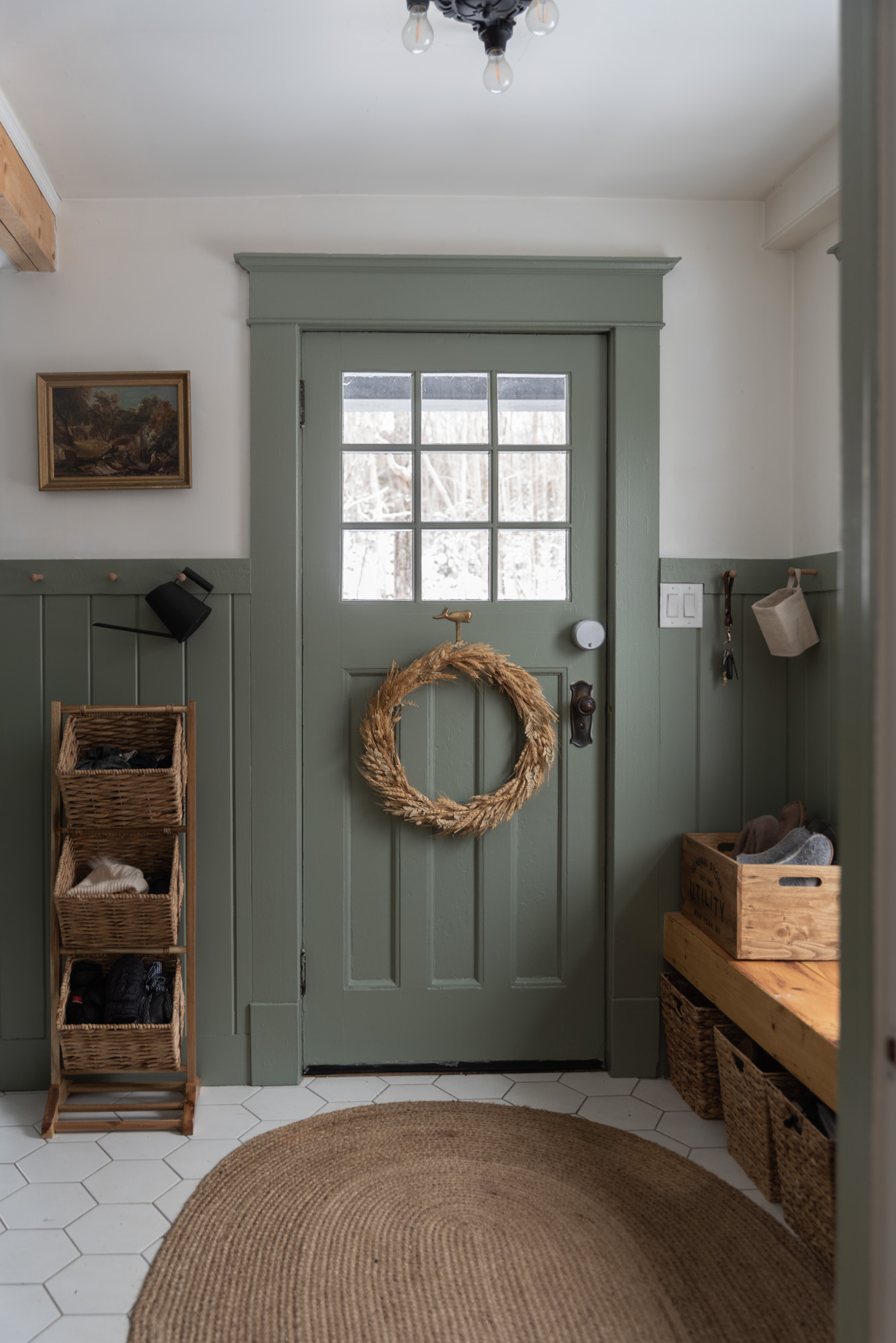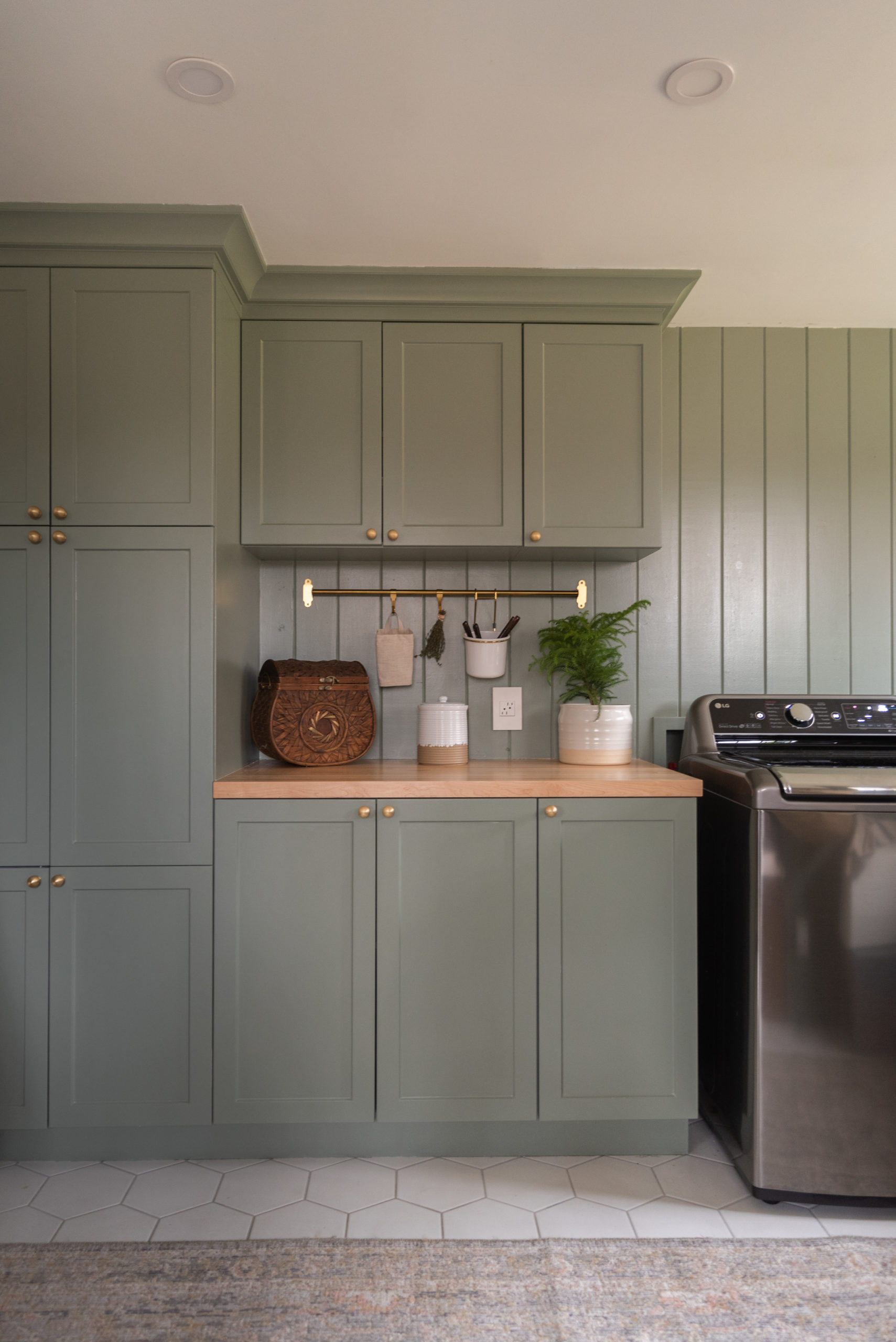 The last thing we did was adding panelling behind our countertop and washer and dryer. This is something we toyed with for the last few years. As soon as we created this main level laundry room, we knew we wanted it to feel like it had always been in this home. And, although the layout of it isn't exactly how we would've wanted it (listened too much to outer sources) by adding the original V-joint board to the walls in 2020, it really made the space stand out and look original to the home which is full of woodwork from 1917. Now continuing that Floor ceiling on the final wall, really took the texture and originality up a notch in the space.
So, here is the tricky question, after 4 months, do we still love the green? We do. It brings so much to the space and I feel like in places like this where it's more utilitarian than a living area, you can really have fun with the space. In saying that, one of our most successful photos of our entire house is from the back door looking into the space when it was gray and we had forced blooms all around from our Apple and Pear trees. I do love the simplicity of gray and how a white and gray background really allow anything that I photograph or style against it stand out. I still definitely am happy that I got rid of the two different gray tones but if I'm completely honest with you, there are days where Rob and I would just paint the entire house the same greige colour and call it a day. Maybe next year 😉