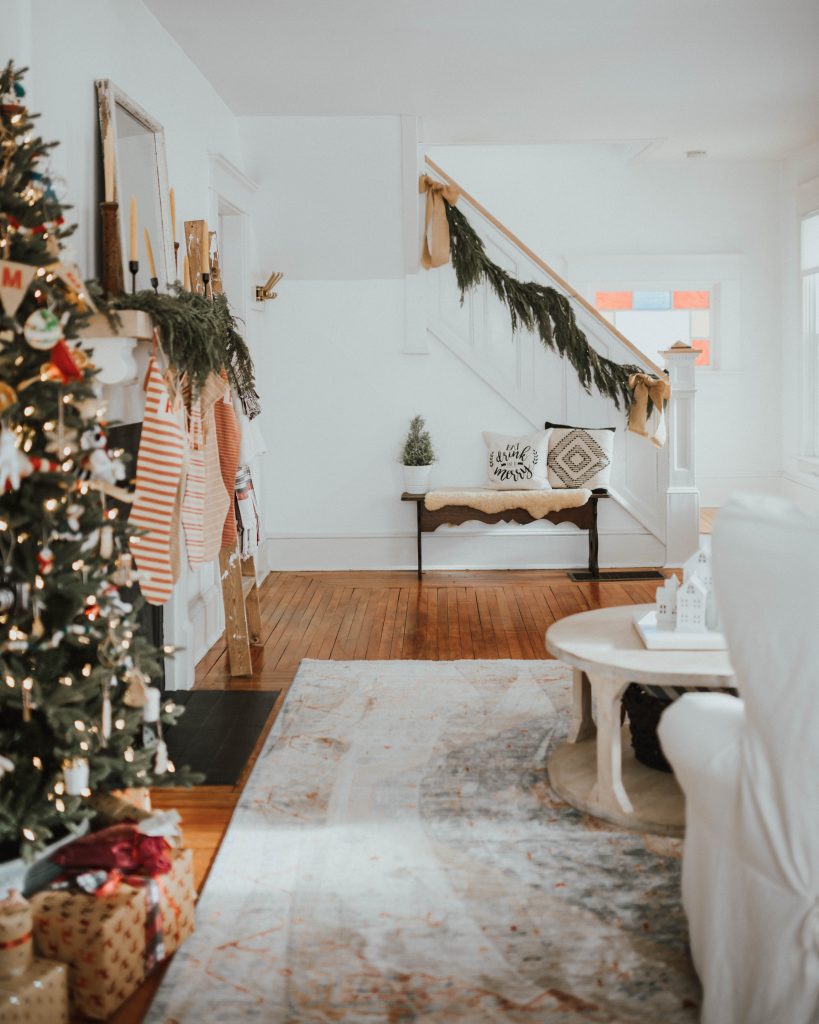 When we first walked through this house, we got so excited to have a room that would be TV, Toy and loudness free. Its funny because before kids, I never really understood the want for a formal living room. But, with three, It has become worth its weight in gold.
Last year, our Christmas revolved around our, then, LARGE back family room. But, with the renovation of shrinking the family room and creating the laundry, we no longer had the space to house a tree, let alone plan for Christmas morning to happen in that room.
So this year, we really focused on this room being festive and us. As you saw in our last blog, our once black fireplace and staircase we painted white, and decked the halls with real greens but a fake tree. this is the first room our guests enter into and we wanted it to have flow but also feel like Christmas.
The Garlands were super easy to make and you can find a tutorial on my INSTAGRAM HERE.
We are loving the colours that our Loloi Rug brought into the room. We wanted something fun but also classic and this Claire Multi Coloured rug is perfect for grounding the space no matter what we do to the walls or furniture.
Another favourite mini transformation for this space was our Bemz Slip Cover on my old Ektorp Sofa. We wanted a high quality couch to stand up to our busy family life. One that was also washable because #kids and instead of dropping a few thousand on a totally new couch, we did a mini makeover with this . It's the Straw Yellow, regular fit with piping.